Wednesday, October 29, 2014
Notes: Phillips Has MTU Unbeaten
New No. 1 goalie for Huskies, new rink for Canisius and a familiar leader back on defense for BU, plus more.
---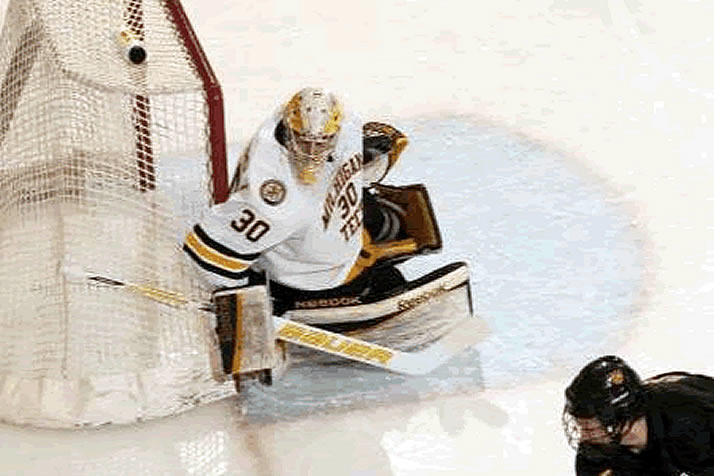 Winnipeg draft pick Jamie Phillips posted his second career shutout last weekend at Ferris State.
By Nate Ewell
Michigan Tech welcomes head coach Mel Pearson's employer for 23 years, Michigan, to Houghton for two games as Pearson and the Huskies put their 4-0-0 start on the line. Junior goaltender Jamie Phillips (Caledonia, Ont./Toronto Jr. Canadiens-OJHL/WPG) has led the way, allowing just five goals through four games. Phillips has taken over the No. 1 duties this season after former starter Pheonix Copley signed with the Washington Capitals. His .954 save percentage ranks sixth nationally and has all come on the road – Friday's game marks the Huskies' home opener.
Must Read/See/Head Material
Albany Times Union: Rival coaches leave bad feelings on the ice
St. Cloud Times: SCSU senior trying to honor former coach
BGSUHockey.com: Valleau's Falcon career off to solid start
Newburyport Daily News: Eiserman off to hot start for UNH
ESPN1500: Gophers pro prospects return seeking national title
NCAA.com: Top plays, three stars
Five More Storylines No One Should be Without
Canisius opens HarborCenter – Coaches who help create new or remodeled arenas will often say that they aren't sure what element their players will enjoy most. Judging by their initial reactions in this gogriffs.com video, the biggest takeaway for Canisius players in their first day at the new HarborCenter was how cool the locker room looks with the lights out. The new rink is in the spotlight this weekend as the Golden Griffins host Ohio State for two games – student tickets for Friday's opener sold out in less than an hour Tuesday night.
Young D shining for BU – While superstar rookie Jack Eichel (North Chelmsford, Mass./U.S. NTDP) gets headlines (see link below), Boston University's 3-0-0 start has been bolstered by a defense that has allowed only one goal and 23 shots per game. Junior Matt Grzelcyk (Charlestown, Mass./U.S. NTDP/BOS) leads a young group that features four freshmen and a sophomore. Grzelcyk is returning to action after missing the second half of last season due to a shoulder injury that required surgery.
Boston Globe: Eichel is college hockey's latest star prospect
Conway sparks Penn State – Sunday Penn State's Scott Conway (Basingstoke, England/Indiana-USHL) joined Jack Eichel (mentioned above) and Detroit Red Wings first-rounder Dylan Larkin (Waterford, Mich./U.S. NTDP/DET) as the only freshmen nationwide to record a four-point game. That's elite company for the Nittany Lion rookie, but he's used to standing out. Last season he finished tied for second in the USHL in goals (33) and fourth in points (68) for the Clark Cup champion Indiana Ice. The son of Canadian-born Kevin Conway who was born in England while Kevin played professionally, Scott is one of three players from Great Britain in Division I men's hockey.
New era at Princeton – The Ivy League teams get started this weekend and it's a brand new era for Princeton, which opens at the Liberty Invitational in Newark along with Yale, Connecticut and Merrimack. Ron Fogarty, who led Division III Adrian College to tremendous success, takes over as head coach of the Tigers. His squad, featuring six New Jersey natives, opens against Yale in the state's largest arena.
Omaha follows its goalie – Goaltender Ryan Massa (Littleton, Colo./Fargo-USHL) – one of only four seniors on the Nebraska Omaha roster – leads the Mavericks to Cornell this weekend with a 3-0-0 record and a .939 save percentage. He has the talent and the mentality to be a leader for a team with 18 freshmen and sophomores, tied for third-most nationally, as shown in this quote from the Omaha World Herald:
"When you're a freshman, you think, 'Oh my god it's four years.' But it's gone in a hurry," Massa said. "You're a fool if you don't use every day to your absolute potential while you're here. It's a great place to develop and to set yourself up for NHL aspirations and life after hockey.
"Hockey is going to end some day. To get a degree debt-free and play a game I love, at the end of the day — regardless of whether I get to play pro hockey or not — I've accomplished my dream of playing Division I at a high level. I couldn't have asked for a better experience."
Omaha World Herald: Maverick goalie matures between the ears and in the pipes
NHL Note of the Week
Goaltenders like Ken Dryden and Tony Esposito were among the first NCAA players to make their mark at the NHL level. Tuesday night 2001 Hobey Baker Award winner Ryan Miller won his 300th career NHL game, becoming the fifth former NCAA goaltender to post 300 NHL wins.
Most NHL Wins, NCAA Alums
484 – Ed Belfour (North Dakota)
454 – Curtis Joseph (Wisconsin)
423 – Tony Esposito (Michigan Tech)
301 – Mike Richter (Wisconsin)
300 – Ryan Miller (Michigan State)
Fries at the Bottom of the Bag
The NCAA released its latest Graduation Success Rate numbers Tuesday, with hockey leading all men's sports … Mercyhurst announced plans to host Ohio State at the downtown Erie Insurance Arena Jan. 2 and 3 as part of the "Snowtown Throwdown" … Five teams still have unblemished records – Boston University, Michigan Tech, Minnesota, Northern Michigan, Vermont – with the six Ivy schools beginning play this weekend.