Wednesday, October 15, 2014
Notes: Union's Staying Power
Stevens has the Dutchmen near the top of the polls again, plus much more in this week's notebook.
---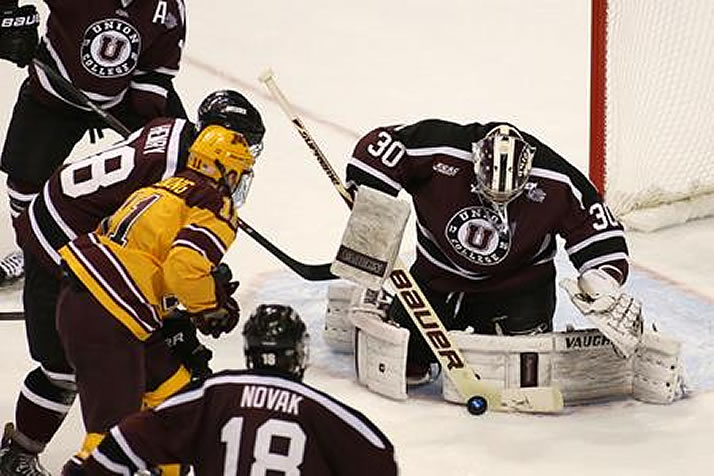 Colin Stevens was a second-team All-American in his first season as a starter last year (Photo by Larry Radloff).
By Nate Ewell
Union lost three first-team All-ECAC Hockey selections from last year's national championship team, but the one who returned – senior goaltender Colin Stevens (Niskayuna, N.Y./Boston Jr. Bruins-EJHL) – has already proven his value. Stevens, who grew up attending Union games as a fan, posted a .933 save percentage in two wins last weekend and leads the No. 2 Dutchmen on the road for a series at Maine this weekend.
Friday's game will air on FOX College Sports
Must Read/See/Head Material
St. Cloud Times: Four Finns heat up Huskies' roster
Burlington Free Press: UVM's Paliotta following his gut
Grand Forks Herald: Meet Dave Hakstol
UND.com: Taking a chance
SB Nation: The All-Illinois College Hockey Team
Five More Storylines No One Should be Without
Homecoming and a reunion – RIT expects a sellout crowd of 10,000+ for its annual Brick City Homecoming game at Blue Cross Arena in Rochester, this year against Boston College. BC head coach Jerry York coached RIT's Wayne Wilson and Brian Hills when they were undergrads at Bowling Green. Wilson began his coaching career as an assistant to York at his alma mater and is now in his 16th season leading the Tigers, who opened a new on-campus arena last weekend.
RIT.edu: Teacher vs. former pupils
Big goals for Miami's Louis – Sophomore Anthony Louis (Winfield, Ill./U.S. NTDP/CHI) carries a six-game point streak, dating to last season, into Miami's series with in-state former CCHA rival Ohio State. The dynamic 5-foot-7, 150-pound left wing was fifth on the RedHawks in scoring last season, but has loftier goals this year. At Blackhawks development camp this summer he set a goal for 2014-15 at finishing in the top five nationally in scoring.
Chicago Blackhawks: Prospect Profile: Anthony Louis
Rising Turk – Vermont, coming off a 6-2 win at Northeastern, faces Clarkson this weekend in a home-and-home spanning Lake Champlain. Junior Jonathan Turk (Calgary, Alta./Okotoks-AJHL) matched his goal total from each of his first two seasons with a hat trick in the opener and added an assist. An offensive star with the AJHL's Okotoks Oilers – alongside UVM senior Kyle Reynolds (Sylvan Lake, Alta./Okotoks-AJHL) – Turk is centering the Catamounts' top returning scorers, Mario Puskarich (Fort Walton Beach, Fla./Langley-BCHL) and Brendan Bradley (Richboro, Pa./Jersey-EJHL), after seeing mostly third- and fourth-line duty last season.
Golden Alaska – Alaska and Alaska Anchorage welcome two more foes to the Last Frontier after both teams posted two wins against Maine and Wisconsin last weekend in Anchorage. Air Force and Penn State head to Fairbanks for the Alaska Goal Rush and hope not to become the third and fourth victims of NCAA hockey's northern-most teams. Both got great performances from new starting goaltenders last weekend, Alaska from sophomore Davis Jones (St. Albert, Alta./Nipawin-SJHL) and Anchorage from sophomore Michael Matyas (Calgary, Alta./Calgary Canucks-AJHL) and freshman Olivier Mantha (La Tuque, Que./Penticton-BCHL).
Nagelvoort leads Michigan – Michigan hosts New Hampshire for two games this weekend after traveling to Durham last year, where then-freshman goaltender Zach Nagelvoort (Holland, Mich./Aberdeen-NAHL/EDM) made his college debut in a Saturday night win. That sparked an impressive season for the rookie that saw him rise from backup goalie to Edmonton Oilers draft pick by the end of the year. Now he leads the Wolverines into the goalie-rich Big Ten – all six teams return their No. 1 goaltenders this season.
NHL Note of the Week
Seventeen goals Tuesday night – including all five by the San Jose Sharks and all three in the NJ-TB game – were scored by NCAA alums.
Fries at the Bottom of the Bag
46 NCAA freshmen have already scored their first college goals … All four Atlantic Hockey teams to play conference games are 1-1-0; four more conference series are set for this weekend … Robert Morris's two wins match the Colonials' total through New Year's last season (2-12-2) … Connecticut plays its first Hockey East game at Merrimack Saturday.