Wednesday, November 5, 2014
Notes: Big Draft Matchup
Round one of Eichel-Hanifin highlights tremendous weekend slate in college hockey.
---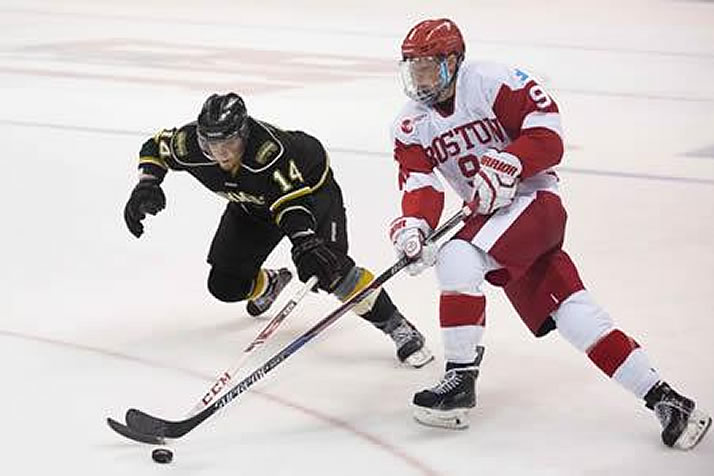 Jack Eichel has recorded 1.80 points per game entering Friday's contest at BC.
By Nate Ewell
The Boston College-Boston University rivalry always attracts attention, but Friday's meeting takes on added importance for NHL scouts. Freshmen and former teammates Jack Eichel (N. Chelmsford, Mass./U.S. NTDP) at BU and Noah Hanifin (Norwood, Mass./U.S. NTDP) at BC could be the highest college players taken in the NHL Draft since 2007 (James van Riemsdyk and Kyle Turris). Sixty NHL scouts were at the game two weeks ago when BU and Eichel faced fellow 2015 draft prospect Zach Werenski (Grosse Pointe, Mich./U.S. NTDP); even more will watch this matchup thanks to NBCSN's national broadcast (8 p.m. ET).
WEEI.com: Eichel breathes rarified air but stays grounded
TSN: Bob McKenzie on Eichel
ISS Hockey's Top Six 2015 NHL Draft Prospects
1. Connor McDavid (Erie-OHL)
2. Jack Eichel (Boston University-Hockey East)
3. Noah Hanifin (Boston College-Hockey East)
4. Mathew Barzal (Seattle-WHL)
5. Dylan Strome (Erie-OHL)
6. Zach Werenski (Michigan-Big Ten)
Must Read/See/Head Material
Wisconsin State Journal: Zulinick adjusts to life as a father
Hartford Courant: Cavanaugh will face mentor as York brings BC to XL
Denver Post: Small size no big deal to DU's "Joey Legs"
BGSUHockey.com: Falcons, BG fans putting faith in @ChurchofDufour
St. Cloud Times: Bertsch goes from little billet brother to SCSU
City of Champions: RMU drawing college-ready talent from unexpected places
The Gazette: Air Force senior returns to site of high school glory
Five More Storylines No One Should be Without
Arentz steps up for BSU – Sophomore Nate Arentz (Lakeville, Minn./Fargo-USHL) powered Bemidji State to a sweep of Alaska last weekend with three goals, matching his total from all of last year. Despite that relatively quiet rookie campaign, head coach Tom Serratore plugged Arentz in at center between two of his most dangerous forwards, Brendan Harms (Steinbach, Man./Fargo-USHL) and Markus Gerbrandt (Edmonton, Alta./Fort McMurray-AJHL). That trio leads the 3-3-0 Beavers – whose losses are to No. 1 Minnesota (twice) and No. 2 North Dakota (in a split) – into a series at WCHA preseason favorite Minnesota State this weekend.
Quinnipiac powers forward – Nine power-play goals from six players have fueled Quinnipiac's 3-2-1 start entering ECAC Hockey play this weekend against Colgate and Cornell. The Bobcats rank second nationally with a 31.0% power play, and in those wins they have been even more impressive (35.3%). Sophomore Sam Anas (Potomac, Md./Youngstown-USHL) leads the team with three PPGs and 44 shots – more than twice as many as any teammate and 22% of the team's total.
Badgers seek offense – Wisconsin opens its home slate this weekend and hopes to find some offense after an 0-4-0 start in which it scored just three goals. The Badgers lost more of their offense to graduation and NHL contracts than any other team, but can expect increased contributions from senior Joseph LaBate (Eagan, Minn./Holy Angels-USHS/VAN). LaBate's goal total has grown in each of his first three seasons and the 6-foot-4, 210-pound center has shots in all four games without a point yet; he and the Badgers hope the shots start falling this weekend vs. North Dakota.
Heinen's immediate impact – Denver freshman Danton Heinen (Langley, B.C./Surrey-BCHL/BOS) shares the Pioneer team lead in scoring after notching both goals in a 2-1 overtime win vs. Boston College Saturday. The rookie is accustomed to making an immediate impact – last year, in his first full BCHL season, he captained the Surrey Eagles and was the league's rookie of the year.
Home sweet home for Bentley – After playing six of its first seven games on the road, with visits to Quinnipiac, Rensselaer and Penn State, Bentley (3-4-0 overall, 1-1-0 Atlantic Hockey) returns home this weekend and for eight of its next 10 games. The Falcons have a dangerous offensive club despite the graduation of Atlantic Hockey all-time leading scorer Brett Gensler. Senior captain Alex Grieve (Calgary, Alta./Westside-BCHL) leads the way, and he's especially comfortable at John A. Ryan Arena. Grieve tallied 15 goals in 15 home games last season, sharing the national lead in home goals per game.
NHL Note of the Week
Just six months after the 2014 Frozen Four, six participants have already played in the NHL: North Dakota's Rocco Grimaldi, Union's Shayne Gostisbehere and Boston College's Bill Arnold, Patrick Brown, Kevin Hayes and Johnny Gaudreau.
Fries at the Bottom of the Bag
Minnesota head coach Don Lucia and his son, Notre Dame forward Mario (Plymouth, Minn./Penticton-BCHL/MIN) could have met in the Ice Breaker Tournament but didn't; this weekend they face off twice (Friday on BTN, Sunday on ESPNU) … Connecticut hosts Boston College in its first home Hockey East contest Wednesday at Hartford's XL Center and expects more than 7,000 fans … A number of teams, including Mercyhurst, are participating in Movember to raise awareness for men's health issues.