Wednesday, December 10, 2014
Notes: All-Family Edition
Heroics in Riley's homecoming, the biggest family for Michigan Tech and more in this week's notebook.
---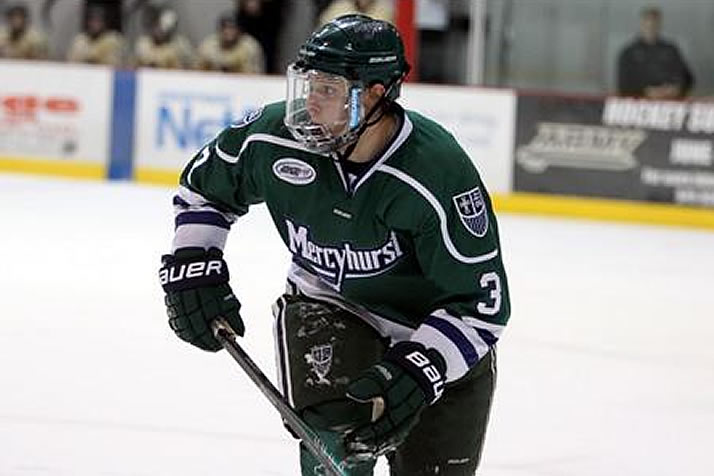 Mercyhurst's Jack Riley was a medical redshirt last season after injury forced him to miss all but seven games.
By Nate Ewell
In honor of the upcoming holidays, we present an all-family edition of college hockey storylines this week. These notes will return Dec. 26.
The Riley family – already legendary in U.S. and college hockey – added a remarkable chapter with Mercyhurst redshirt freshman Jack Riley (West Point, N.Y./Jersey-EJHL) recording a four-point game Saturday night. Jack's two-goal, two-assist game nearly matched his career point total to that point (1g-4a in 18 GP) and came against his father, Army head coach Brian Riley, at the West Point rink where he grew up. The Lakers swept the weekend series, which marked Jack's first NCAA appearances at Tate Rink – he missed last year's series due to an injury that cost him all but seven games. The 7-4-2 Lakers (5-2-2 Atlantic Hockey) host conference-leading Robert Morris for two games this Saturday and Sunday.
Must Read/See/Head Material
Grand Forks Herald: Minot HS star returns home to face UND
Wisconsin State Journal: Besse growing into leadership role
Fairbanks Daily News Miner: Nanooks' Basara overcomes early struggles | Nanooks visit Ronald McDonald House
Mankato Free Press: For MSU's Knowles, waiting was the hardest part
Syracuse Post-Standard: The time is right for Nieves to become a star at Michigan
Buffalo Sabres: Leading by example
Minnesota Wild: School days
Tampa Bay Lightning: College route to NHL becoming more popular for players including Brian Boyle
College Hockey News: How much does rest matter for goaltenders?
Don't Miss:
Dec. 16-19: U.S. National Junior Team Training Camp at Boston University
Three More Storylines No One Should be Without
MTU's biggest family - Co-captain Tanner Kero (Hancock, Mich./Fargo-USHL) and No. 4 Michigan Tech welcome No. 9 Minnesota Duluth to the Upper Peninsula for this weekend's only meeting of top-10 teams. Kero, who has points in six straight games and 11 of 14 on the year, is one of 10 children who grew up across the Portage Lift Bridge in Hancock. One of his younger brothers, Devin (Hancock, Mich./Merritt-BCHL) is a freshman on the team and a backup to star goaltender Jamie Phillips (Caledonia, Ont./Toronto-OJHL/WPG).
Zajac faces brothers' alma mater – Denver visits North Dakota this weekend in a big NCHC series, one which pits Pioneer junior defenseman Nolan Zajac (Winnipeg, Alta./Omaha-USHL) against the alma mater of older brothers, Travis (now with the New Jersey Devils) and Darcy (now with the Albany Devils). A third older brother, Kelly, played at Union, but Nolan wasn't a family pioneer – pardon the pun – when it came to choosing Denver. The talented offensive defenseman who attended the Winnipeg Jets development camp last summer followed in the footsteps of his father, Tom, who played for legendary Denver coach Murray Armstrong in the 1970s.
Youngest Zarbo leads Clarkson – A win at rival St. Lawrence lifted Clarkson to 4-1-2 in ECAC Hockey, two points off the conference lead with a game in hand. The Golden Knights are 6-1-4 on the season when they manage at least two goals, with senior Joe Zarbo (Grand Island, N.Y./Wellington-OJHL) leading the way with six goals and 10 points. Zarbo is the youngest of Deb and Mark Zarbo's three sons – older brothers Matt (Clarkson) and Mark (Rensselaer) also played in ECAC Hockey. Zarbo and the Knights visit Michigan State Sunday in a rematch of the 1966 NCAA championship game.
NHL Note of the Week
Approximately 40 current NCAA players are sons of former NHLers, and 12 have brothers who have played in the NHL:
Wade Bennett, Denver (Beau)
Jay Camper, New Hampshire (Carter)
Alex Carle, Merrimack (Matt)
Shane Conacher, Canisius (Cory)
Ben Dalpe, Clarkson (Zac)
Max Gardiner, Penn State (Jake)
Joel Lowry, Cornell (Adam)
Kyle Rau, Minnesota (Chad)
Quentin Shore, Denver (Drew and Nick)
Brandon Tanev, Providence (Chris)
Johnny Wingels, Miami (Tommy)
Nolan Zajac, Denver (Travis)
Fries at the Bottom of the Bag
One of the game's greatest rivalries visits the largest cities in Maine and New Hampshire this weekend and those state universities play a "home-and-home" in Portland and Manchester … UAA senior Brett Cameron (Spruce Grove, Alta./Spruce Grove-AJHL) became the first player this season to score four goals in a game in Saturday's 4-4 tie with Bemidji State. Cameron had scored once in his first 14 games this season … Harvard enters its holiday break with the nation's longest active winning streak (six games) … The two winningest active coaches in college hockey face off Saturday as Michigan (Red Berenson) visits Boston College (Jerry York) in a game that also features the two youngest players in college hockey (Michigan's Zach Werenski and BC's Noah Hanifin). Michigan and Boston College also share the lead among all schools with five players each named to the U.S. National Junior Team training camp that begins next week … Penn State leads the nation in shots on goal for the second time in three years.