Tuesday, October 10, 2017
'College Hockey Nation' Set to Debut
Half-hour, bi-weekly show debuts Oct. 15 on ESPN On Demand.
---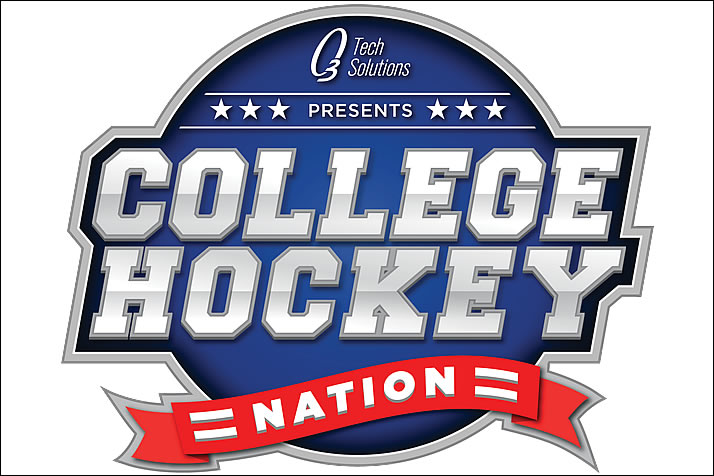 College Hockey Nation logo
NCAA Division I men's hockey fans will have a new perspective on the game in 2017-18 thanks to "College Hockey Nation," a new half-hour, bi-weekly show that will debut Oct. 15 and be available on ESPN On Demand on TV and streaming devices.
Produced by Rival Films LLC and presented by O3 Tech Solutions, "College Hockey Nation" will showcase the personalities and biggest stories in the sport, bringing fans behind the scenes and inside the game. The feature-oriented show will highlight programs from across the country and include special elements, including an interactive segment with ESPN SportsCenter anchor John Buccigross, the network's play-by-play voice of the NCAA Frozen Four. It will be hosted by Joel Idelson.
The debut episode, available on Sunday, demonstrates how "College Hockey Nation" will cover the sport across the country, providing a unique perspective on the sport's biggest stories and exploring topics seen nowhere else. Among the features in the premiere:
Mel Pearson has taken over as head coach at Michigan from legend Red Berenson, and "College Hockey Nation" has an inside look as Pearson puts his stamp on the Wolverine program. | Watch Trailer
NHL prospect Joey Daccord left the hockey hotbed of New England to help create a tradition at college hockey's newest program, at Arizona State. | Watch Trailer
A unique offseason training program unites NCAA alumni in the NHL and current college players, with the NHLers serving as mentors to the collegians hoping to follow in their footsteps. | Watch Trailer
Rival Films has extensive experience covering college hockey, having produced documentaries on the Boston College-Boston University rivalry ("The Battle of Comm. Ave."), the 2010 NCAA Frozen Four, Colorado College ("Tiger Pride") as well as work with USA Hockey, the USHL, "New England Hockey Journal" and many other projects.
"We know the passion college hockey fans have for their teams and the game as a whole," said Rival Films Managing Partner Matt Fults. "With 'College Hockey Nation,' we will be able to feed that passion in a new and unique way. The college game has never been stronger, between the parity across the nation and the success of NCAA alumni in the NHL. That makes this the perfect time to deliver a show like 'College Hockey Nation' to new and existing college hockey fans."
The show debuts Oct. 15 and will include 10 episodes in 2017-18, running roughly bi-weekly throughout the season. Fans can find previews of each episode and exclusive content by following @CollegeHockeyTV on Twitter or Instagram.
---
How to Watch
ESPN offers on demand content on television set-top-boxes and streaming devices via the ESPN App at no additional cost to those who receive their video subscription from an affiliated provider.
---
About College Hockey
NCAA Division I men's hockey features 60 programs spanning from Alabama to Alaska and Arizona to New England. The sport features intense rivalries and is played in front of raucous crowds, with the season culminating in the NCAA Frozen Four each April. NCAA hockey produced a record 32% of all NHL players in 2016-17, while maintaining a 92% graduation rate, among the best of all NCAA Division I men's sports.
---
About Rival Films
Founded in 2001, Rival Films specializes in sports storytelling. From the U.S. Ski Team to the USHL; commercial development to documentary production; digital series to television shows - it's the story that matters most. With an impressive list of clients, productions and distribution partners, Rival Films delivers content for the digital world. Learn more at www.rivalfilms.com or follow them on Twitter @rivalfilms.