Saturday, December 12, 2020
22 Make U.S. Junior Squad
NCAA players comprise bulk of U.S. National Junior Team.
---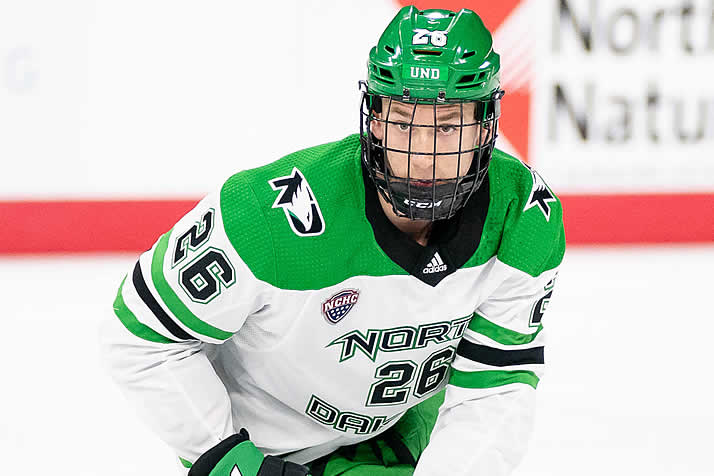 North Dakota's Jake Sanderson is one of nine NCAA freshmen on the U.S. team (Photo by Mark Kaufmann).
Twenty-two current and former NCAA players headline the 25 named to the U.S. National Junior Team, USA Hockey announced Saturday. The group now heads to Edmonton, Alta., to compete in the 2021 World Junior Championship.
Twelve schools are represented among the 22 NCAA players. Boston College, Michigan and Minnesota lead the way with three selections each, while Harvard, North Dakota, Providence and Wisconsin each have two representatives.
Eight players return from the 2020 U.S. National Junior Team, led by Boston College sophomore goaltender Spencer Knight (Darien, Conn./U.S. NTDP/FLA), who makes the team for the third time. Wisconsin sophomore Cole Caufield (Stevens Point, Wis./U.S. NTDP/MTL), who shares the national lead with six goals this season, is another returnee.
Providence head coach Nate Leaman is the head coach of the 2021 U.S. National Junior Team, with Ted Donato (Harvard), Kris Mayotte (Michigan) and Steve Miller (Ohio State) serving as assistant coaches and Theresa Feaster (Providence) as video coach.
The U.S. will face Russia in its first preliminary matchup on Dec. 25 (9:30 p.m. ET). NHL Network will provide live coverage of all U.S. games in the tournament.
2021 U.S. National Junior Team Roster
Player
NCAA Team
Goaltenders
Spencer Knight
Boston College
Logan Stein
Ferris State
Dustin Wolf

Defensemen
Brock Faber
Minnesota
Drew Helleson
Boston College
Ryan Johnson
Minnesota
Tyler Kleven
North Dakota
Jackson LaCombe
Minnesota
Jake Sanderson
North Dakota
Hunter Skinner
Henry Thrun
Harvard
Cam York
Michigan

Forwards
Matthew Beniers
Michigan
Brett Berard
Providence
Matthew Boldy
Boston College
Bobby Brink
Denver
Brendan Brisson
Michigan
Cole Caufield
Wisconsin
Sam Colangelo
Northeastern
John Farinacci
Harvard
Arthur Kaliyev
Patrick Moynihan
Providence
Landon Slaggert
Notre Dame
Alex Turcotte
Wisconsin
Trevor Zegras
Boston University