Wednesday, February 3, 2021
Richter Award Names Watch List
35 named as candidates for top goaltender honor.
---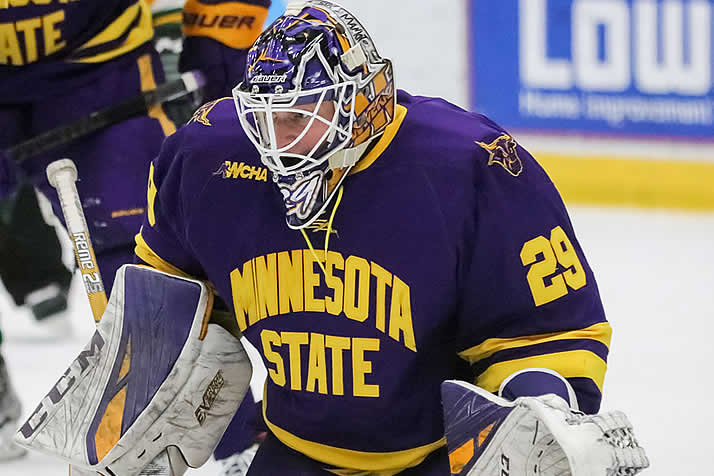 Minnesota State junior Dryden McKay leads the nation with a .954 save percentage.
Thirty-five goaltenders from across the country have been named to the initial watch list for the 2021 Mike Richter Award as the nation's top goaltender, the Hockey Commissioners' Association announced Tuesday.
A committee of voters – consisting of coaches, administrators, scouts and media – will select the honoree, to be announced in April in conjunction with the NCAA Frozen Four.
The Hockey Commissioners' Association will manage the award moving forward; "Let's Play Hockey" magazine had administered it since its creation in 2014.
"This is a strong group of goaltenders and one of them will join the already impressive list of past recipients," said Joe Bertagna, Secretary-Treasurer of the HCA. "While we are pleased to assume responsibility for this award, I wish to thank everyone at 'Let's Play Hockey' and the Herb Brooks Foundation who created and nurtured this award for the past seven years."
---
Previous Winners
2020 – Jeremy Swayman, Maine
2019 – Cayden Primeau, Northeastern
2018 – Cale Morris, Notre Dame
2017 – Tanner Jaillet, Denver
2016 – Thatcher Demko, Boston College
2015 – Zane McIntyre, North Dakota
2014 – Connor Hellebuyck, UMass Lowell
---
2020-21 Richter Award Watch List
Atlantic Hockey
Zack LaRocque, Air Force
Stefano Durante, American International
Jake Kucharski, American International
Trevin Kozlowski, Army West Point
Nicholas Grabko, Bentley
Matt Ladd, Canisius
Erik Gordon, Holy Cross
Hank Johnson, Mercyhurst
Michael Corson, Niagara
Noah West, Robert Morris
Big Ten
Strauss Mann, Michigan
Drew DeRidder, Michigan State
Jack LaFontaine, Minnesota
Tommy Nappier, Ohio State
Cameron Rowe, Wisconsin
ECAC Hockey
Keith Petruzzelli, Quinnipiac
Emil Zetterquist, St. Lawrence
Hockey East
Spencer Knight, Boston College
Drew Commesso, Boston University
Tomáš Vomáčka, Connecticut
Matt Murray, Massachusetts
Henry Welsch, UMass Lowell
Jaxson Stauber, Providence
NCHC
Ludvig Persson, Miami
Ryan Fanti, Minnesota Duluth
Adam Scheel, North Dakota
Isaiah Saville, Omaha
Dávid Hrenák, St. Cloud State
WCHA
Zach Driscoll, Bemidji State
Eric Dop, Bowling Green
Zack Rose, Bowling Green
Mareks Mitens, Lake Superior State
Dryden McKay, Minnesota State
Blake Pietila, Michigan Tech
Independent
Garrett Metcalf, Long Island