Thursday, April 1, 2021
Hobey Hat Trick Named
Caufield, McKay and Pinto up for 2021 Hobey Baker Award.
---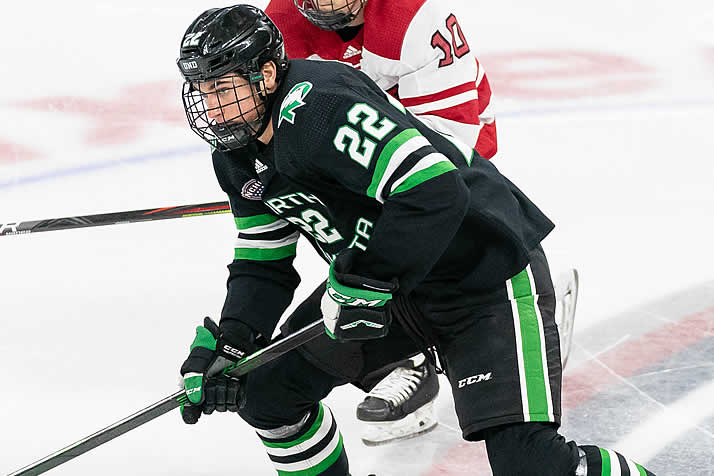 Shane Pinto was named NCHC Player of the Year in 2020-21 (Photo by UND Athletics).
The three Western conferences fill the 2021 Hobey Hat Trick, as the top three vote-getters for men's college hockey's highest individual honor were announced Thursday.
Wisconsin forward Cole Caufield (Stevens Point, Wis./U.S. NTDP/MTL, Minnesota State goaltender Dryden McKay (Downers Grove, Ill./Madison-USHL) and North Dakota forward Shane Pinto (Franklin Square, N.Y./Tri-City-USHL/OTT), are the three finalists, with the winner to be announced on Friday, April 9.
Caufield, McKay and Pinto were selected from the initial list of 10 candidates by the 30-member selection committee and an additional round of online fan voting. Criteria for the award includes: displaying outstanding skills in all phases of the game, strength of character on and off the ice, sportsmanship and scholastic achievements.
Caufield, a sophomore, was a unanimous selection as Big Ten Player of the Year and led the nation in points (52) and goals (30) in 31 games played this season. The first-team all-conference selection and first-round draft pick of the Montreal Canadiens signed an NHL contract following his season.
McKay, a junior, led the Mavericks to their first Frozen Four and was a Hobey Baker top-10 finalist for the second year in a row. The WCHA Player and Goaltender of the Year has 10 shutouts this season and 24 in his career – both just two shy of the NCAA records.
Pinto, a sophomore, collected NCHC Player of the Year, Forward of the Year and Defensive Forward of the Year honors for the Fighting Hawks. The second-round Ottawa Senators draft pick finished with 15 goals and 32 points in 28 games this season.
The winner will be announced Friday, April 9, in a live broadcast on NHL Network at 6 p.m. ET. The 41st annual Hobey Baker Award show will also include the announcements of the Hockey Humanitarian Award, the East and West All-America Teams and the Mike Richter Award for the nation's top goaltender.