Tuesday, May 25, 2021
Goalie Paths: How they Get to NCAA Division I
Study takes a closer look at the most important position on the ice.
---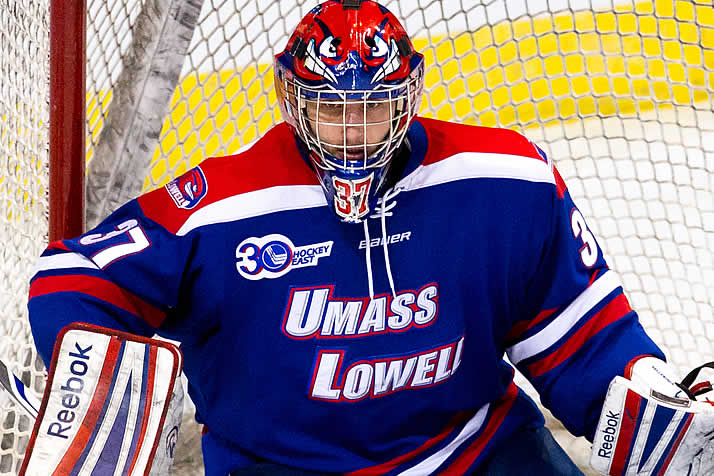 Former UMass Lowell star Connor Hellebuyck spent his 17-year-old season with Walled Lake Northern High School in Michigan.
By Nate Ewell and Sean Hogan
There's no one path to reach Division I hockey, a tenet that is proven true over and over again.
Nowhere is it more true than at the goaltending position, where the winding roads from youth hockey to the college game resemble a plate of spaghetti.
Study: Paths to NCAA Show Need for Patience
It's a path and a position that certainly rewards patience, as a closer look at current college goalies and their paths revealed. But that research also showed some surprises, including the ages that college goalies tend to enroll in school.
---
The Data: Junior Leagues
The simplest way to see how goaltenders got to the Division I level is to look where they played immediately prior to college. But while that's simple on the surface, the data doesn't paint a clear picture. No fewer than 20 leagues sent goalies directly to Division I rosters in 2019-20.
College Hockey Inc. examined the 187 Division I men's goaltenders in 2019-20. The results show a variety of leagues, mostly at the junior level – with more than half of all goaltenders coming from the USHL, NAHL or BCHL.
Eleven other leagues produced more than one goaltender, though, proving that top goalies in any of those pre-college leagues can get Division I opportunities.
Here's all the data:
Before NCAA – 2019-20 Goaltenders
League
No.
Pct.
ACHA
1
1%
AJHL
6
3%
BCHL
23
12%
CCHL
8
4%
EHL
1
1%
Europe
4
2%
GOJHL
2
1%
LHJQ
1
1%
MJAHL
1
1%
MJHL
3
2%
NA3HL
1
1%
NAHL
43
23%
OJHL
11
6%
Prep School
7
4%
RMJHL
1
1%
SJHL
2
1%
USHS
3
2%
U.S. NTDP
4
2%
USHL
51
27%
USPHL
14
7%
Focusing on primary starting goalies – defined as those who played at least 20 games in 2019-20 – shows a bit more focus, but it's still a wide funnel. The USHL's share jumps to 40% in this group, but there are still 10 leagues sending starting goalies to the NCAA Division I level.
Before NCAA – 2019-20 Goalies with 20+ GP
League
No.
Pct.
AJHL
2
4%
BCHL
7
13%
CCHL
1
2%
Europe
2
4%
GOJHL
2
4%
MJAHL
1
2%
NAHL
11
21%
U.S. NTDP
2
4%
USHL
21
40%
USPHL
2
4%
---
The Data: By Age
Looking beyond goalies' most recent junior team yields even more interesting data. College Hockey Inc. looked at where current college goaltenders spent each of their junior-eligible seasons – at ages 16, 17, 18, 19 and 20. Here we had two key findings:
First, there's no need for goaltenders to rush to get to the junior hockey ranks. When we looked at Division I men's goaltenders in 2019-20 and where they played at 17 years old, the majority (58%) were playing 18U, prep school, or high school hockey.
The three leagues that end up producing the most Division I goalies – the USHL, NAHL and BCHL – are home to only 16% of them at 17 years old. Goaltenders, the data shows, can be playing virtually anywhere at age 17 and still reach the top level of college hockey.
"This research reinforces an important point, that there's no need for goaltenders to rush to junior hockey," said Steve Thompson, USA Hockey's American Development Model Manager of Goaltending. "Well over half of all Division I goaltenders played 18U, prep school or high school hockey as 17-year olds. What's important is that they are playing and developing at that age, not trying to advance too quickly."
At Age 17 – 2019-20 Goaltenders
League
No.
Pct.
18U
55
29%
AJHL
2
1%
BCHL
4
2%
Cdn. HS
2
1%
CCHL
2
1%
CSSHL
1
1%
EHL
1
1%
EmJHL
3
2%
EOJHL
1
1%
Europe
12
6%
GMOHL
1
1%
GOJHL
2
1%
KIJHL
1
1%
MetJHL
1
1%
MJHL
2
1%
NAHL
11
6%
NDJCHL
1
1%
NOJHL
1
1%
OJHL
3
2%
Prep Schools
29
16%
QJAAAHL
1
1%
USHS
23
12%
U.S. NTDP
6
3%
USHL
15
8%
N/A
6
3%
Second, goaltenders reach college at varying ages. Among all NCAA goaltenders last year, 29% were playing college by the time they are 19.
When looking at the top goaltenders in college – however that is defined – that skews even younger. Among starting goaltenders (20+ GP in 2019-20), 43% are playing college by age 19. Among those who signed NHL contracts between 2012-20, 47% were in college at 19.
At Age 19 – Goaltenders Who Signed NHL Contracts, 2012-20
League
No.
Pct.
BCHL
4
7%
Europe
3
5%
NAHL
6
10%
NCAA
27
47%
SJHL
1
2%
USHL
16
28%
USPHL
1
2%
Successful goaltenders who do make the jump to college at age 18 or 19 tend to play a lot right away, rather than serving as a backup. Among that same group of goalies who signed NHL contracts, 65% of them who were freshmen at 18 or 19 played the majority of their team's games that year.
That reinforces Thompson's earlier point: for a goaltender, getting ice time can be more important than what level they are playing.
---
Case Study
The myriad ways that a goaltender can reach the Division I level may be best represented by a man at the top of his profession: Connor Hellebuyck.
Hellebuyck, who won the Vezina Trophy last season with the Winnipeg Jets, famously got his break at an NAHL tryout camp. He spent his 17-year-old season playing for Walled Lake Northern High School in Michigan before turning heads at tryouts for the Odessa Jackelopes.
Hellebuyck's .930 save percentage in the NAHL earned him a scholarship to UMass Lowell and made him a fifth-round draft pick of the Jets. Two spectacular seasons in college led to a year and a half in the AHL before becoming an NHL starter.
Hellebuyck was 23 when he became the Jets' No. 1 goaltender, which is younger than most of his peers. But he never rushed in the path to get there, which has paid the ultimate dividends in the end.
Thanks to eliteprospects.com for some of the data used in this research.