Thursday, May 27, 2021
Michigan Headlines Final Draft Rankings
103 NCAA players or recruits featured by NHL Central Scouting.
---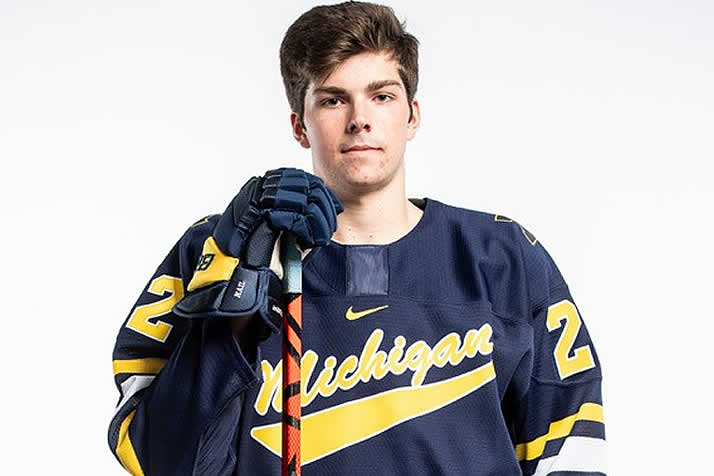 Top-ranked Owen Power could become the fourth NCAA player or recruit selected first overall.
Four Michigan players and recruits – led by top-ranked prospect Owen Power – headline a group of more than 100 NCAA players and recruits in NHL Central Scouting's final rankings for the 2021 NHL Draft.
Thirty-one programs have a player or recruit in the rankings, representing more than half of Division I schools.
Sortable: NCAA in NHL Central Scouting Rankings
The top four rated NCAA prospects are all Wolverines: Power (first among North American skaters) and classmates Kent Johnson (third) and Matty Beniers (sixth), plus incoming freshman Luke Hughes (fourth).
"For the University of Michigan, this season was a once in a lifetime occurrence where three of the best prospects in the NHL Draft class competed on the same team," said NHL Director of Central Scouting Dan Marr. "Each plays a different position and style, and all contributed as freshmen. Credit to Coach Mel Pearson for placing them in leadership roles to contribute and develop at the NCAA level. He helped guide them to be the best they could be."
Boston University leads all schools with nine representatives in the rankings, followed by Boston College and Wisconsin with seven each. Massachusetts, Michigan, Minnesota and Notre Dame each have six players or recruits featured.
Five conferences and independent Arizona State are represented in the rankings.
All-Time NCAA First-Round Picks
A few more notes on the 103 players/recruits listed:
Six, including Power, Johnson and Beniers, recently completed their freshman seasons
53 are forwards, 36 are defensemen and 14 are goaltenders
12 are not currently committed to a school but are playing in a North American NCAA-eligible junior league
50 play in the USHL, including 20 with USA Hockey's National Team Development Program
Power (or a teammate) could become the fourth NCAA player or recruit selected first overall in the NHL Draft, joining Joe Murphy (1986, Michigan State), Rick DiPietro (2000, Boston University) and Erik Johnson (2006, Minnesota).
Michigan could become the first team to have three current players selected in the first round. Three previous teams have had two: Ohio State in 2001, Boston College in 2000 and Michigan State in 1990. The most players or recruits from one school taken in the first round is four: Minnesota in 2006 and Boston University in 2016.
The 2021 draft will be held virtually, with the first round July 23 and Rounds 2-7 on July 24.