Monday, December 13, 2021
Hockey Boasts Superlative Graduation Rates
Men's, women's hockey lead in four-year success rates
---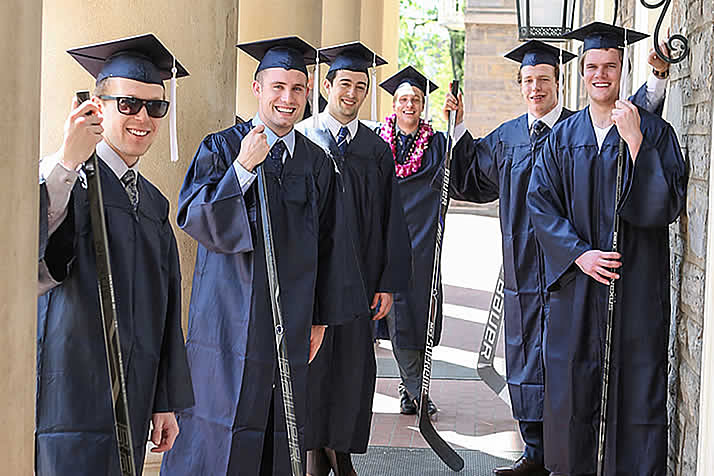 Forty men's and women's hockey programs boasted a 100% GSR in the latest data.
NCAA hockey student-athletes continue to thrive in the classroom, well above the national average, according to the most recent Graduation Success Rate (GSR) data released earlier this month by the NCAA.
Women's hockey boasted a 99-percent four-year GSR, the highest of any women's sport. Men's hockey ranked among the top three men's sports in both four-year GSR (93%) and single-class average (91%), with its four-year rate tying for the best among men's sports:
Four-Class Average GSR (Men)
93% – Hockey
93% – Gymnastics
93% – Tennis
89% – Overall
Single-Year GSR (Men)*
94% – Tennis
92% – Lacrosse
91% – Hockey
90% – Overall
Four-Class Average GSR (Women)
99% – Hockey
98% – Skiing
97% – Fencing, Gymnastics, Lacrosse
89% – Overall
Single-year GSR not available for women's sports
The figures released reflect graduation numbers among student-athletes who entered school in 2014.
"The success that college hockey players have on the ice gets the most attention but their performance in the classroom is just as exciting and noteworthy," said College Hockey Inc. Executive Director Mike Snee. "College hockey is truly about reaching your full potential, both as a player and as a student."
Nineteen men's hockey programs – roughly one-third of the current 59 Division I men's hockey programs – recorded a perfect 100-percent GSR: Air Force, American International, Arizona State, Bentley, Bowling Green, Canisius, Colgate, Cornell, Harvard, Holy Cross, Lake Superior State, UMass-Lowell, Mercyhurst, Merrimack, Miami, Omaha, Providence, Sacred Heart and Yale.
An additional 14 schools had rates of 90% or better.
On the women's side, 21 Division I hockey programs achieved a perfect 100-percent GSR in the most recent data, representing more than half of the nation's programs: Boston University, Brown, Colgate, Cornell, Dartmouth, Harvard, Holy Cross, Maine, Mercyhurst, Minnesota, New Hampshire, Northeastern, Ohio State, Penn State, Princeton, Providence, Quinnipiac, Sacred Heart, Syracuse, Vermont and Yale.
The remaining seven schools captured in the data had rates of 90 percent or better.
For more information, including the full GSR report, visit https://www.ncaa.org.