Thursday, March 24, 2022
Lindenwood University to add Division I men's hockey
Will begin competing as DI independent in 2022-23
---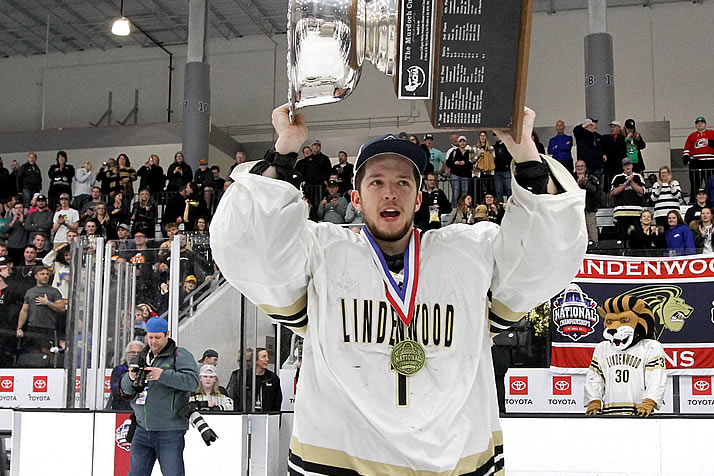 Lindenwood won its fourth ACHA championship in 2022 (Photo: Don Adams Jr.)
College hockey gained another NCAA Division I program on Thursday, with the announcement that Lindenwood University is adding varsity men's hockey and will begin competition during the 2022-23 season. Located in St. Charles, Mo., just over 20 miles northwest of St. Louis, Lindenwood will play its home games at the Centene Ice Center, practice facility of the National Hockey League's (NHL) St. Louis Blues.
Lindenwood will transition its highly successful men's hockey club program, which recently won the 2022 American Collegiate Hockey Association (ACHA) championship under head coach Rick Zombo, the fourth such national title in program history. Zombo himself played collegiately at the NCAA Division I level, spending three years at the University of North Dakota and winning a national title in 1982 before embarking upon a 12-year NHL (NHL) career with Detroit, St. Louis and Boston.
"This marks an exciting new chapter in the legacy of Lindenwood University and our men's ice hockey program," said Lindenwood President Dr. John Porter. "Our student-athletes have worked hard on the ice and in the classrooms, and have earned this opportunity to join our complement of NCAA sports as we transition to NCAA Division I."
Thursday's announcement marks the return of NCAA Division I men's hockey to the St. Louis Area after a 43-year absence; the city was home to the Saint Louis University Billikens from 1970-71 through 1978-79. Lindenwood already sponsors a NCAA Division I women's hockey program, which began play in 2011-12 and gained conference affiliation with College Hockey America (CHA) the following season.
Lindenwood University first started exploring NCAA Division I men's hockey in 2018 when it conducted a men's hockey feasibility study. The feasibility study was facilitated by College Hockey Inc. and funded by the NHL and the NHLPA as part of the Feasibility Study Project those three organizations created in 2017. The Feasibility Study Project is an effort to further the growth of the sport of hockey by increasing the number of colleges and universities that sponsor NCAA Division I hockey programs.
"The NHL, NHLPA and the league's member clubs have done so much to assist with the growth of college hockey through the Feasibility Study Project," said College Hockey Inc. Executive Director Mike Snee. "We are grateful to the St. Louis Blues for first introducing us to Lindenwood University and opening the door to what will soon be an NCAA Division I men's hockey team joining the existing Lindenwood women's team at the beautiful Centene Community Ice Center."
NHL Vice President of Hockey Development & Strategic Collaboration Kevin Westgarth took part in Thursday's announcement. He credited Lindenwood for its persistence in bringing men's college hockey back to St. Louis.
"When we began working with Lindenwood more than four years ago, commissioning a feasibility study to explore adding men's DI hockey, there was already palpable excitement around hockey at the school and in St Louis, which absolutely exploded with the Blues' Stanley Cup win in 2019," said Westgarth. "Though the last couple years navigating a global pandemic has slowed progress, Lindenwood University never lost hope or determination, and with the great support of the Blues, are now poised for success in men's DI college hockey. The future is bright for hockey families, new and old, in St Louis and beyond."
USA Hockey said today's announcement builds upon the foundation already set by Lindenwood's women's program.
"We're always excited to see the addition of Division I hockey programs, and our congratulations to Lindenwood for adding men's ice hockey to its intercollegiate program," said Pat Kelleher, executive director of USA Hockey. "They've had a Division I women's hockey program for a decade, and it's fun to note that Nicole Hensley, who played goaltender at Lindenwood, and current Lions head coach Shelley Looney, are both two-time U.S. Olympians who have been part of gold-medal teams. With the continued growth of hockey in St. Louis – thanks in part to all the great things the St. Louis Blues have done to help further the sport at all levels of the game, as well as the work of our dedicated USA Hockey volunteers – having Division I men's ice hockey in greater St. Louis is another positive step forward."
Lindenwood is the fourth school in the last three years to announce plans to add NCAA Division I men's hockey, following Long Island, St. Thomas and Augustana.