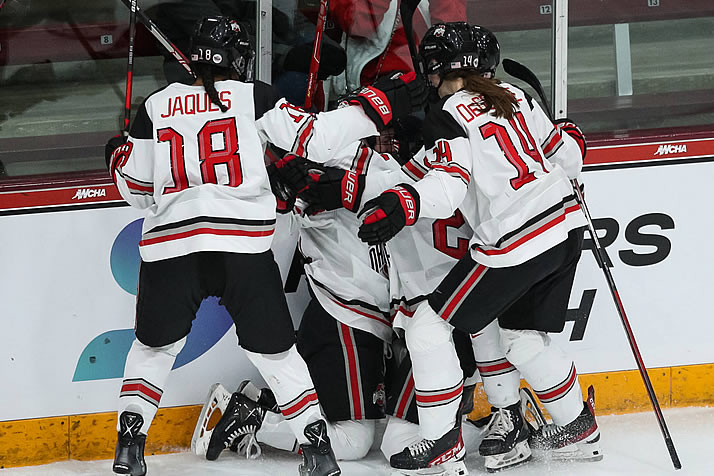 Ohio State is the top seed in the tournament (Photo: Ohio State Athletics)
College Hockey Inc. and TSN announced Wednesday that the 2022 NCAA Women's Frozen Four, scheduled for March 18-20 at Penn State's Pegula Ice Arena, will be streamed live on TSN.ca and on the TSN app.
Friday's semifinal final matchups feature No. 3 Northeastern vs. No. 8 Minnesota Duluth, and top-ranked Ohio State vs. No. 6 Yale. The winners will advance to Sunday's national championship game:
Friday, March 18 (Semifinals)
Northeastern vs. Minnesota Duluth, 3:30 p.m. ET
Ohio State vs. Yale, 7 p.m. ET
Sunday, March 20 (Championship)
Winner of Northeastern/Minnesota Duluth vs. winner of Ohio State/Yale, 4 p.m. ET
How they advanced:
Ohio State overcame a 71-save performance by Quinnipiac goalie Corinne Schroeder for a 4-3 victory.
Tess Dettling scored in overtime to give Yale a 2-1 win over Colgate and its first-ever Frozen Four berth.
Northeastern downed defending NCAA champion Wisconsin 4-2 in a rematch of last year's title game.
Minnesota Duluth edged WCHA rival and second-ranked Minnesota with a 2-1 win.
With the addition of the 2022 Women's Frozen Four to TSN's broadcast schedule, Canada's Sports Leader will have showcased more than 60 NCAA women's and men's hockey games throughout the 2021-22 season.
Click HERE to view the complete 2022 NCAA Women's Hockey Championship tournament bracket.