Sunday, April 10, 2022
Denver does it
Pioneers storm back in third period to claim ninth title
---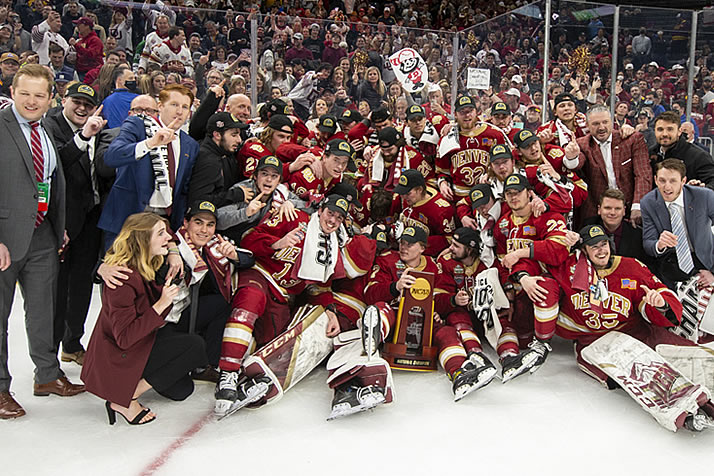 Denver earned its ninth national title tying them with Michigan for the most men's hockey championships. (Photo: Jim Rosvold)
The University of Denver erupted for five unanswered goals in the third period to defeat Minnesota State University 5-1 in the NCAA Frozen Four championship game Saturday at TD Garden in Boston.
It marked the ninth national title for the Pioneers, tying them with Michigan for the most men's hockey championships.
Denver's stunning third period came on the heels of an opening 40 minutes in which Minnesota State had thoroughly controlled play, building a 1-0 lead on a Sam Morton power-play goal and holding the prolific DU attack to just eight shots on goal.
But the game flipped in an instant when DU's Ryan Barrow stuffed a rebound past MSU goalie and 2022 Hobey Baker Award winner Dryden McKay to square the game 4:46 into the third – his eighth tally of the year -- igniting a run of five straight Pioneer goals.
From that point on, it was all Pioneers, who emphatically ended both MSU's 18-game winning streak and its quest for the program's first national title.
"I didn't think we were playing very well, outside of our goaltender," said DU Head Coach David Carle. "We weren't connected. A lot of that was what Mankato was doing. And in the third, I thought our legs got going more. We were more connected on the ice. We were talking more. And it did lead to, obviously, some O-zone time.
"I thought the last 10 of the second our puck pressure started to get better," Carle continued. "We started to create some turnovers, but we weren't there offensively with the puck. And then in the third I think both started to start to happen. And it obviously led to the goals and the final result."
Defenseman Mike Benning gave DU its first lead just over three minutes after Barrow's tying goal, blowing a one-timer past McKay from the left circle moments after a Pioneer power play had expired. Freshman forward Massimo Rizzo effectively put the game out of reach six-minutes later, going top shelf to finish off a 2-on-1 feed from classmate Carter Mazur.
Empty-net goals in the final two-and-a-half minutes by Brett Stapley and Cameron Wright sealed the deal for Denver.
"Obviously we couldn't have done it without (DU goalie) Magnus (Chrona) standing on his head. He made a few massive saves to keep it (1-1) and without that, we're out of the game."
Chrona sparkled between the pipes, stopping 24 of 25 shots while giving his DU teammates the time they needed to work themselves into the game.
"For the first 40 minutes, I don't think our team realized we were in the national championship game there for a bit," said Barrow. "(Chrona) stood on his head and once our feet got under us, we were able to do what we were able to do."
Denver's third-period blitz appeared to stun the Mavericks, who had entered the night 30-1-0 when leading after two periods.
Denver has now won three of its nine men's hockey titles in the city of Boston (1960, 2004).
"I owe a lot of what I have in my life to the University," said Carle. "And this program is very special. It means the world to me. Our alumni group is very tight, and it certainly was a goal to get to nine (championships). The ultimate goal is to be the first one to 10, I will tell you. Winning Thursday against Michigan, the team at nine, was a huge step in that direction. And obviously tonight is an even bigger step.
"So, again, I'm so thankful and blessed to work where I work, to be a part of the staff that I'm a part of, and for the people to believe in me and obviously our players to get this accomplished is an unbelievable achievement," continued Carle. "And we're all so proud to be Denver Pioneers today."
---
Notes
Benning was named NCAA Tournament Most Outstanding Player and was joined on the all-tourney team by teammates Chrona, Barrow and Carter Savoie. MSU's Morton and Jack McNelly rounded out the squad.


Carle, who is 32, became the fourth-youngest head coach to win a Division I men's hockey national championship and the youngest since 1963:

27 years, 10 months, 12 days – Tom Bedecki, Colorado College (1957)
29 years, 4 months, 18 days – Barry Thorndycraft, North Dakota (1963)
31 years, 9 months, 6 days – Bob May, North Dakota (1959)
32 years, 5 months, 0 days – David Carle, Denver (2022)
33 years, 0 months, 14 days – Jack Parker, Boston University (1978)


Chrona is the second straight non-North American goaltender to win the championship. It had never happened prior to UMass' Filip Lindberg achieving the feat last season.


Saturday's championship game was played in front of a sellout crowd of 17,850.