Friday, April 8, 2022
Goalies McKay, Levi highlight award winners
National individual honors announced Friday
---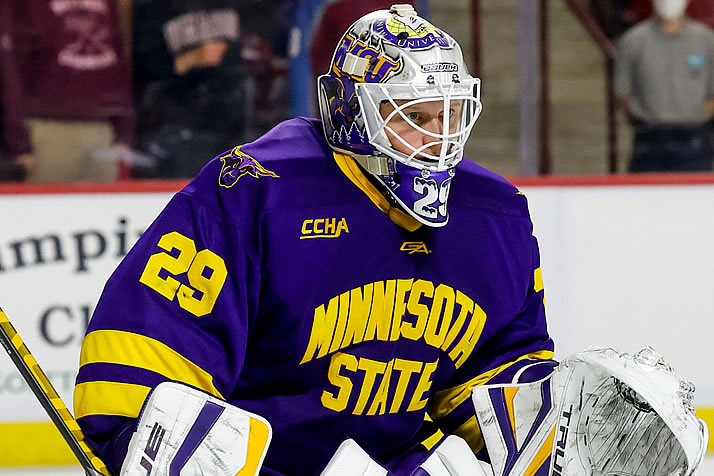 Minnesota State's Dryden McKay earned the 2022 Hobey Baker Award (Photo: Minnesota State)
One of the most decorated goaltenders in the history of NCAA Division I men's hockey, Minnesota State senior Dryden McKay captured the top individual honor in the sport Friday when he was named the 2022 Hobey Baker Award as the nation's top player in college hockey.
Another goaltender, Northeastern's Devon Levi, won both the Mike Richter Award as the nation's top goaltender, as well as the Tim Taylor National Rookie of the Year Award. Both netminders were also named first-team All-Americans, McKay in the West and Levi in the East. The announcements headlined the awards show televised live on NHL Network Friday, on the eve of the national championship game. The complete list of individual honorees:

McKay has gone 38-4-0 in 42 appearances this season, setting a new NCAA single-season record for wins. The Downers Grove, Ill., native also posted a sparkling 1.27 goals against average, .934 save percentage and 10 shutouts en route to becoming the first goalie since Ryan Miller in 2001 to capture the Hobey Baker Award.
Not to be outdone, Levi went 21-10-1 for the Huskies while logging a 1.54 GAA and nation's-best .952 save percentage. He also matched McKay's 10 shutouts.
McKay and Levi were joined as ACHA West All-Americans by fellow Hobey "Hat Trick" finalist Bobby Brink of Denver, who landed on the second team.
Michigan topped all teams with three West selections; forward Matty Beniers was a first-team honoree while the defense duo of Luke Hughes and Owen Power each earned-second team honors. In the East, Northeastern led all teams with three All-Americans – goaltender Devon Levi and forward Aidan McDonough on the first team, and defenseman Jordan Harris on the second team.
2021-22 CCM Hockey/AHCA Division I Men's All-American Hockey Teams
First Team East
Devon Levi, SO, Northeastern University
(Dollard des Ormeaux, PQ)
Goalie
Zach Metsa, SR, Quinnipiac University
(Delafield, WI)
Defense
Scott Morrow, FR, University of Massachusetts
(Darien, CT)
Defense
Nick Abruzzese, JR, Harvard University%
(Slate Hill, NY)
Forward
Aidan McDonough, SR, Northeastern University
(Milton, MA)
Forward
Bobby Trivigno, SR, University of Massachusetts*
(Setauket, NY)
Forward
First Team West
Dryden McKay, SR, Minnesota State University#@
(Downers Grove, IL)
Goalie
Ronnie Attard, JR, Western Michigan University*
(White Lake, MI)
Defense
Jake Sanderson, SO, University of North Dakota
(Whitefish, MT)
Defense
Matty Beniers, SO, University of Michigan
(Hingham, MA)
Forward
Bobby Brink, JR, University of Denver
(Minnetonka, MN)
Forward
Nathan Smith, JR, Minnesota State University
(Hudson, FL)
Forward
Second Team East
Yaniv Perets, SO, Quinnipiac University
(Dollard des Ormeaux, PQ)
Goalie
Jordan Harris, SR, Northeastern University
(Haverhill, MA)
Defense
Henry Thrun, JR, Harvard University
(Southborough, MA)
Defense
Colin Bilek, SR, Army West Point#
(Brighton, MI)
Forward
Jack McBain, SR, Boston College
(Toronto, ON)
Forward
Ryan Tverberg, SO, University of Connecticut
(Richmond Hills, ON)
Forward
Second Team West
Ryan Fanti, JR, University of Minnesota Duluth
(Thunder Bay, ON)
Goalie
Luke Hughes, FR, University of Michigan
(Canton, MI)
Defense
Owen Power, SO, University of Michigan
(Mississauga, ON)
Defense
Ethen Frank, GR, Western Michigan University
(Papillion, NE)
Forward
Brian Halonen, SR, Michigan Tech University
(Delano, MN)
Forward
Ben Meyers, JR, University of Minnesota
(Delano, MN)
Forward
* First Team in 2021; #Second Team in 2021; @First Team in 2020; %Second Team in 2020