Thursday, May 12, 2022
Plenty of NCAA flavor at upcoming men's World Championship
No fewer than 50 players with collegiate ties on tourney rosters
---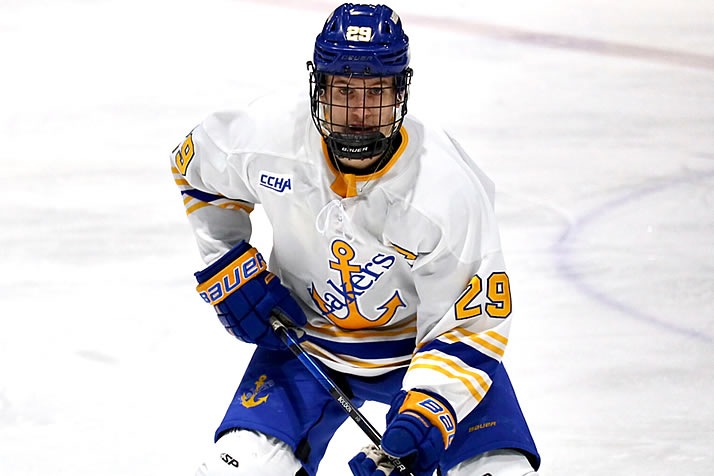 Lake Superior State captain Louis Boudon will represent France (Photo: LSSU Hockey Twitter)
Fifty past, present and future NCAA men's hockey players have been rostered for the 2022 International Ice Hockey Federation (IIHF) World Championship, which begins Friday, May 13 in Finland.
All but two of the 16 nations competing in the men's tournament will have NCAA representation, including 18 of 24 players on the United States roster. Thirty-one different NCAA Division I schools, covering all six NCAA Division I conferences, will be represented during the tournament, as will a quartet of NCAA Division III programs.
Michigan leads with six players, followed by three each from Alaska and Minnesota. Eleven schools will boast multiple players on World Championship rosters.
The 2022 IIHF Men's World Championship takes place May 13-29 in Tampere and Helsinki, Finland. Friday's opening day of competition will feature a four-game slate: USA vs. Latvia (NHL Network), Canada vs. Germany (NHL Network, TSN), France vs. Slovakia (TSN), and Finland vs. Norway.
---
AUSTRIA (2)
F Brian Lebler (Michigan, 2006-10)
F Peter Schneider (Notre Dame, 2011-15)
---
CANADA (3)
F Kent Johnson (Michigan, 2020-22)
G Matt Tomkins (Ohio State, 2013-17)
D Zach Whitecloud (Bemidji State, 2016-18)
---
CZECHIA
None
---
DENMARK (2)
D Nicholas B. Jensen (Plattsburgh State, 2010-14)
D Oliver Lauridsen (St. Cloud State, 2008-11)
---
FINLAND (1)
G Juho Olkinuora (Denver, 2011-13)
---
FRANCE (2)
F Louis Boudon (Lake Superior State, 2019-present)
F Guillaume Leclerc (UMass Lowell, 2016-18)
---
GERMANY (1)
F Marc Michaelis (Minnesota State, 2016-20)
---
GREAT BRITAIN (5)
F Scott Conway (Penn St., 2014-15; Providence, 2016-20)
F Ben Lake (Sacred Heart, 2011-15)
F Evan Mosey (Minnesota State, 2009-13)
F Cade Neilson (Alaska, incoming freshman)
F Brett Perlini (Michigan State, 2008-12)
---
ITALY (5)
D Cameron Ginnetti (Clarkson, 2018-19)
F Daniel Mantenuto (Robert Morris, 2016-20)
F Brandon McNally (Dartmouth, 2011-15)
F Alex Petan (Michigan Tech, 2012-16)
F Tommaso Traversa (Hobart, 2011-15)
---
KAZAKHSTAN
None
---
LATVIA (5)
D Arvils Bergmanis (Alaska, 2021-present)
D Kārlis Čukste (Quinnipiac, 2016-20)
G Gustavs Dāvis Grigals (Alaska, 2019-present)
D Jānis Jaks (American International, 2016-20)
F Rihards Marenis (Aurora, 2014-18)
---
NORWAY (2)
F Tobias Fladeby (American International, 2017-21)
F Ludvig Hoff (North Dakota, 2016-19)
---
SLOVAKIA (2)
G Adam Huska (Connecticut, 2016-19)
G Matěj Tomek (North Dakota, 2015-17; Omaha, 2018-19)
---
SWEDEN (1)
D Christian Folin (UMass Lowell, 2012-14)
---
SWITZERLAND (1)
G Sandro Aeschlimann (Elmira, 2015-16)
---
UNITED STATES (18)
F Riley Barber (Miami, 2012-15)
F Kieffer Bellows (Boston University, 2016-17)
D Nick Blankenburg (Michigan, 2018-22)
F Thomas Bordeleau (Michigan, 2020-22)
F Sean Farrell (Harvard, 2021-present)
F Adam Gaudette (Northeastern, 2015-18)
G Jon Gillies (Providence, 2012-15)
D Jordan Harris (Northeastern, 2018-22)
F John Hayden (Yale, 2013-17)
D Luke Hughes (Michigan, 2021-present)
F Karson Kuhlman (Minnesota Duluth, 2014-18)
F Sam Lafferty (Brown, 2014-18)
F Vinni Lettieri (Minnesota, 2013-17)
G Strauss Mann (Michigan, 2018-21)
D Jaycob Megna (Omaha, 2011-14)
F Ben Meyers (Minnesota, 2019-22)
D Andrew Peeke (Notre Dame, 2016-19)
D Nate Schmidt (Minnesota, 2010-13)
NOTE: Italics denote current or incoming NCAA player