Friday, June 17, 2022
NCAA Division I men's hockey continues to stand out academically
Best single-year APR score, 3rd-best multi-year score among men's sports
---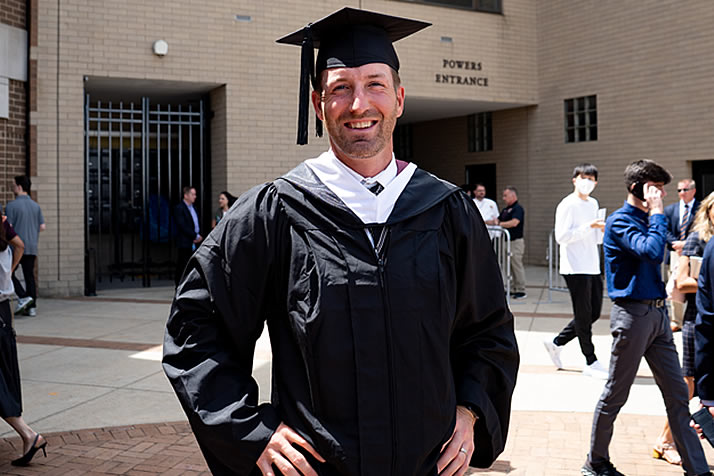 Former Boston College standout Brooks Orpik (courtesy Boston College Athletics)
The academic success of NCAA Division I men's hockey players continues to shine, with hockey ranking at or near the top of all men's sports in multiple categories according to Academic Progress Rate (APR) data recently released by the National Collegiate Athletic Association (NCAA).
Men's hockey's most recent single-year APR score of 988 for 2020-21 was tied with golf for the best among men's sports with 50 or more teams. Men's hockey's four-year average score from 2017-21 was 986, which ranked tied for third among all men's sports behind only gymnastics, golf and rifle (co-ed).
Additionally, the four-year eligibility rate for men's hockey was 992, the best such score among all men's sports.
2022 NCAA Averages & Trends Report (.pdf)
The APR, created in 2003 to measure Division I schools and teams on their student-athletes' success in the classroom, awards points to teams based on students' grades, their progress toward their degree and for staying in school. Teams are also rewarded in the APR for students who return to school to complete their degree.
The APR is related – but not identical – to the NCAA's Graduation Success Rate (GSR), serving in a way as a predictor of GSR success. Men's hockey's 93-percent graduation rate for the most recent study tied for the lead among men's sports.
The calculation of APR also rewards teams when former student-athletes return to school to complete their degree. In the past year players like Jack Johnson (Michigan) and Brooks Orpik (Boston College) have completed their undergraduate degrees despite having left school early to play in the National Hockey League.
"It was a big thing for myself, I wanted to do it to do it," Johnson told The Hockey News. "Growing up, I dreamed of playing college hockey at Michigan, I wanted to graduate there. I made a promise to (former Michigan coach) Red Berenson when I left that I was going to finish, so I made a call to him when I did."
The public announcement of APRs returned after a one-year hiatus. This spring, the Division I Board of Directors voted to continue to suspend APR penalties for an additional year due to the impact of the COVID-19 pandemic. The minimum APR academic standard for each team is 930 but no men's hockey teams were near that threshold.
Eight teams – Bowling Green, Canisius, Colgate, Long Island, Michigan State, Northeastern, Notre Dame and Yale – had perfect multi-year average APR scores of 1,000. Seventy-two percent of all teams (42 of 58) had multi-year APR scores above 980 and nearly half (27 of 58) had scores of at least 990.
For more information, visit NCAA.org.