Monday, January 6, 2014
U.S. Wins World U-17 Challenge
Roster filled with future college stars claims championship game, 4-0.
---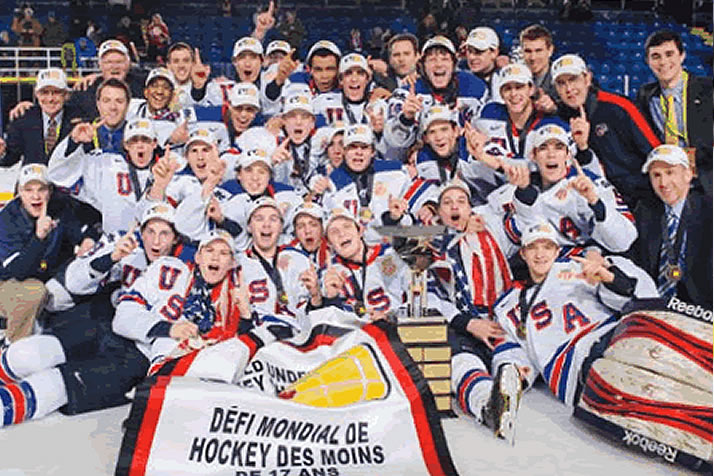 Roster filled with future college stars claims championship game, 4-0.
Sixteen college recruits led the United States to the championship at the 2014 World Under-17 Challenge, held Dec. 28-Jan. 4 in Cape Breton, Nova Scotia.
World Under-17 Hockey Challenge
The event featured 10 teams, five of them from regions in Canada. The U.S. beat one of those Canadian teams, Pacific, 4-0 in the championship game.
The 22-player U.S. squad was comprised of players from the U.S. Under-17 Team at the National Team Development Program and included commits to 10 different Division I programs. Boston College had three recruits on the roster, while Harvard, Michigan, Notre Dame and Wisconsin had two each.
Two of those BC recruits - forward Colin White and defenseman Noah Hanafin - earned all-tournament honors. U.S. goaltender Michael Lackey, a Princeton commit, posted the shutout in the championship game and was also named to the all-tournament team.
"This is a fun group of kids to work with," said Don Granato, head coach of the U.S. Under-17 Team and a former star at Wisconsin. "We never lost focus throughout the tournament and continued to get better each game."
The championship was the fourth at the event for the U.S., and marked the eighth straight time Team USA finished in the top three.
Four other college commits, including three to Western Michigan, played in the tournament for Canadian teams.
Recruits on the World Under-17 Challenge Championship Team
| | |
| --- | --- |
| United States | |
| Nick Boka | Michigan |
| Jeremy Bracco | Harvard |
| Christian Evers | North Dakota |
| Christian Fischer | Notre Dame |
| Casey Fitzgerald | Boston College |
| Michael Floodstrand | Harvard |
| Noah Hanafin | Boston College |
| Luke Kunin | Wisconsin |
| Michael Lackey | Princeton |
| Joseph Masonius | New Hampshire |
| Charles McAvoy | Boston University |
| Luke Opilka | Wisconsin |
| Jack Roslovic | Miami |
| Matt Tkachuk | Notre Dame |
| Brendan Warren | Michigan |
| Colin White | Boston College |