Wednesday, July 23, 2014
Transition Game
NHL development camps give some NCAA players final prep before launching their pro careers.
---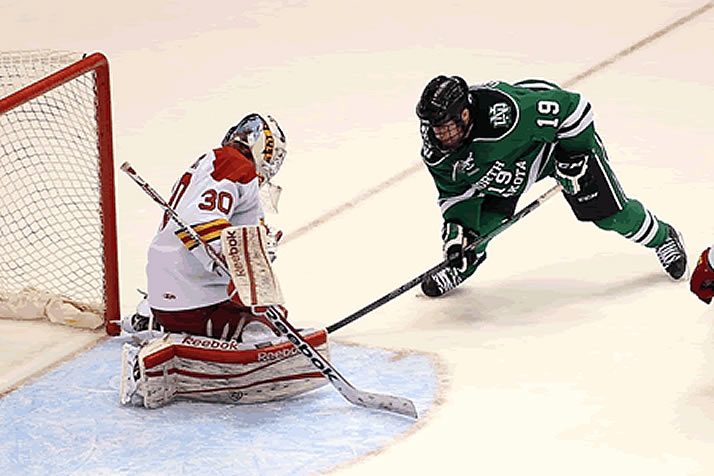 Rocco Grimaldi totaled 75 points in 82 games the last two seasons at North Dakota (Photo by Larry Radloff).
For players like Notre Dame graduate Stephen Johns, NHL development camp this July was a familiar exercise. In his fifth visit to Chicago camp since the Blackhawks selected him in the 2010 NHL Draft, Johns was a veteran at a camp designed for the organization's future stars.
Come September, it will be a whole other story. The 53 NCAA players who signed NHL contracts since the end of last season, like Johns, will attend their first NHL training camps this fall.
NCAA Players in 2014 Development Camps | NCAA Player Development
Related: Players Show Off Improvement in Camps
That left this summer as a transition period, or – to use a familiar analogy – an opportunity to cram one last time before final exams.
"Obviously I don't know what's going to happen this fall," Johns told ESPN Chicago. "Years prior I knew I was going back to school. It was a little different, a little bit more focus on playing as good as I can be. Impress them as much as you can every chance you get. Yeah, it was a little different. I was one of the older guys for this year. It was fun, though, a lot of fun."
Players like Johns hope that their time on campus has put them in the best possible position to contend for the NHL club in the fall. Johns, who could have signed with Chicago after his junior season, knows that he is in better position to make an impact this fall than he was a year ago.
"Ever since I was drafted, I've been waiting for this opportunity, this moment," he said. "I've been training for it and practicing for it. That's why I went back for another year in school for this opportunity to be the best player I can be at this point of my career. I'm looking really forward to it. Hopefully it really works out."
Working toward today
For Edmonton draft pick Dillon Simpson, development was a constant focus during his time at North Dakota.
"One thing I just try to focus on every year is to just keep the development slope going, each year improve on something else," he told the Edmonton Sun. "As far as the last three years go, there's been no lull in that. I've continued to improve."
Rocco Grimaldi, Simpson's teammate for three seasons at North Dakota, is embracing the challenge of making the Florida Panthers after becoming a more complete player at UND.
"Developmentally, I thought I was a lot better in the defensive zone this year and more of a complete player," former North Dakota star Rocco Grimaldi told the South Florida Sun Sentinel. "In the pro game, it's not just about scoring goals all the time. You gotta be reliable at both ends of the ice."
It wasn't an easy decision to turn pro for Grimaldi, who unlike Johns and Simpson had NCAA eligibility remaining. But UND's leading scorer from a year ago felt ready.
"Moving on was hard because I loved North Dakota, the team, the people there," he told the Miami Herald. "But, it was time for me to challenge myself against the best players in the world. I want to see where I'm at, how I can keep getting better."
Fresh starts
Not every player had as much familiarity with their NHL organization as Johns, Simpson and Grimaldi. Some, like Union alum Daniel Carr in Montreal, signed as free agents. Others – including Michigan's Alex Guptill (Ottawa) and Quinnipiac's Jordan Samuels-Thomas (Buffalo) – had their rights traded since the end of the NCAA season.
For those players, these camps offered a glimpse into a new future.
"It's a fresh start but really it's just a start," Samuels-Thomas said. "I'm signed and starting my professional career here. I couldn't be more excited about the opportunity to be a part of the culture change here."