Thursday, July 3, 2014
Waterloo D Prep for Next Step
USHL teammates Mark Friedman, Brandon Montour have high expectations entering BGSU, UMass.
---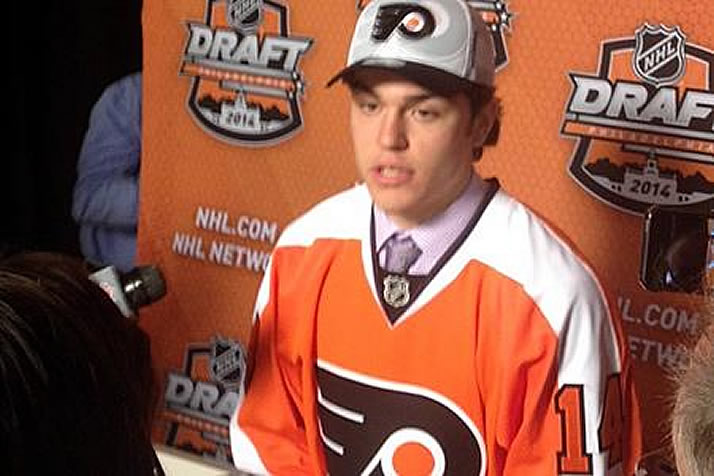 Bowling Green recruit Mark Friedman was popular with the media after the host team, Philadelphia, took him in the third round.
By Nate Ewell
Two Ontario-born defensemen for the USHL's Waterloo Black Hawks had another step in their hockey futures mapped out last week as Brandon Montour and Mark Friedman were selected in the second and third rounds of the NHL Draft, respectively.
Sortable List of Drafted Players | Blackhawks Take 7 | BC, BU Lead Way | First-Round Notes
Before their pro careers begin, however, there are high expectations for both at the college level. Bowling Green and Massachusetts – two teams that had a combined one NHL Draft pick last season – will be looking for immediate contributions from the former Black Hawk teammates. Those are expectations both players are looking forward to meeting.
·
Bowling Green head coach Chris Bergeron was pretty sure Friedman would look good in orange, and he was proven right when the talented defenseman pulled a Philadelphia Flyers sweater on during Saturday's third round.
Getting selected by the team hosting the draft comes with a bit more media scrutiny, and Friedman handled the attention comfortably. It's a good preview to the pressure he'll face this fall with the Falcons, where Bergeron expects he'll be a transformative player.
"He's the first guy who we've recruited here that is being talked about headed into the draft," Bergeron said in the days prior to the draft. "It reminds me a bit of when we recruited Andy Greene at Miami. When we got him at Miami, that was a big deal, and he was a three-year all-league player who is now in the NHL. That's the type of opportunity that we have and we see for Mark. We're really excited to have him."
Friedman's confidence was clear when he was asked about living up to Bergeron's expectations.
"Me and Berge have a great relationship," he said. "I've probably been committed now for four years and I can't wait to get started there and see what kind of player I can be in college."
Friedman played minor midget hockey with the likes of first-round picks Darnell Nurse and Max Domi, who opted for the OHL, but he stayed on the college path – even when an issue with the NCAA Eligibility Center forced him to postpone his enrollment by one year.
"All my buddies in minor midget were going to the O," he said, "but you can't play hockey for your whole life. I wanted something to fall back on and I think school is the right route for me."
·
Montour is a model of player development, someone who wasn't listed on NHL Central Scouting's lists of "players to watch" in the fall but ended up a second-round pick.
The best part for UMass, where he is committed, and Anaheim, which took him in the draft? The dynamic offensive defenseman isn't done developing.
"He's tremendously skilled," said Minutemen head coach John Micheletto, "an unbelievable athlete who has just scratched the surface of what he's going to be as a hockey player. He's an accomplished lacrosse player as well who would go right from hockey to lacrosse, and play lacrosse until hockey season started again. Now that he'll be focused on a year-round strength and conditioning program and putting a bit more focus on hockey, he'll improve even more."
Montour knows that he has room to grow, especially when it comes to strength and conditioning. That element of NCAA hockey really appeals to him.
"The plan is to go to UMass, develop there as a player and a person, get in the gym and get stronger," he said moments after being drafted. "This is actually – I'm not going to lie – my first summer getting a trainer and working out, so that's new for me. Spending some time growing will really help me."
Although a defenseman, Montour led the USHL in playoff scoring as he and Friedman helped lead Waterloo to the Clark Cup Finals. He's a sit-up-and-take-notice threat with the puck, skills that should help him make an immediate impact with UMass.
"He's an electric player who can do great things with the puck on his stick, and without it as well," said Micheletto. "We expect that he'll be a game-changer, as he has shown he can be in Waterloo and Caledonia before that."