Friday, July 8, 2022
NHL Draft includes nearly 70 players from NCAA ranks
24 schools boasted at least one draft pick
---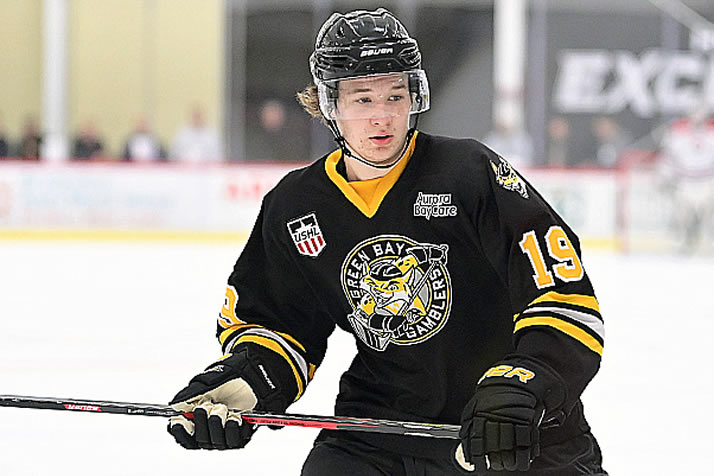 Incoming Northeastern freshman Cam Lund was the first NCAA player selected in the second round (Photo by Dan Hickling/Hickling Images).
Sixty-six current or committed NCAA Division I players were selected during the 2022 National Hockey League (NHL) Draft, which concluded Friday afternoon in Montreal. Fifty-nine of those picks came Friday during rounds two through seven after seven players had been taken during Friday's opening round.
NCAA Selections in the 2022 NHL Draft
Twenty-four schools had a player or recruit selected, topped by Northeastern with seven. Denver, Harvard and Minnesota each had five selections, followed by Massachusetts, Minnesota Duluth and Wisconsin with four each.
Also of note:
Thirty-one of the NHL's 32 franchises selected at least one current or committed NCAA player, led by the Chicago Blackhawks and San Jose Sharks with five each.
Boston College and Michigan had at least one player selected for the 27th consecutive draft, tying the all-time NCAA record held by Minnesota (1974-2000).
The majority of NCAA selections will be freshmen in 2022-23. However, seven returning collegians were selected: Jack Devine (Denver), David Gucciardi (Michigan State), Jack Hughes (Northeastern), Dominic James (Minnesota Duluth), Zakary Karpa (Harvard), Joel Maatta (Vermont), Victor Mancini (Omaha).
The NCAA selections in 2022 included 44 forwards, 19 defensemen and three goalies.
Forty-six of the 66 players taken were Americans, followed by 18 from Canada and two from Finland.
There have been 52 first-round picks from the NCAA over the last seven NHL Drafts (2016-22) compared to 31 first-rounders over the previous seven drafts (2009-15).