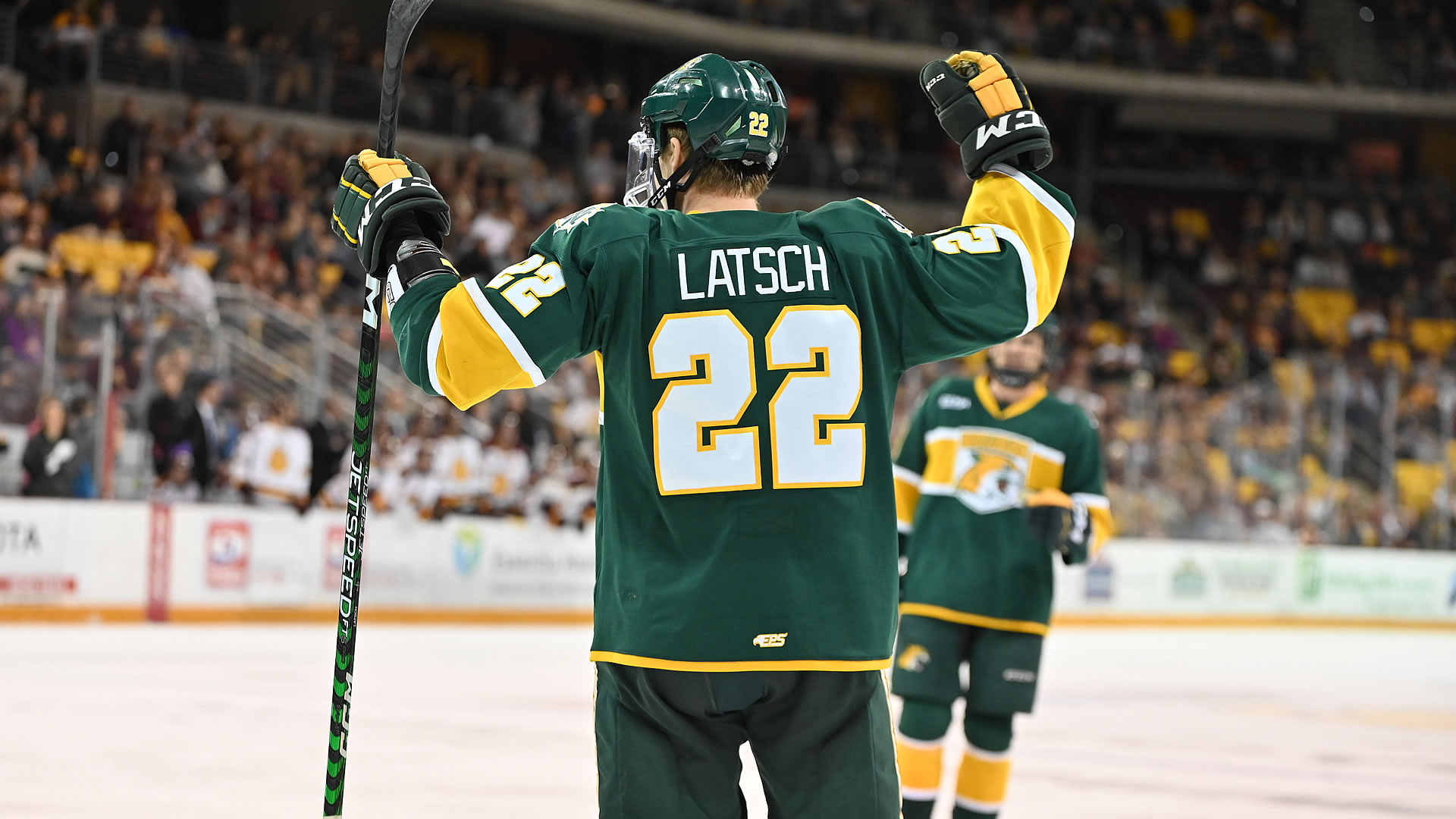 Freshman Tanner Latsch celebrates one of his five goals last weekend (Photo: NMU Athletics).
Tanner Latsch will never forget his NCAA debut. Neither will the Northern Michigan history books.
The freshman forward erupted for a natural hat trick in his first collegiate game last Friday, an eventual 5-5 overtime tie at No. 17 Minnesota Duluth. Latsch became just the second player in school history to debut with three goals --- joining Jeff Pyle in 1978-79 – and it was just the 20th natural hat trick in NMU history.
The following night, Latsch scored two more times and added an assist in an 8-5 loss, sewing up both CCHA Forward and Freshman of the Week honors.
Latsch, a native of Twin Lake, Mich., will head into his second collegiate weekend leading the nation in goals (five) and power-play goals (four) when the Wildcats will visit Arizona State for a non-conference series.
---
Daily Scoreboard | Weekly Schedule | Stat Leaders | Goaltending Leaders
---
Must Read:
Bemidji Pioneer: Forever tied to Beaver hockey, Looft's decision to stay is rooted in his love for Bemidji
College Hockey News: The Mom of Wisdom
ESPN: Why HBCU Tennessee State picked hockey and what it hopes to build
Grand Forks Herald: UND, Minnesota set up for top-five matchup
The Athletic: Brock Faber, Matthew Knies and a Gopher bond that carries over to their first NHL meeting
The Fischler Report: The very amazing Hughes brothers
USCHO: Back for fifth season, Romano giving Golden Knights 'chance to be really successful'
USCHO: Still early in 2023-24 college hockey season, but assessing surprises thus far, looking ahead
---
Must Hear:
CHN Insiders: Early season intrigue; chatting with Gopher legend Pat Micheletti
Inside Atlantic Hockey: Featuring Robert Morris head coach Derek Schooley
Inside ECAC Hockey: Featuring St. Lawrence head coach Brent Brekke and Clarkson alum Dave Taylor
Inside Hockey East: Season preview with Mike McMahon
The Pipeline Show: ECAC preview with Josh Seguin, Atlantic Hockey preview with Anthony Travaglia
Bulldog Insider: Men face the Beavers, and the women take on Minnesota State
College Hockey Today: Making sense of early-season results
NCHC Icecast: UND head coach Brad Berry & weekend recap
The Big Rink: Gophers' Bryce Brodzinski talks about heroes, heartbreak and hype
UND Hockey Podcast: UND wins the Ice Breaker, set for Minnesota series
USCHO Spotlight: Holy Cross coach Riga on 3-0 start for Crusaders, creating an identity
USCHO Weekend Review: A tough week for many top teams, massive crowds highlight weekend
---
Must Watch:
NCAA.com: Minnesota men's ice hockey continues its surge in this week's latest Power 5 rankings
---
Save Tonight:
If early-season results are any indication, goals could be at a premium in this weekend's Atlantic Hockey showdown between Holy Cross and visiting Robert Morris.
The two-game series will showcase the top two goaltenders in save percentage: Holy Cross senior Jason Grande (1.00) and Robert Morris graduate student Chad Veltri (1.62). Both have started all three of their teams' respective games so far.
Grande and the Crusaders are off to the program's first 3-0 start since 2012-13. Veltri and the Colonials are unbeaten in their last two games (1-1) after a season-opening loss.
---
Wildcats Strike:
When New Hampshire knocked off then-top-ranked Boston University 6-4 in Friday's Hockey East opener, it was the Wildcats' first win over a No. 1 since defeating Cornell on April 10, 2003, in the NCAA Frozen Four semifinal. The win also snapped UNH's 12-game losing streak versus the Terriers.
---
A Rose By Any Other Name:
On Saturday night, Augustana graduate student Zack Rose backstopped Augustana's first-ever NCAA Division I victory, stopping 25 of 27 shots in a home win over Bowling Green. The Paradise, Newfoundland, native leveled up the following night with a 43-save effort against BGSU for the first shutout in program history.
Where did Rose spend his first four NCAA seasons? The very same Bowling Green, where he registered one shutout in 32 career appearances.
---
Rivalry Weekend:
Top-ranked Minnesota and fifth-ranked North Dakota will rekindle one of college hockey's most storied rivalries this weekend when the two teams clash at UND's Ralph Engelstad Arena.
Most Rivalry Games
342 – Michigan vs. Michigan State
337 – Colorado College vs. Denver
308 – Minnesota vs. Wisconsin
306 – Denver vs. North Dakota
302 – Minnesota vs. North Dakota
The Golden Gophers lead the all-time series 150-136-16 dating back to 1930. The two teams most recently met last October at Minnesota, with both games going to overtime in an eventual series split.
---
You Can Quote Me On That:
"This is now my favorite road trip of the year. I'll be home by 11:02. We'll keep it going. Our fans want it, and we've got to deliver."
-- Minnesota head coach Bob Motzko after his team defeated fellow Twin Cities program St. Thomas in overtime Friday at Xcel Energy Center in St. Paul. (source: Patrick Borzi)
---
NHL Note of the Week:
UMass alum Cale Makar (2017-19) achieved another lofty NHL milestone earlier this week. The sixth-year Avalanche defenseman became the fastest rearguard in NHL history to reach 250 career points when he did so in his 241st game. Markar's 250th point came on an assist in Tuesday's 4-1 win over Seattle. He toppled a record previously held by Bobby Orr, who did it in 247 games.
---
Fries at the Bottom of the Bag:
Michigan State hosts Canisius on Thursday and Friday in the first-ever meetings between the two programs … Bemidji State junior G Mattias Sholl (Hermosa Beach, Calif.) stopped a school-record 57 shots in a 4-3 overtime loss to Wisconsin in last Friday's season opener. The previous record, set by Steven O'Shea, had stood since 1989 … First-year head coaches Mike Harder (Colgate) and Steve Wielder (Vermont) each earned their first career coaching victories last Friday … North Dakota's Riese Gaber (Sr., Gilbert Plains, Manitoba) and St. Cloud State's Zach Okabe (Gr., Okotoks, Alberta) are both five points away from 100 career points. Northern Michigan's Andre Ghantous (Gr., Glendale Calif.), with 124, is the only active NCAA Division I men's player with 100 career points.
---
CONFERENCE WEBSITES
Atlantic Hockey | Big Ten | CCHA | ECAC | Hockey East | NCHC
---
College Hockey Inc. Resources:

Did you know? 92% of NCAA Division I men's hockey players earn their degree!