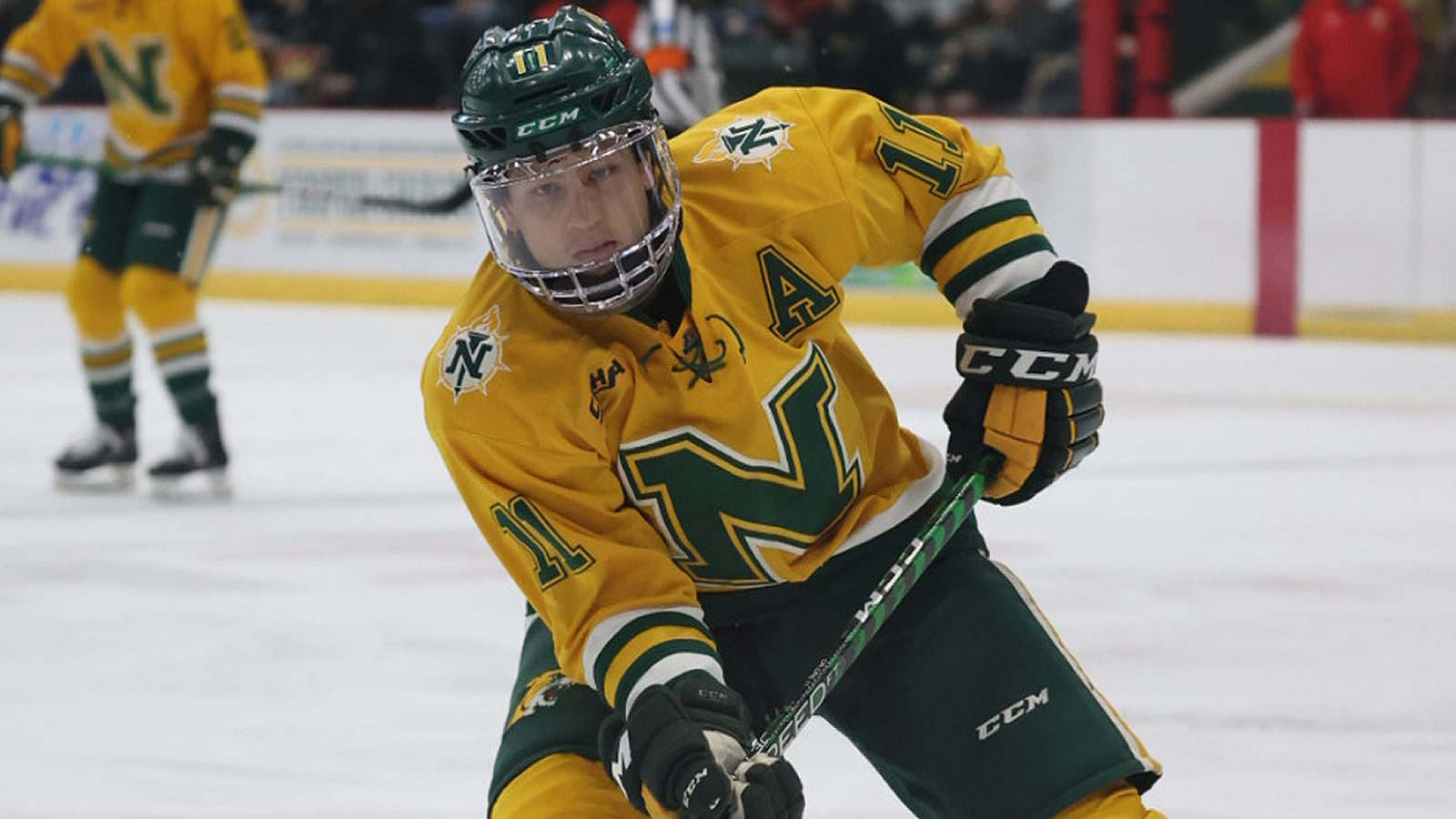 Northern Michigan F Andre Ghantous is the nation's active career scoring leader (Photo: NMU Athletics).
The wait is over.
The 2023-24 NCAA Division I men's hockey season begins this weekend with a bevy of non-conference and exhibition games slated for Friday through Sunday. It's the opening leg in the race to the 2024 NCAA Frozen Four in Saint Paul.
Below are some of the top storylines to watch this season.
---
CHI Preseason Media Kit (.pdf) | National Polls
---
New Kids on the Block:
The field of NCAA Division I men's hockey programs grows to 64 this season with the debut of Augustana University and the return of Robert Morris University.
Augustana, located in Sioux Falls, is the first NCAA college hockey team in the state of South Dakota. Led by head coach Garrett Raboin (St. Cloud State '10), the Vikings make their Division I debut Saturday at Wisconsin. Augustana will play a partial CCHA schedule this season and will have full conference membership beginning in 2025-26.
RMU returns Saturday at home against Bowling Green following a two-year absence. The program will be led once again by Derek Schooley (Western Michigan '94), the Colonials' only head coach since debuting in 2004-05. RMU, once again a member of Atlantic Hockey, possesses a unique roster mix of 16 freshmen and nine graduate students.
---
Andre the Giant:
No active player in the country has enjoyed a more productive career offensively than Northern Michigan graduate student Andre Ghantous (Glendale, Calif.), who leads all returning NCAA Division I men's players with 124 career points.
Career Scoring Leaders (active)
124 points – Andre Ghantous (F), Northern Michigan
95 points – Riese Gaber (F), North Dakota
95 points – Zach Okabe (F), St. Cloud State
91 points – Braeden Tuck (F), Sacred Heart
89 points – Mathieu Gosselin (F), Clarkson
Ghantous also leads all active players in assists (80) and ranks third in goals (44).
---
Behind the Benches:
Five programs enter the season under the guidance of new head coaches: Bentley (Andy Jones), Colgate (Mike Harder), Minnesota State (Luke Strand), Vermont (Steve Wiedler, interim) and Wisconsin (Mike Hastings).
At the other end of the spectrum, Mercyhurst head coach Rick Gotkin enters his 36th season in charge of the Lakers, the longest tenure at one school among active NCAA Division I men's hockey coaches.
---
New Faces, New Places:
Youth will be served in college hockey once again this season with 11 different schools featuring freshman classes of 10 or more. In 2022-23, 16 teams had double-digit rookie counts. That number was just five in 2021-22.
Largest Freshmen Classes
16 – Robert Morris
11 – Air Force, Army West Point, Boston College, Lake Superior State, Mercyhurst
10 – American International, Augustana, Cornell, Denver, Michigan State
---
Feeling a Draft:
College hockey rosters will feature 234 NHL draft picks in 2023-24 – the most in at least 10 years – and 41 different schools have at least one NHL draft pick this season, up from 37 a year ago.
Most Draft Picks Playing NCAA Hockey
14 – Boston University, Boston College
13 – UMass, Minnesota, Wisconsin
12 – Denver
11 – Harvard, Michigan, North Dakota
College hockey development clearly manifests at the NHL level, where 334 NCAA alumni played last season, second-most in history. Additionally, half of the NHL's 32 general managers played college hockey, as did 13 of the league's 32 head coaches.
---
Hobey Hopefuls:
Michigan Tech graduate student Blake Pietila (Howell, Mich.), a Hobey Baker Memorial Award finalist in 2022-23, enters the year pacing all active goaltenders in wins (58), shutouts (19) and appearances (103). He also ranks third in goals against average (2.04), fourth in saves (2,362), and tied for fifth in save percentage (.922).
Pietila joins Quinnipiac junior F Collin Graf (Lincoln, Mass.) and Boston University sophomore D Lane Hutson (North Barrington, Ill.) as the only returning Hobey Baker finalists from last season.
For more storylines, click HERE for the 2023-24 College Hockey Inc. Preseason Media Kit.
---
Daily Scoreboard | Weekly Schedule | Stat Leaders | Goaltending Leaders
---
Must Read:
College Hockey News: Minnesota faces turnover while trying to move on from championship game sting
College Hockey News: CHN's top 10 recruiting classes for 2023-24
Duluth News Tribune: Stejskal, Thiessen compete to provide UMD a precise vision in net
EP Rinkside: Ranking the nation's top 20 freshmen classes
FloHockey: Atlantic Hockey Preview: Breaking down key newcomers across the conference
FloHockey: CCHA Preview: Michigan Tech early favorites in wide-open conference
FloHockey: Macklin Celebrini, Will Smith lead list of college hockey's top 25 freshmen
New England Hockey Journal: How Andy Jones looks to chart a new future with Bentley
New England Hockey Journal: Who will emerge from men's ECAC Hockey this year?
NHL.com: Color of Hockey: Friends, rivals raise game in NCAA
Northeastern Global News: Gunnar Fontaine expects a bounce-back year for the Huskies
The Rink Live: Augustana hockey ambassadors lend unique sacrifice for upstart program
The Rink Live: Gophers to host 2024 Ice Breaker in Las Vegas
The Rink Live: Strengths and questions for Gophers and Wolverines, picked for Big Ten summit
USCHO: With recent additions of several schools to men's NCAA DI ranks, what will be future impact?
USCHO: NCAA Division I hockey moving full-steam ahead with 'opportunity for growth'
---
Must Hear:
Bulldog Insider: Previewing the 2023-24 season
NCHC Icecast: Preseason whiparound
The CCHA Show: Chris Peters and Jack Hittinger join the show to preview the 2023-24 season
UND Hockey Podcast: Previewing the 2023-24 UND Hockey Team
---
CONFERENCE WEBSITES
Atlantic Hockey | Big Ten | CCHA | ECAC | Hockey East | NCHC
---
College Hockey Inc. Resources:

Did you know? 92% of NCAA Division I men's hockey players earn their degree!