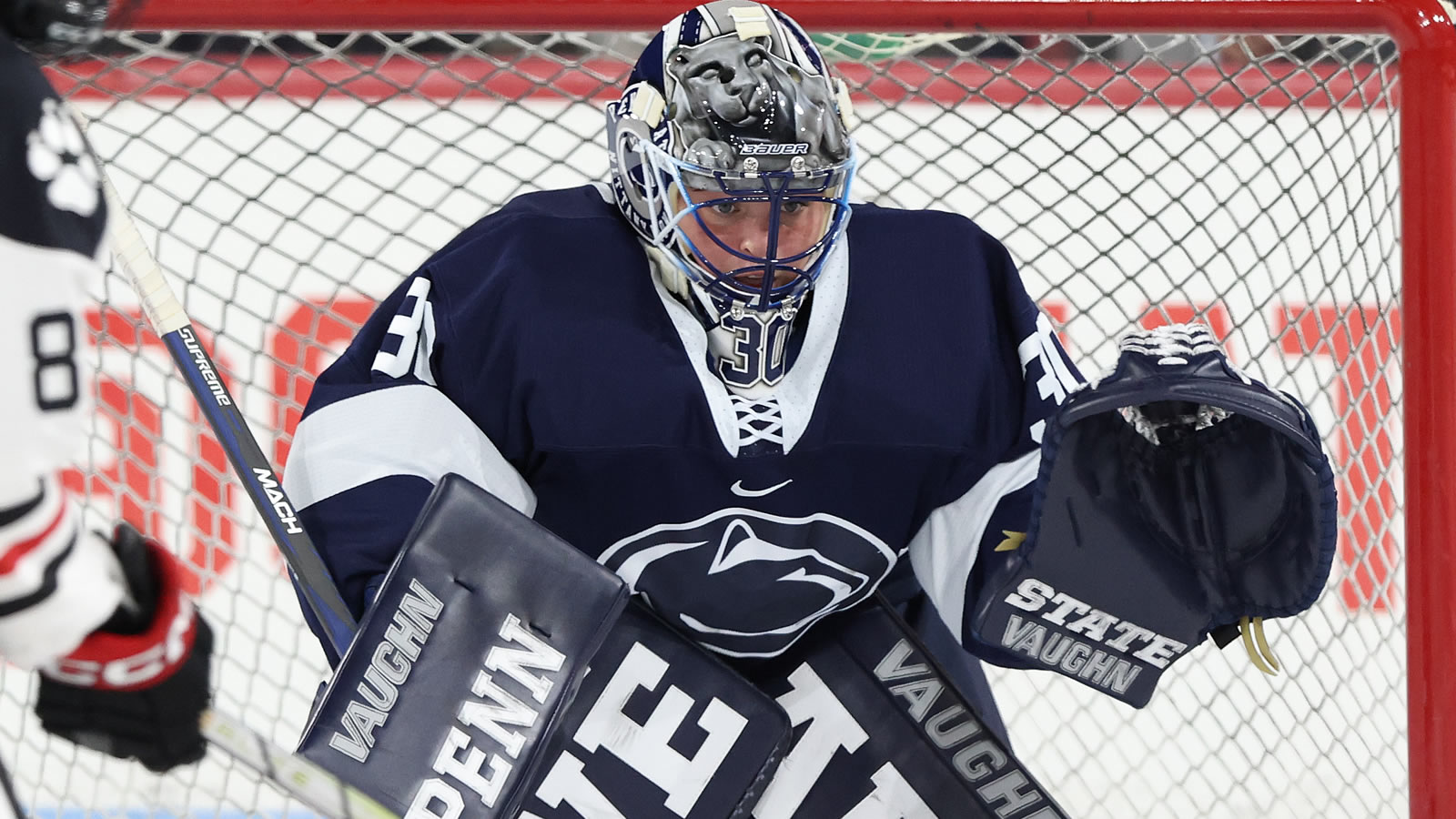 Penn State senior G Josie Bothun (Photo: PSU Athletics).
A pair of top-15 matchups and a banner raising highlight this weekend's women's hockey schedule.
Third-ranked Colgate will host No. 11 Penn State on Friday and Saturday, while No. 9 Clarkson – off to a 4-0-0 start to the season – will travel to No. 12/13 Vermont, the season-opener for the Catamounts.
The weekend slate begins Thursday night when Wisconsin hosts Boston College at LaBahn Arena, the home opener for the defending NCAA champion Badgers, who will raise their championship banner prior to puck drop.
Visit the links below for a complete rundown of all the weekend action.
---
Daily Scoreboard | Weekly Schedule | Stat Leaders | Goaltending Leaders
---
Must Read:
Boston Globe: National team experience makes Megan Carter an ideal leader for Northeastern
Boston Globe: Women's college hockey programs bolster their coaching staffs with New England talent
CBC: High hockey IQ and hard work: How Brianne Jenner became a leader in Canadian women's hockey
Duluth News Tribune: MacLeod, Gascon wage friendly battle to succeed Soderberg in UMD net
The Eagle-Tribune: 'It's surreal, right?': Katie King Crowley to be inducted into U.S. Hockey Hall of Fame
The Heights: "Ready to go": 2023-24 Boston College women's hockey preview
The Hockey News: St. Thomas looks to be a program on the rise
The Hockey News: Ouellette "inspired" by UMD honor
The Hockey News: Four games, three shutouts for Gwyneth Philips
The Ice Garden: Clarkson starts strong, Colgate stuns OSU in opening weekend
The Rink Live: Ohio State reloads heavily through the transfer portal
UMD News: Hockey star to hockey mentor
USCHO: 2023-24 ECAC Hockey season preview
---
Must Watch:
Lakeland PBS: Bemidji State women's hockey preps for home opener
NCAA.com: Quinnipiac enters latest women's hockey Power 5 rankings
WFSB: Expectations are high for UConn men's and women's hockey this season
WMUR: UNH women's hockey off to 2-0 start
---
It Pais to be Clutch:
Emma Pais' NCAA debut with then-fourth-ranked Colgate last Friday was one she'll never forget.
Deadlocked in a 2-2 tie late in the third period at home against No. 2 Ohio State, Pais scored on a breakaway with 39 seconds left in regulation for both the game-winner and her first collegiate goal.
A native of London, Ontario, Pais led the Raiders with 10 shots on goal in the weekend split with the Buckeyes.
Colgate, which inched up to No. 3 in both national polls this week, will host No. 11 Penn State this weekend at Class of 1965 Arena.
---
We're So Back:
Robert Morris University made a triumphant – and dramatic – return to the world of NCAA Division I women's hockey when it captured a 3-2 overtime road win at Union last Saturday.
Sophomore F Morgan Giannone (Oakville, Ontario) scored her second goal of the game 3:09 into the 3-on-3 overtime, completing the Colonials' rally from a 2-0 third-period deficit. Giannone's two-goal effort came one day after she assisted on both RMU goals in Friday's season-opening loss.
"It's an exciting day to be a Colonial," said RMU head coach Logan Bittle. "The look on the girls' faces after that win was something our staff will never forget, and a moment they will remember for a long time."
---
Fries at the Bottom of the Bag:
Northeastern fifth-year G Gwyneth Phillips (Athens, Ohio) has three shutouts in her first four starts of the season. Philips held her opponents off the scoreboard 10 times in 2022-23, the second-best shutout total in school history … NEWHA Player of the Week Mikaela Langbacka (Lorton, Va.) figured in on all four Saint Michael's goals last weekend. The senior forward scored twice in Friday's loss at Sacred Heart, and she collected a goal and an assist in Saturday's setback at New Hampshire … Penn State senior G Josie Bothun (Wyoming, Minn.) reached the 2,000-saves plateau for her career last Saturday, becoming the third Nittany Lion (and 15th CHA netminder) to hit that milestone.
---
You Can Quote Me On That:
"I'm super excited. The support from the fans, and the atmosphere, is unreal. So, it's something I am really looking forward to."
-- Wisconsin freshman F Cassie Hall (South Lyon, Mich.) on the Badgers' upcoming home opener Thursday at LaBahn Arena. (source: UWBadgers.com)
---
CONFERENCE WEBSITES
CHA | ECAC | Hockey East | NEWHA | WCHA

Did you know? 98% of NCAA Division I women's hockey players earn their degree!