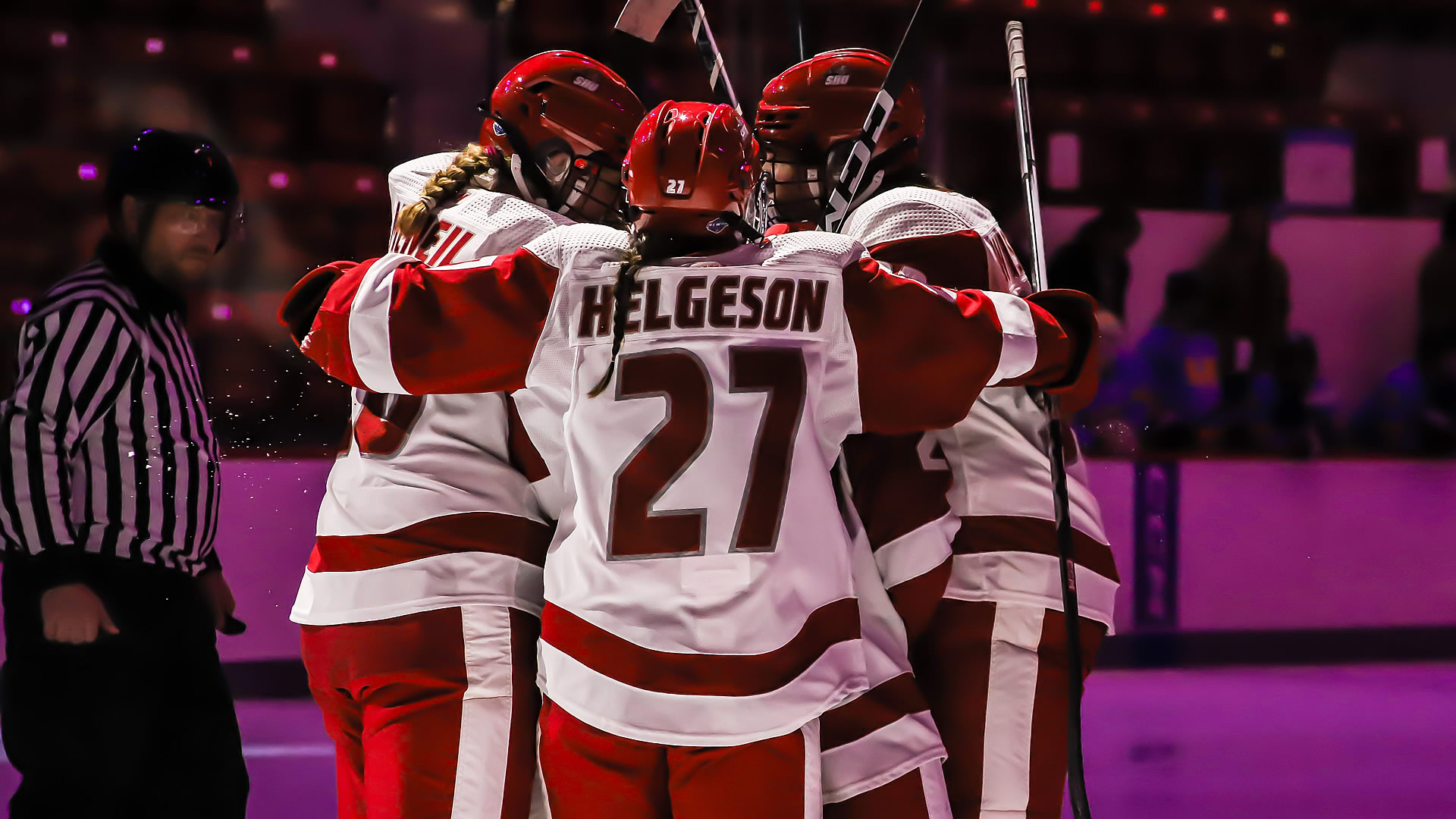 The third annual women's Ice Breaker is set for SHU's Martire Family Arena (Photo: Joshua Gee).
Sacred Heart's beautiful Martire Family Arena will play host to the third annual women's Ice Breaker Tournament this weekend. The 4,000-seat venue opened last January when the Pioneers defeated Harvard.
The tournament gets underway Friday afternoon when No. 7/10 Northeastern faces No. 15/NR St. Cloud State. SHU hosts Lindenwood in the nightcap, a game that will be telecast live regionally on SNY. The two winners will square off in Saturday night's championship game, while the other two teams will meet in a third-place game earlier that afternoon.
The Ice Breaker Tournament was created by the Hockey Commissioners Association in order to celebrate the start of the season with teams from a variety of NCAA Division I conferences. Click HERE for more information on the history of the women's Ice Breaker.
Visit the links below for a complete rundown of all the weekend action.
---
Daily Scoreboard | Weekly Schedule | Stat Leaders | Goaltending Leaders
---
Must Read:
Boston Globe: Riley Walsh pulls off a pretty neat trick for Union's women's hockey
CBC: Meaghan Mikkelson embraces new role as the Flames' first female radio colour commentator
Cornell Chronicle: Researchers have designs on better women's hockey protective gear
Duluth News Tribune: Bulldogs raise banner for Hughes, but Buckeyes get sweep
Milwaukee Journal Sentinel: Wisconsin women's hockey coach Mark Johnson reaches 600 wins
NHL.com: Boston College honors McCoy, school's first Black woman hockey player
The Eagle-Tribune: Merrimack surprise: Women's hockey making noise early
The Hockey News: Kirsten Simms brings the dangles
USCHO: Current and former NCAA goalies breaking barriers, making history
---
Must Watch:
NCAA.com: Quinnipiac re-enters Week 4 women's ice hockey Power 5
---
Holy Cow, Holy Cross:
After three straight heartbreaking overtime losses to start the season, Holy Cross finally flipped the script Saturday against Brown.
Trailing 1-0 late in the third period and her goalie pulled for an extra attacker, senior forward Millie Sirum (Oslo, Norway) tied the game with 1:43 left in regulation. Then she added the OT winner midway through the extra frame to give the Crusaders a dramatic 2-1 victory.
"We really brought it out at the end there, and we really needed that OT win," said Sirum. "It's been the fourth OT in the past week, so I'm really proud of the girls for bringing the energy towards the end there."
Holy Cross is the only team in NCAA Division I women's hockey to have already played in four overtime games. Rensselaer and Union have each played in three.
---
Still Making his Mark:
After seven NCAA championships and 18 conference regular-season and playoff trophies, Wisconsin head coach Mark Johnson added another accomplishment to his incredible coaching legacy.
When the top-ranked Badgers defeated Minnesota State on Friday, Johnson became the first NCAA women's hockey coach in history to reach 600 career wins.
"It's not about me," Johnson said after the game. "It's a number. (I've) obviously been around a long time, and I've got great support staff. I've got great assistant coaches. We've got a lot of good players, and we've had a lot of good teams, and what I like is the relationship that we've created between our fans, the community and our hockey team."
---
You Can Quote Me On That:
"It's a team battle where everyone has each other's backs. If I made a mistake, someone had mine, and if someone in front of me made a mistake, I had theirs. And that's the biggest part of being a team."
-- Holy Cross senior goalie Madison Beck (Lunenberg, Nova Scotia) following her team's 2-1 overtime win over Brown on Saturday. (source: GoHolyCross.com)
---
Fries at the Bottom of the Bag:
Colgate's Kaitlyn O'Donohoe (Gr., Myrtle Beach, S.C.) collected her 100th career point last Friday against Mercyhurst. She racked up four more points the rest of the weekend to help lead the third-ranked Raiders to a series sweep … St. Cloud State head coach Brian Idalski (Wisconsin-Stevens Point '95) earned career win No. 300 last Saturday when the Huskies blanked Bemidji State 3-0. Idalski, who also coached at North Dakota and UW-Stevens Point, became the 25th coach in NCAA women's hockey history to reach that milestone … Stonehill coach Lee-J Mirasolo (Boston College '08) earned her first career coaching win Saturday against Post … Princeton's Uma Corniea (Fr., Edina, Minn.) notched a 24-save shutout in her collegiate debut Saturday, a 4-0 win over Robert Morris … Holy Cross announced last week it had signed head coach Katie Lachapelle (Providence '99) to a multi-year contract extension through the 2026-27 season. Lachapelle is in her fifth year as head coach and her seventh overall on the Crusaders' staff.
---
CONFERENCE WEBSITES
CHA | ECAC | Hockey East | NEWHA | WCHA

Did you know? 98% of NCAA Division I women's hockey players earn their degree!