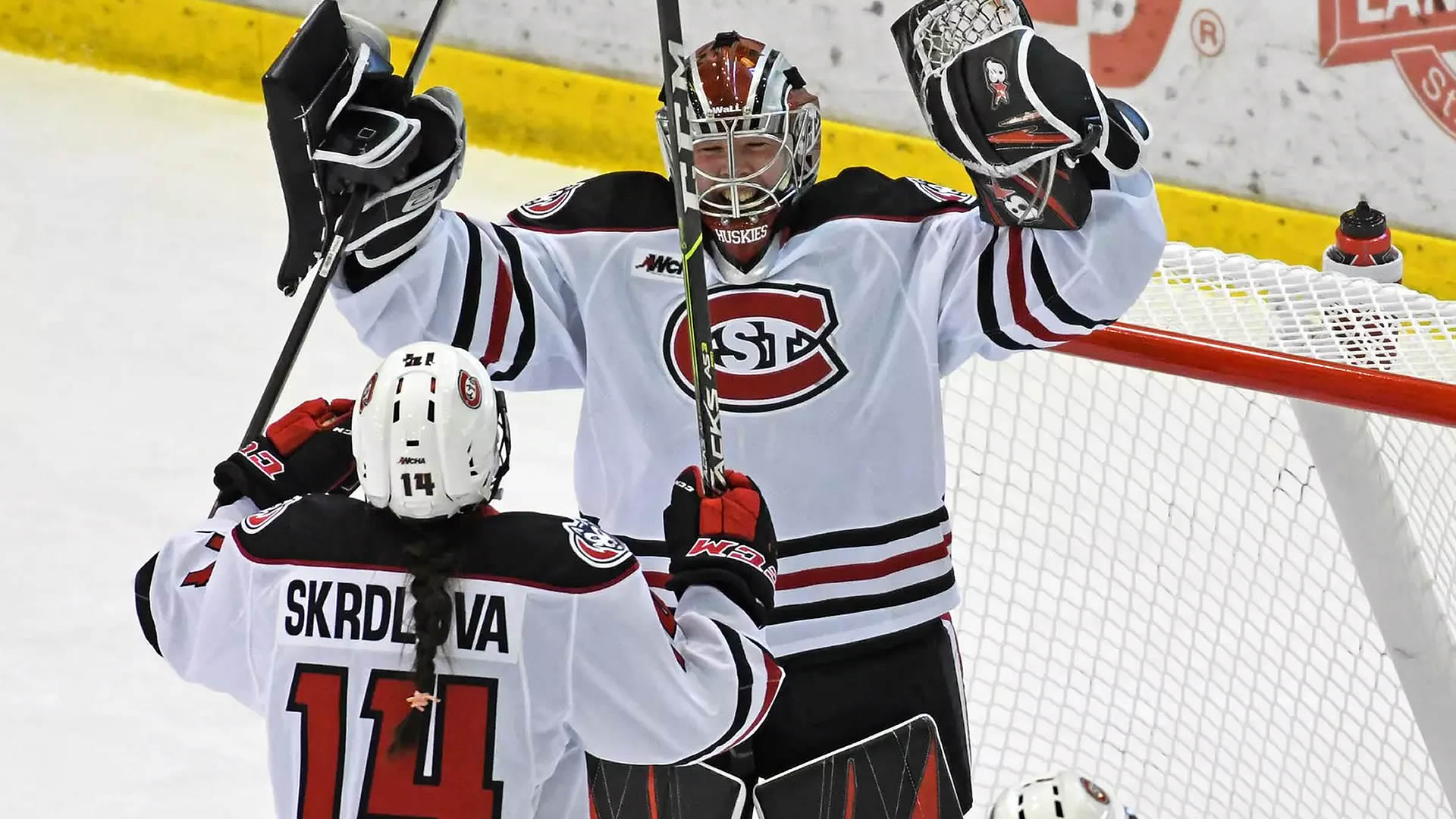 Sanni Ahola has yet to allow a goal in four starts this season (Photo: SCSUHuskies.com).
Heading into last weekend's Ice Breaker Tournament at Sacred Heart, St. Cloud State senior netminder Sanni Ahola (Helsinki, Finland) was already riding a school-record streak of three straight shutouts to begin the campaign. She promptly extended that incredible streak in the tourney opener with a 2-0 win over No. 10 Northeastern.
Not to be outdone, her classmate, Jojo Chobak (Chicago, Ill.) got in on the fun the next day in the Ice Breaker championship game, pitching a 34-save shutout to carry the Huskies a 5-0 win over Lindenwood.
Chobak's effort not only gave the 10th-ranked Huskies a tournament trophy, but it was also the fifth goose egg of the season for SCSU, the most in NCAA Division I women's hockey.
"I think anyone that follows us and the WCHA is already aware of the fact that we have two quality goaltenders," said SCSU head coach Brian Idalski. "That's obviously a luxury for us. We have faith in both. They both play at a high level and have for a long time. It's awesome to have that."
Ahola and Chobak have backstopped the Huskies, a .500 team at 18-18-1 a year ago, to a blistering 7-2-0 start. Next up on the schedule are WCHA rivals Minnesota State and Wisconsin.
"The real grind starts now, and we'll see where we're at," said Idalski.
---
Daily Scoreboard | Weekly Schedule | Stat Leaders | Goaltending Leaders
---
Must Read:
Bemidji Pioneer: Fortin, Lawson run it back for Beavers' Organ Donation Awareness doubleheader
Harvard Gazette: Funny thing happened on way to med school
The Dartmouth: Women's hockey defeats Harvard for the first time since 2015
The Hockey News: NCAA rookie goalies off to hot start
The Hockey News: Five burning questions from Hockey East
The Rink Live: Inside look at Quinnipiac's jump in women's poll behind top-ranked Wisconsin
---
Must Hear:
Bulldog Insider Podcast: Both men and women hit the road this weekend
Inside College Hockey America: Featuring RIT senior F Lindsay Maloney
Inside ECAC Hockey: Featuring Dartmouth head coach Liz Keady-Norton
Inside Hockey East: Featuring UNH F Morgan Winters and Merrimack G Calli Hogarth
RinkWise: Digit Murphy on her legendary career
---
Must Watch:
NCAA.com: Wisconsin women's hockey dominates in Week 5's Power 5 rankings
The Hockey News: Five NCAA women's hockey standouts so far
---
Eyeing the Ivies:
There are few college athletics rivalries as storied as that of Harvard-Yale. The women's hockey chapter of that feud resumes Friday when the sixth-ranked Bulldogs host the Crimson in their home opener, a matchup of the last two Ivy League regular-season champs (Yale in 2023, Harvard in 2022).
The two teams split their two games during the regular season in 2022-23 before Harvard ended Yale's season with a two-game sweep in the ECAC Tournament quarterfinals.
---
Assumption Lands First Win:
Assumption University, the newest program to NCAA Division I hockey, secured the program's first Division I win Saturday with a 5-4 overtime victory over Post. Sophomore F Emma Gurnell (Old Saybrook, Ct.), a transfer from Maine, potted the winner in the extra session for her first collegiate goal.
The Greyhounds, who joined the New England Women's Hockey Alliance (NEWHA) prior to the 2023-24 season, saw a two-goal lead dissipate in the final two minutes of the third period. In fact, Post tied the game with just 0.3 seconds showing on the clock. But Gurnell wasted little time with her history-making goal, striking just over two minutes into the extra session.
"I'm excited about our team. I'm excited about the group that we have," said Assumption head coach Jack Sweeney. "I told them before the game started tonight, one of the things I felt was the most impressive about that was they have not given up at all in any hockey game that we have played this year. I think tonight we really showed that."
---
Fit To Print:
"I don't know, statistically, what that's ever looked like. I may have had a goalie get three, or at least a couple in a row, but to get four – especially to start off the season – that's something I don't think I've ever been a part of."
-- St. Cloud State head coach Brian Idalski following senior Sanni Ahola's fourth straight shutout to start the season. (source: SCSUHuskies.com)
---
Fries at the Bottom of the Bag:
Clarkson went unbeaten in its first eight non-conference games (7-0-1) to begin the season … Ohio State alumna and 2023 Patty Kazmaier Memorial Award winner Sophie Jaques was named one of 30 honorees for the 2023 NCAA Woman of the Year Award on Monday. The award is rooted in Title IX and recognizes female student-athletes who have completed their undergraduate studies and distinguished themselves in their community, in athletics and in academics throughout their college careers. The winner will be announced in January … Wisconsin captain Britta Curl (Gr., Bismarck, N.D.) will take a 7-game goal-scoring streak into Friday's game at St. Thomas. Through eight games this season, Curl leads the country in points (23), points per game (2.88) and assists (15) … Boston University first-year head coach Tara Watchorn notched her first victory behind the Terriers' bench in Saturday's 6- win over Syracuse.
---
CONFERENCE WEBSITES
CHA | ECAC | Hockey East | NEWHA | WCHA

Did you know? 98% of NCAA Division I women's hockey players earn their degree!