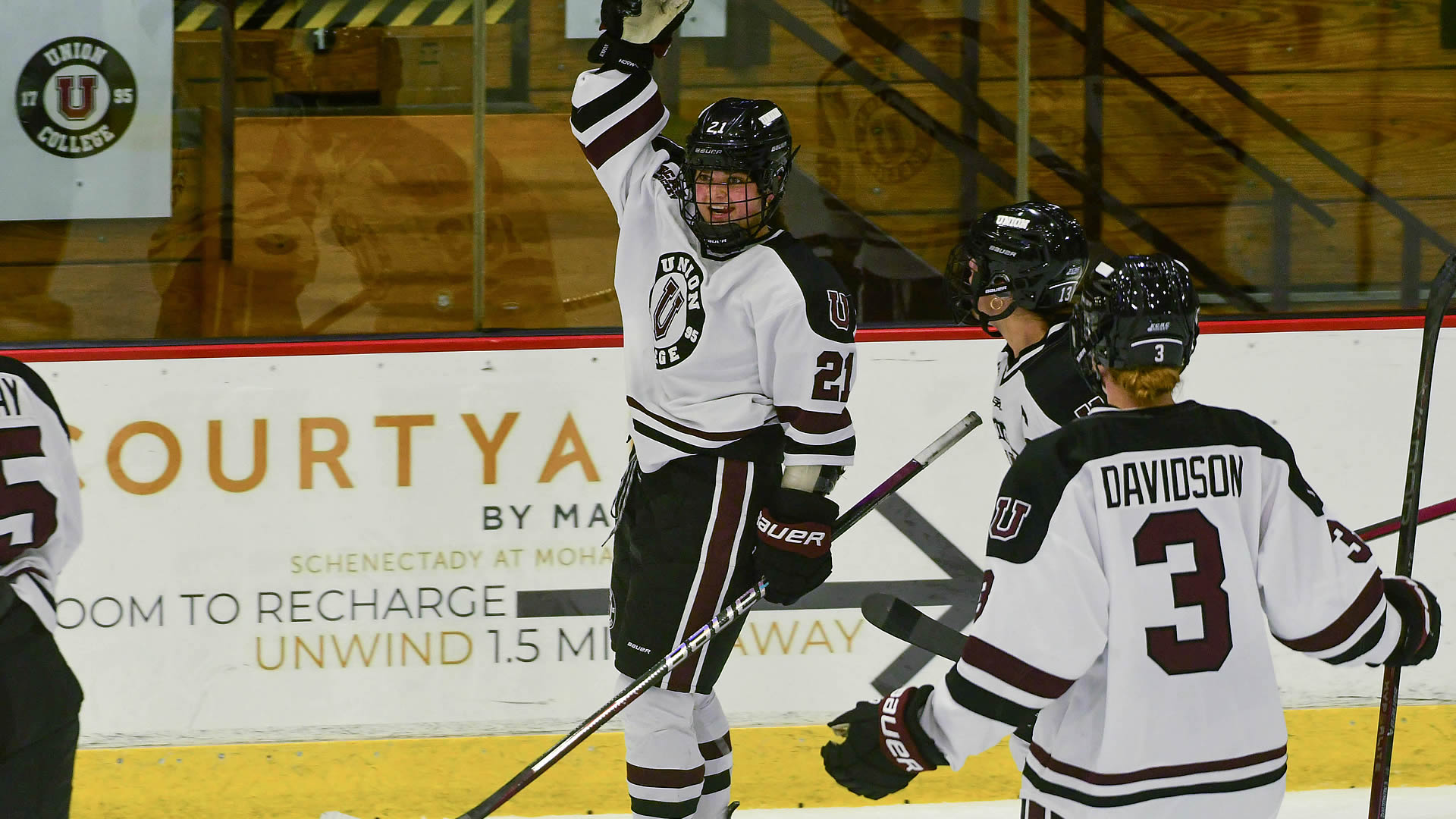 Riley Walsh scored a natural hat trick in Union's 3-2 OT win Friday (Photo: Idalis Fuentes).
Two nationally-ranked conference rivals will clash this weekend in an early-season marquee matchup.
No. 2 Ohio State will visit No. 6 Minnesota Duluth to open the WCHA schedule for both teams. The Bulldogs opened their season with a non-conference sweep of Long Island last weekend, while the Buckeyes skated to a road split at Colgate.
Other top-15 matchups this weekend included No. 10 Cornell hosting No. 11/13 Penn State, and No. 11/13 St. Lawrence welcoming No. 12 Vermont.
Also of note, Minnesota will face St. Thomas at Xcel Energy Center in Saint Paul – home of the NHL's Minnesota Wild – in Friday's WCHA opener for both teams. The game will be televised locally on FOX 9+.
Visit the links below for a complete rundown of all the weekend action.
---
Daily Scoreboard | Weekly Schedule | Stat Leaders | Goaltending Leaders
---
Must Read:
Burlington Free Press: Vermont women's hockey preview: 2023-24 storylines
Colgate Maroon-News: Women's ice hockey looks to repeat last year's success
Minneapolis Star Tribune: Gophers women's hockey reloads after Frozen Four with nine newcomers
Pittsburgh Post-Gazette: Robert Morris hockey celebrates comeback in front of raucous crowd
The Hockey News: NCAA rookies making their mark early
The Hockey News: It's Kalty's time to shine
The Ice Garden: NCAA roundup
The Rink Live: FOX 9+ to televise at least 12 WCHA games in 2023-24
The Rink Live: Minnesota State bringing in lots of local talent for 2023-24
USCHO: Women's Division I college hockey weekend wrap
---
Must Watch:
CitrusTV: Allie Kelley steals the show in Syracuse women's ice hockey 2-1 loss to Merrimack
NCAA.com: Northeastern re-enters Week 3's women's ice hockey Power 5 rankings
---
Power of Three:
Hats off to Union and Minnesota Duluth, both of whom enjoyed back-to-back hat tricks in their respective series sweeps last weekend.
In Schenectady, Union sophomore forward Riley Walsh (Duxbury, Mass.) single-handedly brought the Garnet Chargers back from a 2-0 deficit Friday when scored three straight goals in a 3-2 overtime win over Holy Cross. It was Union's first hat trick in a decade. One day later, teammate Maddie Leaney (Fr., Maple Ridge, British Columbia) erupted for own hat trick, also accounting for the game-winner, in a 4-3 OT win over the Crusaders.
Meanwhile in Duluth, Minnesota Duluth captain Mannon McMahon (Gr., Maple Grove, Minn.) erupted for four goals in the Bulldogs' season-opening 6-0 win over Long Island. The following day, teammate Clara Van Wieren (Sr., Okemos, Mich.) struck three times to complete UMD's series sweep. Those two performances marked UMD's first back-to-back hat tricks since the 2010-11 season.
---
On Wisconsin:
Defending NCAA champion Wisconsin has come roaring out of the gates to start the 2023-24 campaign.
The Badgers have tallied an incredible 39 goals through their first four games – 16 more goals than the next-closest team (St. Thomas) – while yielding just six goals against at the other end of the rink.
Twenty-nine of those 39 goals have come at even strength, with eight more coming on the power play and two while shorthanded, all of which lead the nation.
---
You Can Quote Me On That:
"Allie's performance was extremely impressive. We talk about our game being battle and compete, and that is all six on the ice. She did a fantastic job keeping us in that game, giving us an opportunity at the end to put one in and force an overtime. Huge kudos to her."
-- Syracuse head coach Britni Smith on goaltender Allie Kelley's 56-save performance last Friday vs. Merrimack. (source: Cuse.com)
---
Fries at the Bottom of the Bag:
Colgate's Kristýna Kaltounková (Sr., Vlasim, Czechia) had three goals and three assists in Friday's 6-2 win over then-No. 11 Penn State. The ECAC Hockey Forward of the Week, Kaltounková has lit the lamp in each of her first four games this season … Syracuse netminder Allie Kelley (Gr., East Berne, N.Y.) had 56 saves in Friday's 2-1 OT loss to Merrimack, one shy of the school single-game record. Kelley, who leads the CHA in goals against average (1.32) and save percentage (.954), has been named CHA Goaltender of the Week in two of the season's first three weeks … Minnesota Duluth head coach Maura Crowell won her 250th career game Friday.
---
CONFERENCE WEBSITES
CHA | ECAC | Hockey East | NEWHA | WCHA

Did you know? 98% of NCAA Division I women's hockey players earn their degree!