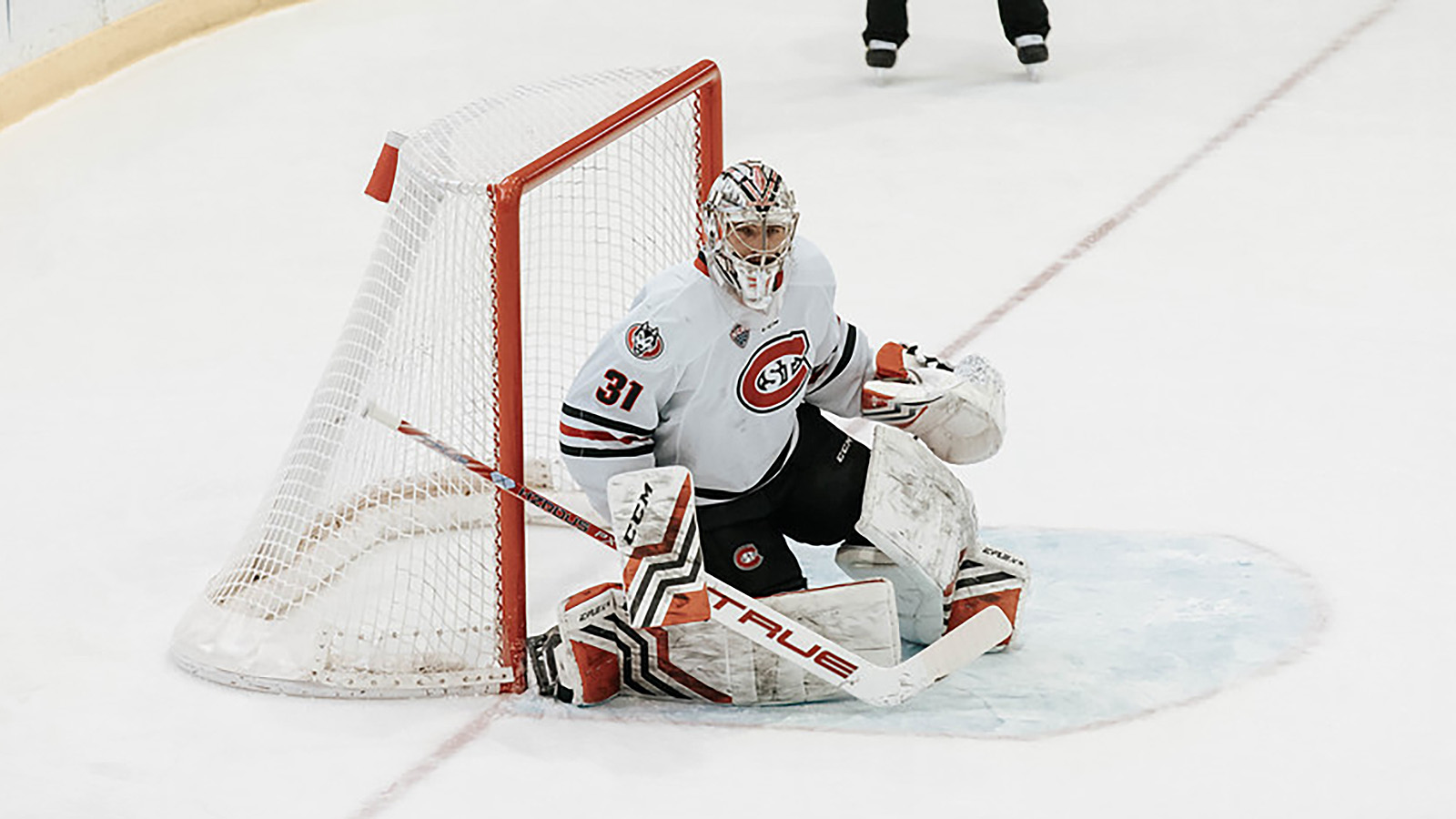 SCSU G Dominic Basse has shutouts in two of his last four starts (Photo: SCSU Athletics).
The month of October was a mixed bag for head coach Brett Larson's St. Cloud State's Huskies. Series splits with St. Thomas and Alaska, combined with a pair of losses at Minnesota State, left SCSU with a middling 2-4-0 record through the opening month.
But since the calendar flipped to November, coinciding with the start of the NCHC schedule, the Huskies have found a new gear, sweeping Miami and Western Michigan to carve out an early lead atop the conference standings.
Key to the turnaround has been the production of F Veeti Miettinen. The senior from Espoo, Finland, has lit the lamp in six straight games, the longest such streak in NCAA Division I men's hockey this season and the longest by a Husky since Ryan Lasch did it in six straight in 2007-08.
Miettinen is a volume shooter – only three players in the country have more than his 50 shots on goal – and he notched the game-winner both nights last weekend at WMU.
At the other end of the rink, senior G Dominic Basse (Alexandria, Va.) has been between the pipes for each of SCSU's four November wins, pitching a shutout in two of them. He's logged a .953 save percentage during that stretch to go with a miniscule 1.00 goals against average.
The Huskies will look to keep rolling Friday at home against in-state and NCHC rival Minnesota Duluth.
Visit the links below for this week's complete NCAA Division I men's hockey schedule.
---
Daily Scoreboard | Weekly Schedule | Stat Leaders | Goaltending Leaders
---
Must Read:
Bangor Daily News: UMaine hockey continues to rise in national polls
Boston Globe: Maine is for real, and other takeaways from the weekend in men's college hockey
College Hockey Inc.: TSN to showcase NCAA hockey for 10th straight year
College Hockey News: Bemidji freshman Pohlkamp quickly honing his game as scouts look on
College Hockey News: Healthy Nazar finding his groove
Grand Forks Herald: Some UND players begin wearing neck protection
The Athletic: A weekend with Blackhawks first-round draft picks Frank Nazar, Oliver Moore, Sam Rinzel
The Rink Live: Lake Superior State senior Jared Westcott riding confidence in breakout campaign
USCHO: Yes, too early to start PairWise discussion, but 2023-24 season certainly off to wild, baffling start
---
Must Hear:
College Hockey Today: Must-See Matchups
Inside Atlantic Hockey: Featuring Bentley head coach Andy Jones
Inside ECAC Hockey: Featuring Dartmouth head coach Reid Cashman
NCHC Icecast: Will we see a second straight week of success for NCHC road teams?
Talking Hockey Sense: Wisconsin's turnaround, Celebrini's numbers, Maine 'Back' Bears and more
The Big Rink: Discussing Wisconsin's fast start with Brian Posick
The CCHA Show: Featuring Northern Michigan head coach Grant Potulny
The Pipeline Show: Talking Big Ten hockey with USCHO's Todd Milewski
USCHO Spotlight: St. Cloud State's Larson talks Huskies, player development, series with UMD
USCHO Weekend Review: Just five of top 20 sweep; milestones, surprises
---
Must Watch:
NCAA.com: Maine jumps into new men's college hockey's Power 5 rankings
---
NCAA Hockey on TSN:
TSN and College Hockey Inc. announced this week that NCAA hockey will return to Canada's Sports Leader for a 10th consecutive season. A total of 20 men's and women's games will shown in November, with the remainder of the schedule to be announced at a later date. Click HERE for more details.
---
Rank and File:
This weekend's NCAA Division I men's hockey slate features 11 different games that pit two nationally-ranked opponents against one another. Those games include:
#1 Wisconsin @ #11 Michigan State (Friday, Saturday)
#5 Providence vs. #15 UMass (Thursday, Saturday)
#6 Minnesota vs. #17/18 Notre Dame (Friday, Saturday)
#7 Quinnipiac vs. #10 Cornell (Friday)
#8 Boston University vs. #9 Maine (Friday, Saturday)
#12 Michigan vs. #18/19 Penn State (Friday, Saturday)
---
Rank and File:
A pair of longtime college hockey coaches achieved significant career milestones last Saturday.
Mercyhurst head coach Rick Gotkin (Brockport State '82) collected his 600th win at the school, a 2-0 Atlantic Hockey victory at No. 20 RIT. Freshman G Simon Bucheler (St-Laurent, Que.) stopped 51 shots for the Lakers in that game, tying the highest single-game mark in Atlantic Hockey this season.
Meanwhile, Nate Leaman (Cortland '97) became the winningest coach in Providence history when he picked up his 249th victory at the school with a 5-2 win over Northeastern. Leaman broke the record that had been held by hockey legend Lou Lamoriello since 1983. His Friars are unbeaten in nine straight (7-0-2) heading into this weekend's home-and-home Hockey East series with No. 15 UMass.
---
Fit to Print:
"I don't know if it's the most unique… one of the most interesting games I've ever coached in. How many times do you give up four in a row, then you get six in a row? It was crazy. It was crazy. The boys were left for dead."
-- Bemidji State head coach Tom Serratore after the Beavers rallied from a 4-0 deficit in the final 26:22 to defeat Michigan Tech 6-4 (source: YouTube)
---
NHL Note of the Week:
Buffalo Sabres RW Kyle Okposo (Minnesota, 2006-08) played in his 1,000th NHL game Tuesday, becoming the seventh active NCAA alumni to reach that milestone. That distinguished group includes two of Okposo's former teammates with the Golden Gophers: Alex Goligoski (2004-07) and Blake Wheeler (2005-08). The others are Ryan Suter (Wisconsin, 2003-04), Joe Pavelski (Wisconsin, 2004-06), Andrew Cogliano (Michigan, 2005-07) and Jack Johnson (Michigan, 2005-07).
---
Fries at the Bottom of the Bag:
St. Cloud State graduate F Zach Okabe (Okotoks, Alberta) has 99 career points heading into Friday's NCHC clash with Minnesota Duluth … Denver junior F Massimo Rizzo (Burnaby, British Columbia) collected his 100th career point with an assist in Saturday's 8-4 win over Arizona State. He's the fourth active NCAA Division I men's hockey to reach that milestone … After being held off the scoresheet in each of his first two NCAA games, Boston College freshman F Gabe Perreault (Sherbrooke, Que.) has strung together an eight-game scoring streak (2-13—15) … Bentley's A.J. Hodges (Sr., Littleton, Colo.) had five points, including a hat trick, in Friday's 6-2 win over Niagara, one point shy of the Atlantic Hockey single-game scoring record … Jérémie Bucheler (Gr., St. Laurent, Que.) had five points in Vermont's 6-2 win over No. 14 UMass on Saturday, tying the school's single-game record for defensemen. It was last done in 1971-72 by Ted Yates … Minnesota State freshman D Evan Murr (Stillwater, Minn.) and Dartmouth freshman F Nikita Nikora (St. Petersburg, Russia) both scored their first career goals in overtime last Saturday … Dartmouth has gone to OT in four of its first six games, going 1-0-3 in those games.
---
CONFERENCE WEBSITES
Atlantic Hockey | Big Ten | CCHA | ECAC | Hockey East | NCHC
---
College Hockey Inc. Resources:

Did you know? 92% of NCAA Division I men's hockey players earn their degree!