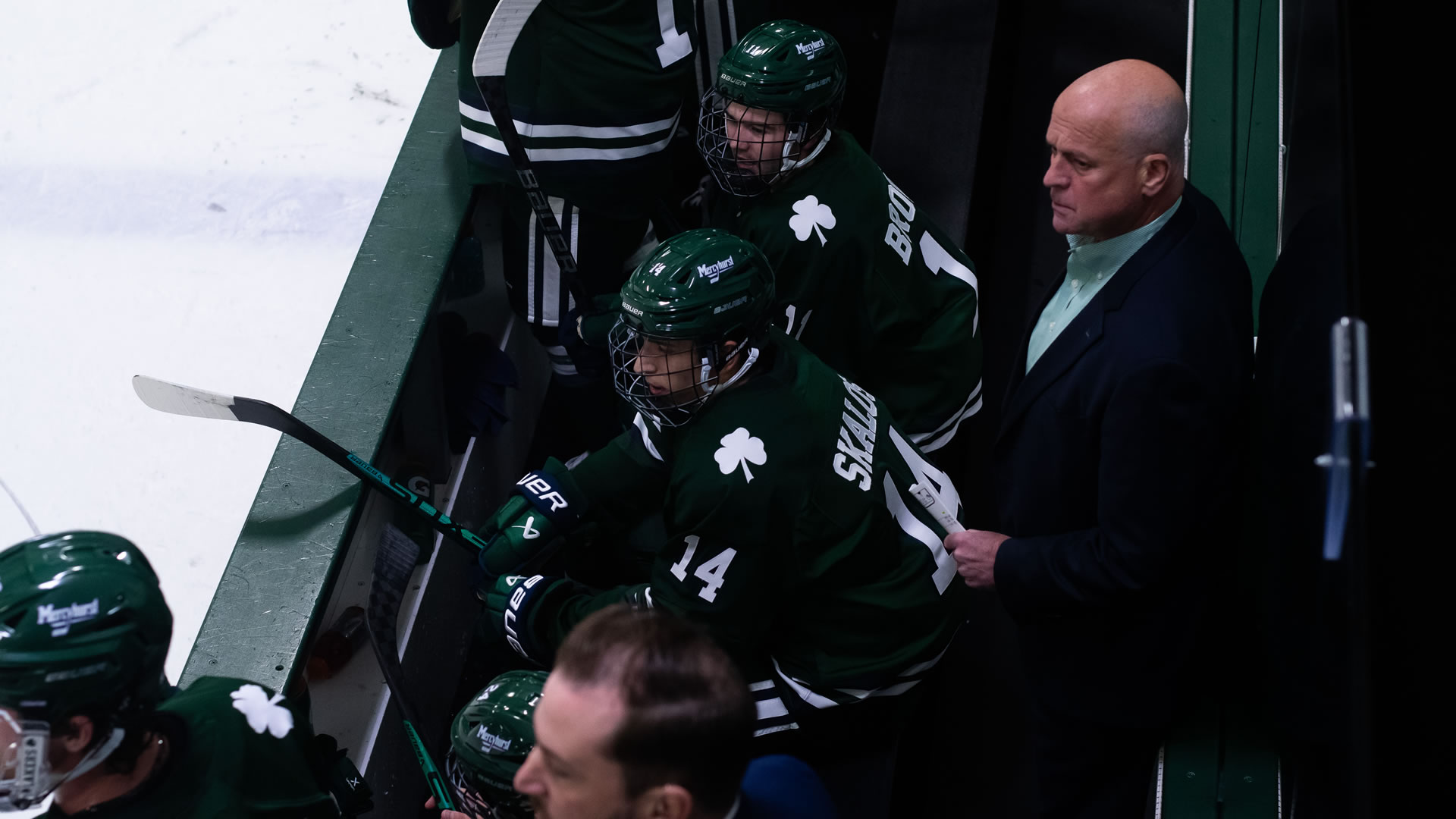 Rick Gotkin is nearing 600 wins as Mercyhurst head coach (Photo: Riley Polkowski).
A pair of college hockey coaches are closing in on significant milestones.
Mercyhurst's Rick Gotkin (Brockport State '82), the longest-tenured active head coach in NCAA Division I hockey, is one victory away from 600 career wins at the school. Since taking over behind the Lakers bench in 1988, Gotkin has guided Mercyhurst to NCAA Tournament berths at each of the Division I, II and III levels, the only coach in NCAA history to have done so.
The Lakers will travel to Bowling Green this weekend for a non-conference series.
Meanwhile at Providence, Nate Leaman (Cortland '97) has 246 wins as the Friars' head coach, leaving him two shy of matching hockey Lou Lamoriello (Providence '63) as the winningest coach in program history. Now in his 21st season overall as a Division I head coach, including his 13 years at Providence and an eight-year stint at Union, Leaman has gone 384-278-94 (.570) combined between the two schools. He led Providence to a national championship in 2014-15.
Leaman and the Friars face New Hampshire in a home-and-home Hockey East matchup this weekend.
Visit the links below for this week's complete NCAA Division I men's hockey schedule.
---
Daily Scoreboard | Weekly Schedule | Stat Leaders | Goaltending Leaders
---
Must Read:
Boston Globe: Hockey East freshmen already are showing a lot of class, and other weekend takeaways
Daily Gazette: Union, RPI men's hockey teams ready to renew rivalry after coming off tough losses
EP Rinkside: All eyes on 2024 first-overall favorite Macklin Celebrini
Duluth News Tribune: Fallen player was special to UMD coach Scott Sandelin
Duluth News Tribune: Bulldogs' Loheit ready to set example, give neck guard a try
FloHockey: A tale of two marksmen – Lleyton Roed and Kyle Kukkonen
FloHockey: Snow, candy & hockey take spotlight in Upper Midwest
The Athletic: Remembering Adam Johnson: 'An unbelievable human being'
USCHO: New Hampshire 'here to play' as Wildcats off to best start in six years
USCHO: Intense weekend RIT-Holy Cross series proving 'everything so close in this league'
USCHO: Conference teams battling, finding ways to win nonconference games as calendar flips
USCHO: After lifting Harvard to shootout win, Bar helping Crimson continue on improvement path
USCHO: Roed oozing confidence up front for Bemidji State
---
Must Hear:
CHN Insiders: Featuring Wisconsin captain Mike Vorlicky, Minnesota Duluth head coach Scott Sandelin
Inside Atlantic Hockey: Featuring RIT head coach Wayne Wilson
Inside ECAC Hockey: Featuring Quinnipiac head coach Rand Pecknold
Bulldog Insider: Bulldogs mourn death of Adam Johnson
NCHC Icecast: A bit of a head-scratching weekend, conference play begins this week
Parting Schotts: Union men's hockey coach Hauge talks UConn series, previews RPI games
The Big Rink: Featuring Big Ten Network broadcaster Dan Kelly
The CCHA Show: Featuring Lake Superior State head coach Damon Whitten
USCHO Spotlight: Talking the Badgers' blistering beginning with reporter Todd Milewski
USCHO Weekend Review: Strong weekends for BC, Wisconsin, Cornell; tragic death of Adam Johnson
---
Must Watch:
Midco Sports: He's the youngest member of the Vikings, but he's playing like a savvy veteran
NCAA.com: North Dakota's surge continues in new Power 5 rankings
WMUR: No. 15 UNH men's hockey off to best start in five years
---
The Viking Age:
Augustana, in its first year of NCAA Division I men's hockey, enjoyed a successful trip through Colorado last weekend, picking up a 5-5 tie at Denver and a 4-3 win at Colorado College on Friday and Saturday, respectively.
The Vikings finished 3-2-1 in October, the best start for a first-year program since Penn State went 4-2-0 to open its inaugural season in 2012-13. Augustana and PSU are two of seven new programs to NCAA Division I men's hockey in that time and the only ones to have logged a winning record after six games.
---
Century Club:
North Dakota's Riese Gaber (Sr., Gilbert Plains, Manitoba) picked up his 100th collegiate point with a goal last Saturday against Minnesota State. Three days later, Sacred Heart fifth-year forward Braeden Tuck (Calgary, Alberta) collected his 100th with an assist in a win over Army.
Gaber and Tuck joined Northern Michigan's Andre Ghantous (133) as the nation's only active skaters to have reached that milestone. St. Cloud State's Zach Okabe (97) and Denver's Massimo Rizzo (96) are the next-closest to joining that exclusive club.
---
Fit to Print:
"They were very good, and we were very bad. They executed, and we did not. I didn't think we were very connected and – give them credit – they took what we gave them and that's what good teams do. At the end of the night, it was a 6-2 sour sandwich."
-- Air Force head coach Frank Serratore following his team's loss to Colorado College in Friday's Battle for the Pikes Peak Trophy (source: GoAirForceFalcons.com)
---
NHL Note of the Week:
The NHL's top four save percentage leaders during the month of October all played college hockey: the Rangers' Jonathan Quick (UMass, 2005-07), Boston's Jeremy Swayman (Maine, 2017-20), Toronto's Joseph Woll (Boston College, 2016-19) and Dallas' Jake Oettinger (Boston University, 2016-19).
Additionally, Vancouver's Thatcher Demko (Boston College, 2013-16) ranked seventh in that category.
---
Fries at the Bottom of the Bag:
Wisconsin (7-1-0) is off to its best start since the Dany Heatley-led Badgers opened the 2000-01 campaign with an identical 7-1-0 start … Mercyhurst sophomore G Owen Say (London, Ontario) made a career-high 50 saves in the Lakers' 4-3 overtime loss at Notre Dame last Thursday … Following a 1-1 overtime tie last Friday, Harvard and Dartmouth battled to an 18-round shootout with Harvard junior D Jack Bar (Newmarket, Ontario) finally securing the extra ECAC Hockey point for the Crimson … Robert Morris fifth-year G Chad Veltri (Fox Chapel, Pa.) ranks ninth nationally with a .942 save percentage despite having faced an average of 40 shots per game. In just the last two weekends alone, Veltri has stopped 165 of 176 shots (.938) over four appearances.
---
CONFERENCE WEBSITES
Atlantic Hockey | Big Ten | CCHA | ECAC | Hockey East | NCHC
---
College Hockey Inc. Resources:

Did you know? 92% of NCAA Division I men's hockey players earn their degree!