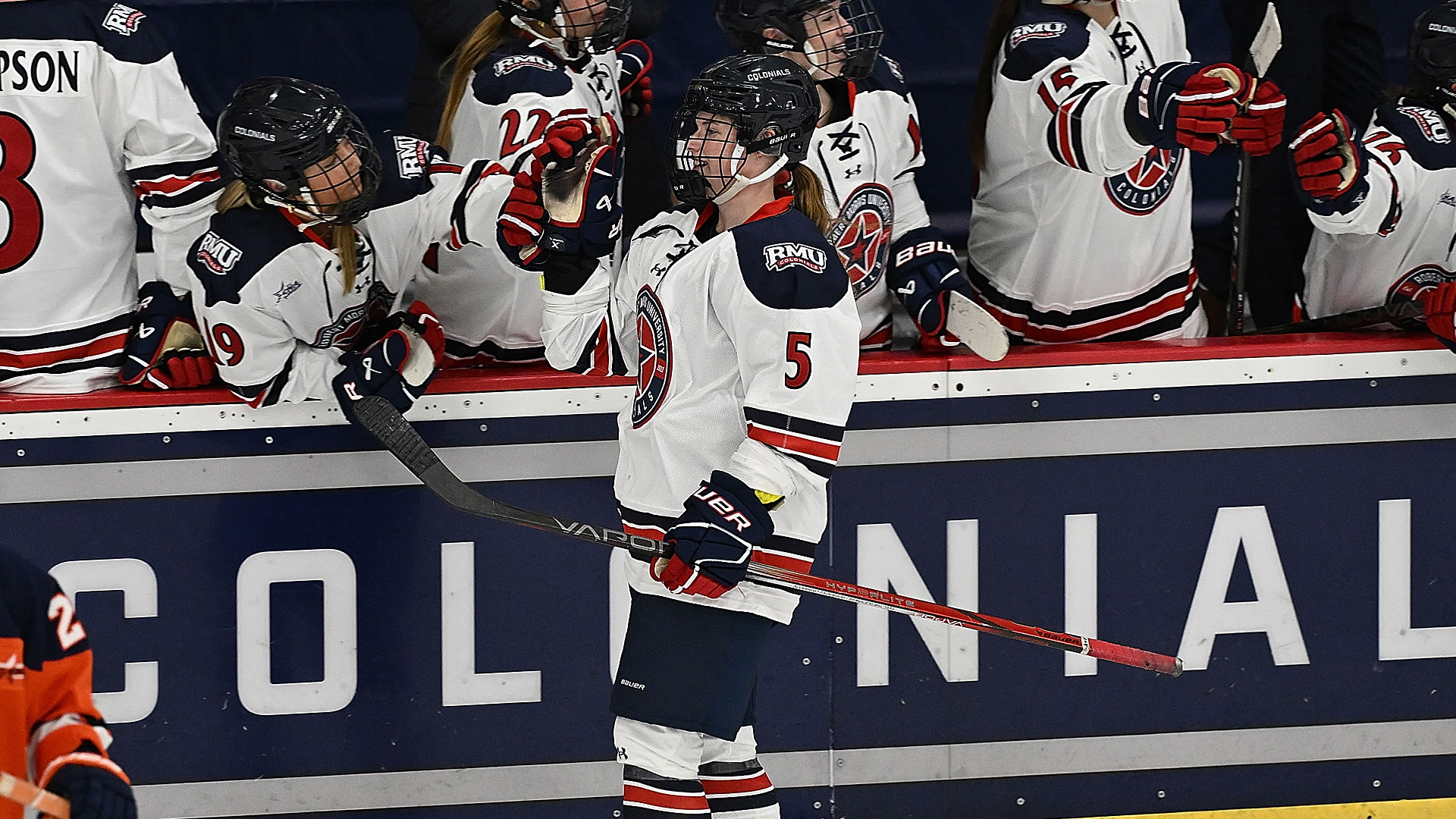 Robert Morris F Alaina Giampietro is the nation's highest-scoring freshman (Photo: Justin Berl/RMU Athletics).
In its first season back on the NCAA Division I women's hockey scene, Robert Morris has put together an impressive 3-1-0 conference start – good for second place in the CHA standings – following a sweep of Syracuse last weekend and a split at Mercyhurst the week prior.
It's an encouraging start for the Colonials, who had entered league play mired in a losing streak that reached five games after a lopsided loss to Mercyhurst in the conference opener.
A big reason for RMU's surge has been the production of freshman F Alaina Giampietro (Strongsville, Ohio), the CHA (and national) Rookie of the Month for October. After tallying the game-winner in last Friday's 4-2 win over Syracuse, Giampietro is the nation's top-scoring rookie with 13 points in her first 12 collegiate games. No other freshman in the country has more than 10 points.
"We put together a great team effort," Giampietro told the RMU Athletics website Saturday after the sweep of Syracuse. "The coaching staff has helped us out a lot, preparing us for each game. I think we're building on our game each time, and we want to keep it going."
Giampietro and the Colonials will have to wait another week to keep it going; RMU is idle this weekend and returns to action Nov. 17-18 against CHA rival RIT.
Visit the links below to view the entire schedule for this week in women's college hockey.
---
Daily Scoreboard | Weekly Schedule | Stat Leaders | Goaltending Leaders
---
Must Read:
Andscape: Forward Laila Edwards makes history with Team USA women's hockey
Boston Globe: Power play by first-place Boston College produces an advantage in Hockey East
NHL.com: Edwards first Black player for U.S. women's national team
NHL.com: Ouellette proved 'dominant' on road to gold medals, championships, Hall of Fame
Northeastern Global News: Women's hockey pioneer Kendall Coyne Schofield leads new inductees
The Ice Garden: Pros behind NCAA DI benches
The Rink Live: Abbie Thompson 'didn't settle,' then became one of the WCHA's best goalies
The Rink Live: Brainerd's Macy Peterson stepping into big role at Post University
USCHO: Weekend wrap
USCHO: Women's Division I college hockey 2023-24 team demographics
---
Must Hear:
Bulldog Insider Podcast: Switching sides with former Beaver Reece Hunt
Inside College Hockey America: Featuring Penn State senior G Josie Bothun
Inside ECAC Hockey: Featuring St. Lawrence head coach Chris Wells
Inside Hockey East: Featuring Vermont senior F Natálie Mlýnková
Skor North: Featuring St. Thomas senior F Brieja Parent
---
Must Watch:
NCAA.com: Wisconsin women's hockey stays on top of Week 7's Power 5 rankings
---
Jump for Joy:
Ohio State freshman F Joy Dunne (O'Fallon, Mo.) entered last weekend's WCHA series at Bemidji State still seeking her first collegiate goal after eight games. Dunne emerged from the series with four goals and WCHA Rookie of the Week honors after her Buckeyes swept the Beavers.
In Friday's series opener, Dunne scored her first career goal midway through the second period, added another just over five minutes later, then secured her first collegiate hat trick with a power-play tally in the final frame. She added an assist on the game's final goal for good measure.
The following day, Dunne added a goal and an assist to put the finishing touches on a six-point weekend and a pair of OSU victories.
Dunne and the Buckeyes will return from this week's break in the schedule with a home clash Nov. 17-18 against top-ranked Wisconsin.
---
Rivalry Series Resumes:
The fourth edition of the Rivalry Series between the United States and Canada begins tonight in Tempe, Ariz., with the first of two November clashes (and seven overall) between two women's hockey powers.
The rosters for both teams are comprised entirely of current or former college hockey players, including 12 active Division I student-athletes. Head coach John Wroblewski's Team USA staff will include Union head coach Josh Sciba, Minnesota State assistant coach Shari Dickerman, and Quinnipiac assistant coach Brent Hill. Former St. Lawrence standout Gina Kingsbury is Team Canada's general manager.
Click HERE for more information, including schedule, on the 2023-24 Rivalry Series.
---
Fit To Print:
"I was just so proud of the transformative years that the program undertook and the way that Northeastern has helped shape me as an individual. It's been so fun to follow as a proud alum – not only from the hockey perspective. I keep saying my degree value keeps increasing year by year."
-- Northeastern alumna and U.S. Olympic gold medalist Kendall Coyne Schofield, who is being inducted into the Northeastern Athletics Hall of Fame this week (source: NGN Magazine)
---
Fries at the Bottom of the Bag:
This week's schedule opened Wednesday afternoon with host Clarkson defeating St. Lawrence 6-3. The game was played in front of a Cheel Arena record crowd of 3,223 ... A pair of lengthy individual scoring streaks were snapped last Saturday. Colgate junior F Neena Brick (Regina, Saskatchewan) had her point streak – which dated back to last season – end at 13 games, leaving her one shy of matching the school record. Wisconsin graduate F Britta Curl (Bismarck, N.D.) was held off the scoresheet for the first time all season, halting her season-opening 11-game streak.
---
CONFERENCE WEBSITES
CHA | ECAC | Hockey East | NEWHA | WCHA

Did you know? 98% of NCAA Division I women's hockey players earn their degree!