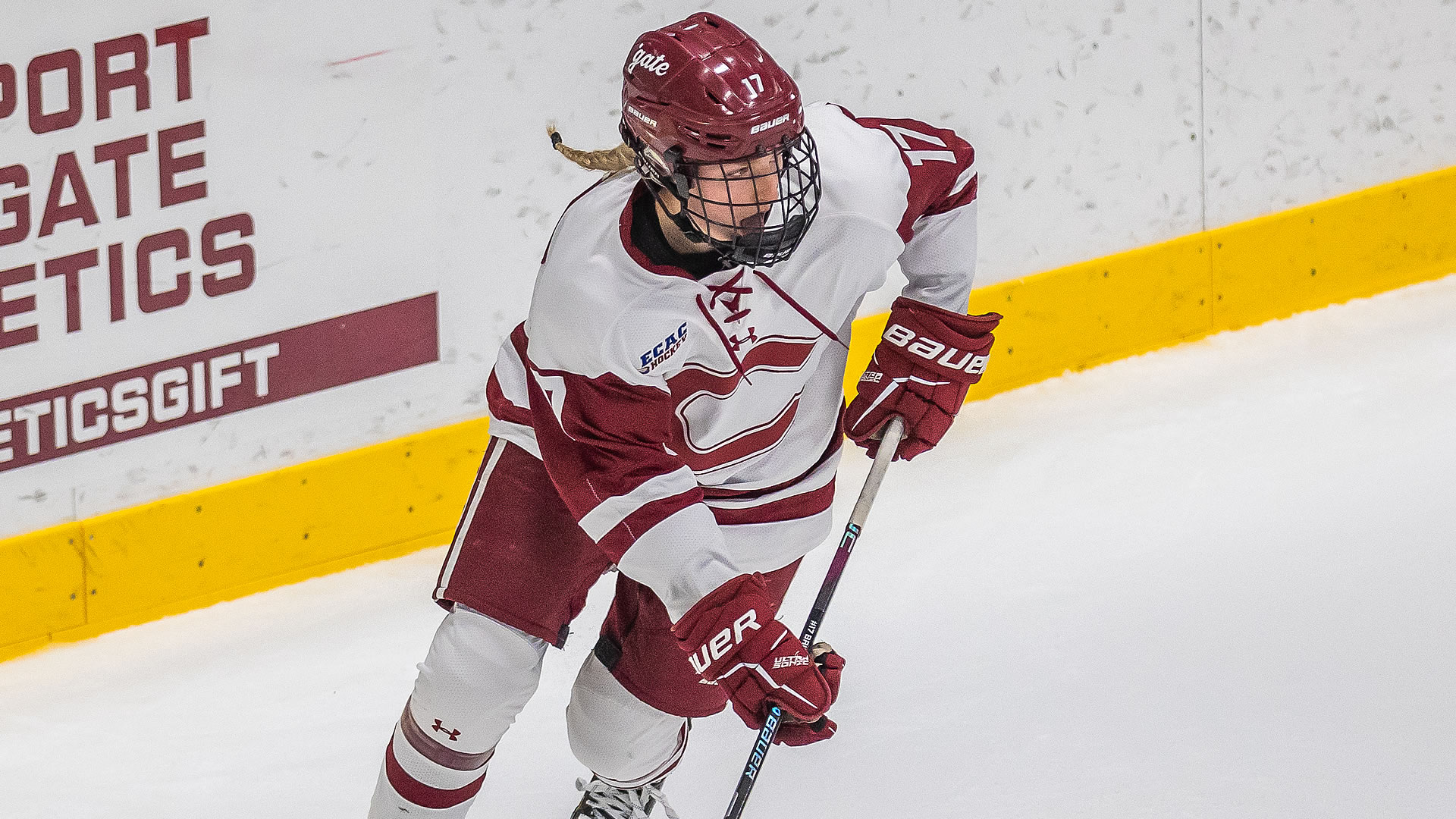 Colgate's Neena Brick is on an 11-game point streak dating back to last season (Photo: Olivia Hokanson).
College hockey fans have a pair of NCAA Division I women's hockey top-10 matchups to look forward to when the calendar flips from October to November.
Top-ranked Wisconsin will travel to No. 10/11 St. Cloud State for a WCHA battle, while sixth-ranked Yale will visit No. 9/10 Cornell in ECAC Hockey action. Both series are set for Friday-Saturday.
The series between the Badgers (10-0-0) and Huskies (9-2-0) features the nation's highest-scoring team against its stingiest defensive squad. Wisconsin enters the week averaging a blistering 7.40 goals over its first 10 games, while St. Cloud State is giving up just 0.73 goals per game through its first 11 contests. Both games can be seen on B1G+.
In the ECAC matchup, which can be seen on ESPN+, the numbers also tell a compelling story: Cornell (+2.57) and Yale (+2.25) rank third and sixth, respectively, in average scoring margin. The Big Red is coming off road wins over Union and RPI, while the Bulldogs picked up home victories over Harvard and Dartmouth.
Visit the links below to view the entire schedule for this week in women's college hockey.
---
Daily Scoreboard | Weekly Schedule | Stat Leaders | Goaltending Leaders
---
Must Read:
Boston Globe: In women's college hockey, the recruiting process has seen big changes in recent years
NHL.com: Amanda Pelkey announced as Devils Female Hockey Ambassador
NHL.com: Flames player development/grassroot hockey coordinator helps prospects develop on, off ice
The Badger Herald: Analysis of key players, strategy behind Wisconsin's consistent success
The Ice Garden: Bilka shines as a Buckeye, Hovi joins Crimson staff, and more
The Rink Live: SCSU women are off to program's best start despite missing two key veterans
Town Topics: Freshman goalie Corniea making immediate impact
---
Must Hear:
Bulldog Insider Podcast: Hughes and Bell prepare for life in PWHL
Inside College Hockey America: Featuring Lindenwood junior F Morgan Neitzke
Inside ECAC Hockey: Featuring Rensselaer head coach Bryan Vines
Inside Hockey East: Featuring Holy Cross senior G Madison Beck
---
Must Watch:
Lakeland PBS: BSU hockey's Fortin, Lawson take center ice with families for organ donor awareness
NCAA.com: Clarkson women's hockey enters Week 6s Power 5 rankings
News10: RPI women's hockey off to its best start since '05-06 season, showing no signs of slowing down
---
Lending an Elle-ping Hand:
Yale senior F Elle Hartje (Detroit, Mich.) made school history in last Saturday's win over Dartmouth.
When Hartje set up Stephanie Stainton's (Fr., Oakville, Ontario) first-period tally to make it 2-0, it was the 90th career assist for Hartje, eclipsing the record held by her former teammate, Claire Dalton. Hartje finished the afternoon with a five-point game, including a career-high four helpers.
With seven points in her first four games this season, Hartje has the early lead in the ECAC conference scoring race and is tied for ninth nationally in points per game (1.75).
---
Can't Stop, Won't Stop:
Colgate junior F Neena Brick (Regina, Saskatchewan) has collected at least one point in all eight games to start the year, extending her scoring streak to 11 games dating back to the end of last season.
Brick had picked up exactly one point in each of her first six games of the 2023-24 season before erupting for a goal and two assists in last Friday's 4-3 win at Rensselaer. She added a pair of helpers the following day in a 4-0 victory at Union.
---
Captain Curl Cruising:
Wisconsin fifth-year forward and team captain Britta Curl (Bismarck, N.D.) enters this weekend's series at St. Cloud State riding a nine-game goal streak, one shy of matching Meghan Duggan's school record from 2010-11.
Curl has enjoyed multi-point efforts in eight of her first contests this season and leads the country in points (26), points per game (2.60), assists (16) and plus/minus rating (+21).
---
Fit To Print:
"I really felt that was my proudest moment. A different moment than we've seen in the past. We were desperate in a way that felt like we belonged in the game. That's a huge step for us, especially against a quality opponent like Wisconsin."
-- St. Thomas head coach Joel Johnson on his team's late push in an eventual 5-3 loss to the top-ranked and unbeaten Badgers (source: TommieSports.com)
---
Fries at the Bottom of the Bag:
Clarkson honored its 2014 NCAA championship team following Saturday's win over Princeton … St. Cloud State senior G Jojo Chobak (Chicago, Ill.) stopped all 26 shots she faced in Saturday's 2-0 win at Minnesota State, her first shutout of the season and an NCAA-leading sixth shutout in 11 games for the Huskies. Chobak's teammate, Sanni Ahola (Sr., Helsinki, Finland) finally yielded a goal in her fifth start Friday against MSU, a 3-1 win. She had opened the year with four straight shutouts … Mercyhurst senior F Sara Boucher (Burlington, Ontario) registered her seventh career shutout – second-most in CHA history – in Friday's 9-2 win over Robert Morris. She was skating in her 100th collegiate game … Penn State head coach Jeff Kampersal (Princeton '92) won his 100th career game behind the Nittany Lions' bench Sunday at Syracuse.
---
CONFERENCE WEBSITES
CHA | ECAC | Hockey East | NEWHA | WCHA

Did you know? 98% of NCAA Division I women's hockey players earn their degree!