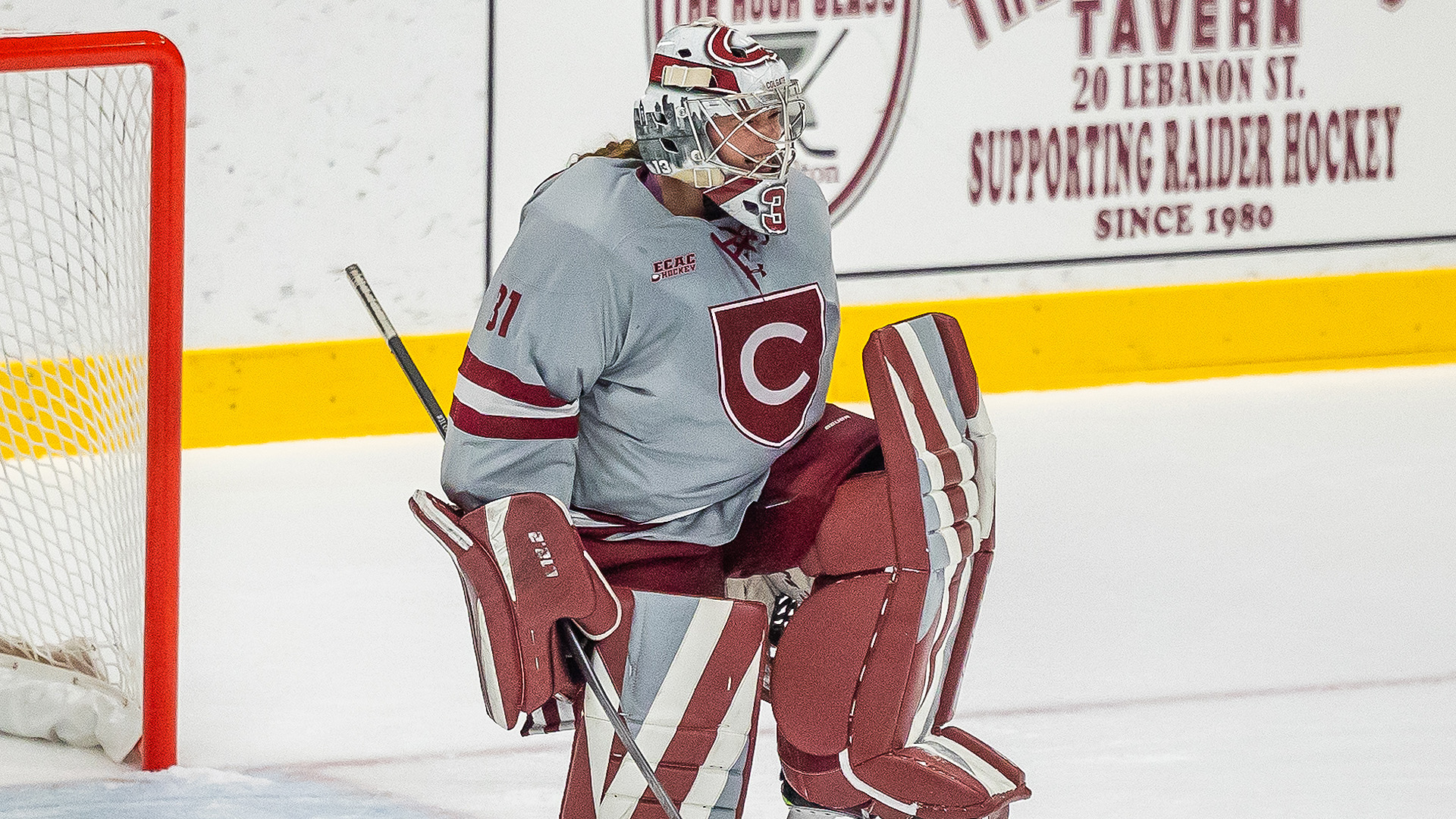 Colgate senior G Kayle Osborne has won all nine of her starts this season (Photo: Olivia Hokanson | Colgate Athletics).
Winning is nothing new for Colgate.
After all, the Raiders racked up a 32-6-2 overall record last season and captured a third consecutive ECAC Hockey Women's Tournament championship.
Those winning ways have continued early in 2023-24, with Colgate currently riding a 10-game winning streak. Only the unbeaten Wisconsin Badgers, off to a perfect 12-0-0 start, have a longer active streak in the entire country. The Raiders' lone loss this season was a 3-2 OT defeat at the hands of Ohio State back on Sept. 30, and Colgate is already 6-0-0 in ECAC play.
Head coach Greg Fargo (Elmira '06) has his squad clicking at both ends of the ice.
Offensively, Colgate is averaging 5.00 goals per game – only Wisconsin (6.92) is averaging more – and boasts a nation's-best 44.4% rate on the power play. The Raiders are outscoring their opponents by an average of three-and-a-half goals per game. Senior F Kristýna Kaltounková (Vlasim, Czechia) is tied for fourth in the national scoring race with 23 points. Graduate F Danielle Serdachny (Edmonton, Alberta) scored her 200th career point last weekend. Junior F Neena Brick (Regina, Saskatchewan) is coming off a four-goal explosion Saturday at Harvard.
In the defensive zone, Colgate allows fewer than 1.5 goals per game, buoyed by a goaltending tandem of senior Kayle Osborne (Westport, Ontario) and junior Hannah Murphy (Bradford, Ontario), who have combined for a .945 save percentage. Only four teams in the country have killed penalties at a higher rate (92.1%).
"We were connected and relentless for the whole 60 minutes, which has been a big goal for us throughout the season," said sophomore Sydney Morrow (Darien, Conn.) after scoring a hat trick and five points in last Friday's win at Dartmouth.
Plenty of season still remains and this weekend's opponents, Princeton and Quinnipiac, have an immediate chance to close the gap in the ECAC Hockey standings. But if the Raiders continue to play that "connected" game described by Morrow, it promises to be another successful season at Class of 1965 Arena.
---
Daily Scoreboard | Weekly Schedule | Stat Leaders | Goaltending Leaders
---
Must Read:
Boston Globe: Lacey Martin is clicking in a revamped BU women's hockey program
Colgate Athletics: Chelsea Walkland's incredible summer
The Athletic: Meet Laila Edwards, the teenage phenom set to make history with Team USA
The Hockey News: NEWHA continues to take strides
USA Hockey: Laila Edwards embracing opportunity to be a role model
The Ice Garden: Colgate's win streak, Laila Edwards' Team USA debut, and more USCHO: Weekend wrap
---
Must Hear:
Inside College Hockey America: Featuring Mercyhurst senior F Sara Boucher
Inside ECAC Hockey: Featuring Clarkson head coach Matt Desrosiers
Inside Hockey East: Featuring Boston University senior F Lacey Martin
USCHO Women's Hockey Podcast: Podcast pilot
---
Must Watch:
NCAA.com: Wisconsin women's hockey stays on top of Week 8's Power 5 rankings
TSN: Caroline Ouellette Hockey Hall of Fame induction speech
TSN: Caroline Ouellette's inspiring journey to the Hockey Hall of Fame
---
Crowded House:
Last week's NCAA Division I women's hockey slate began with a piece of history at Clarkson. A Cheel Arena record-crowd of 3,223 watched their fifth-ranked Golden Knights topple rival and sixth-ranked St. Lawrence on Wednesday afternoon.
Just two days later, Vermont broke its own Hockey East attendance record by drawing 2,705 fans to Gutterson Fieldhouse where the Catamounts fell to No. 15 Boston College.
Clarkson and Vermont rank fifth and sixth, respectively, in NCAA Division I women's hockey average attendance, trailing only Wisconsin, Minnesota, Penn State and Minnesota Duluth.
---
Fit To Print:
"This team has a ton of heart, and we will keep fighting for each other."
-- Vermont head coach Jim Plumer after the 13th-ranked Catamounts defeated No. 15 Boston College on Saturday to improve to 5-2-0 in Hockey East and 6-4-1 overall (source: UVMAthletics.com)
---
Fries at the Bottom of the Bag:
Colgate senior F Dara Greig (Lethbridge, Alberta) notched her 100th collegiate point with an assist in Friday's 8-1 ECAC Hockey win over Dartmouth … Mercyhurst graduate G Ena Nystrøm (Stavanger, Norway) eclipsed 2,000 career saves during Friday's loss at Princeton, becoming the 16th goaltender in CHA history to reach that milestone … UConn senior F Jada Habisch (Buffalo, Minn.) has the scored the game-winning goal in each of the last four games for the Huskies, who are riding a six-game winning streak. Habisch, the reigning Hockey East Player of the Week, is tied for the national lead in GWG with St. Lawrence's Julia Gosling (Sr., London, Ontario) and Long Island's Jeannie Wallner (Jr., Kings Park, N.Y.).
---
CONFERENCE WEBSITES
CHA | ECAC | Hockey East | NEWHA | WCHA

Did you know? 98% of NCAA Division I women's hockey players earn their degree!