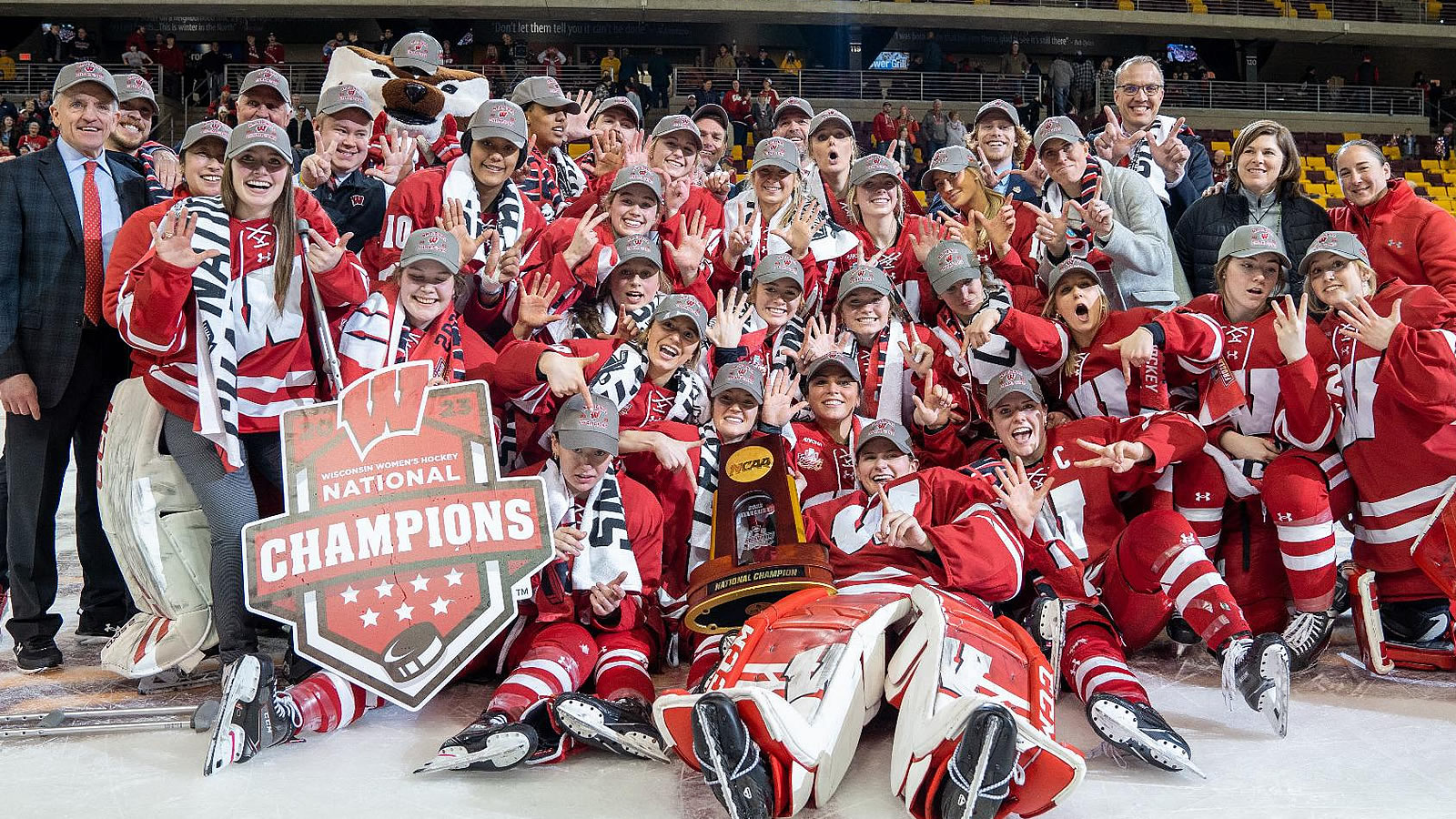 Wisconsin captured its second national championship in three seasons with a 1-0 win over OSU in last year's title game. (Photo: Meg Kelly/UWBadgers.com).
The 2023-24 NCAA Division I women's hockey season is here.
Princeton will mark the unofficial start to the season Friday when the Tigers host the University of Toronto in exhibition action. The regular season begins in earnest the following day with seven non-conference games nationwide, beginning at 2 p.m. Eastern Time (ET) with a clash between Merrimack and Clarkson.
Sunday's slate features six more non-conference tilts.
Fifth-ranked Northeastern will host No. 11 Penn State both days in a showdown of teams ranked in the top 15 of both the USA Hockey/The Rink Live and USCHO national preseason polls.
Visit the links below for a complete rundown of all the weekend action.
---
College Hockey Inc. announced earlier this week it is seeking a Director of Women's Hockey. This new full-time position, made possible by an increased grant from the National Hockey League, will help College Hockey Inc. continue to grow and promote college hockey.
Click HERE for more information and to apply.
---
Daily Scoreboard | Weekly Schedule | Stat Leaders | Goaltending Leaders
---
Must Read:
Badger Extra: Inside the design process of the Wisconsin women's hockey NCAA championship rings
Duluth News Tribune: Building chemistry with teammates coming easy for new UMD captain
ESPN: Minnesota selects Taylor Heise No. 1 in inaugural PWHL draft
NESN: 'Different Look' on horizon for Northeastern women's hockey
NESN: Women's hockey programs excited for Beanpot game-changer
Pittsburgh Post-Gazette: RMU hockey from the ashes: Newborn programs rise to contenders
Quinnipiac Chronicle: Quinnipiac women's hockey enters pivotal season with high hopes
St. Paul Pioneer Press: Latest accomplishment has only made former Gophers hockey star Heise hungrier
The Ice Garden: CHA: The return of RMU, the evolution of Penn State and Mercyhurst, and more
The Ice Garden: ECAC: Colgate, Yale lead board heading into season with plenty of changes on horizon
The Rink Live: Freshness abounds as Gopher women's hockey seeks Frozen Four return
The Rink Live: Expectations high for St. Thomas rookies to provide much-needed offense
The Rink Live: SCSU women welcome 16 new players, look to build off last season
---
Must Watch:
FOX 21 (Duluth): UMD women's hockey talks changes at WCHA Media Day
---
Poll Position:
The aforementioned national polls both slotted Wisconsin as their preseason No. 1. Ohio State and Colgate also received first-place consideration.
The Badgers captured their second national championship in three seasons with a 1-0 win over OSU in last year's title game.
Four conferences also released their preseason league polls in recent days:
CHA preseason No. 1: Penn State | Link
ECAC preseason No. 1: Colgate | Link
Hockey East preseason No. 1: Northeastern | Link
NEWHA preseason No. 1: TBA
WCHA preseason No. 1: Ohio State/Wisconsin (tie) | Link
---
A New Era in Women's Hockey:
The newly formed Professional Women's Hockey League (PWHL) held its inaugural draft last Monday in Toronto, where former University of Minnesota forward Taylor Heise was made the No. 1 overall selection by Minnesota.
Heise graduated last season after racking up 225 points (96 goals, 129 assists) in 172 collegiate games with the Golden Gophers. She won the Patty Kazmaier Award as the nation's top player in 2021-22 and was a finalist for the award again in 2022-23.
Heise was one of 90 draft-eligible players chosen in the draft, a whopping 93 percent of whom had played NCAA hockey, according to hockey journalist Nicole Haase.
The PWHL and its six franchises will begin its 24-game regular season in January 2024.
---
CONFERENCE WEBSITES
CHA | ECAC | Hockey East | NEWHA | WCHA

Did you know? 98% of NCAA Division I women's hockey players earn their degree!