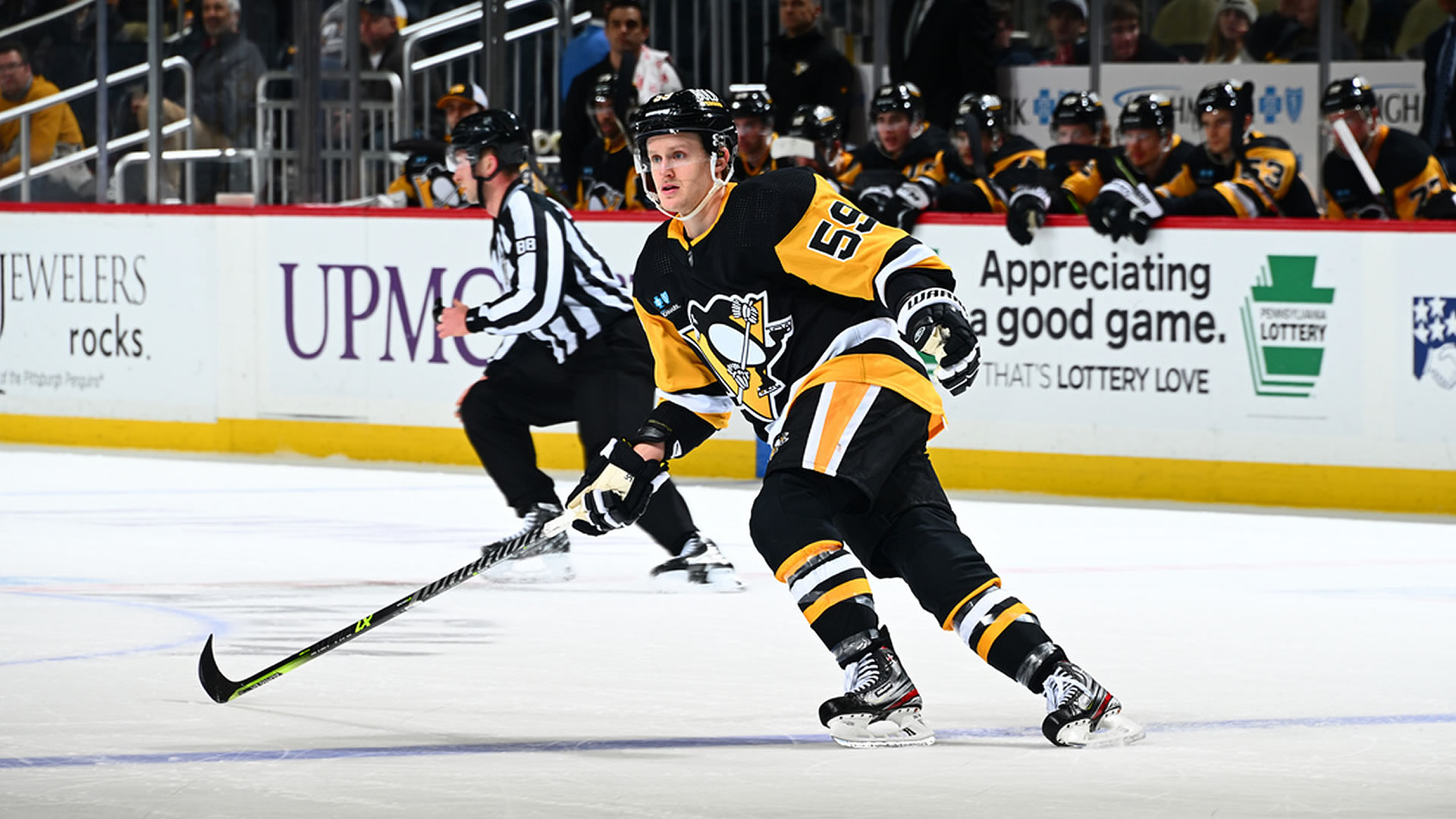 Omaha alum Jake Guentzel led the Penguins with 36 goals in 2022-23 (Photo: Pittsburgh Penguins).
Updated 9:00 pm ET to include Will Butcher
The 2023-24 National Hockey League regular season gets underway tonight with 234 NCAA alumni listed on opening-night rosters.
Forty-four NCAA Division I programs – representing all six NCAA Division I men's conferences – boast at least one former player on an NHL roster, led by Michigan's 25. Other schools with 10 or more alums on NHL rosters include: Minnesota (21), Boston University (17), Boston College (15), Wisconsin (13), Harvard (11), Denver (10), Minnesota Duluth (10) and North Dakota (10).
The Buffalo Sabres enter the season with a league-leading 12 former college hockey players on their opening night roster, followed by the New York Rangers (11), Vancouver Canucks (11), Boston Bruins (10) and Colorado Avalanche (10).
Also of note, half of the NHL's 32 current general managers played college hockey, as did 13 of the league's current head coaches, including 2023 NHL Coach of the Year Jim Montgomery (Maine '93).
More NCAA alumni are playing in the NHL than ever before, as evidenced by the record 349 who appeared in the NHL during the 2021-22 season. NCAA Division I men's hockey successes also extend beyond the ice, where the sport enjoys a 92-percent graduation rate that ranks among the top five of all NCAA Division I men's sports.
The puck drops tonight with a triple-header on ESPN/ESPN+ featuring Nashville at Tampa Bay, Chicago at Pittsburgh, and Seattle at defending Stanley Cup champion Vegas. Those six rosters showcase a combined 38 former NCAA standouts, including Kraken forward and 2023 NHL Rookie of the Year and Matty Beniers (Michigan).
For more information, visit College Hockey Inc.'s NHL Matchup Tool.
Note: Roster data includes players who are on injured reserve or long-term injured reserve to open the season, or who have been designated injured/non-roster.