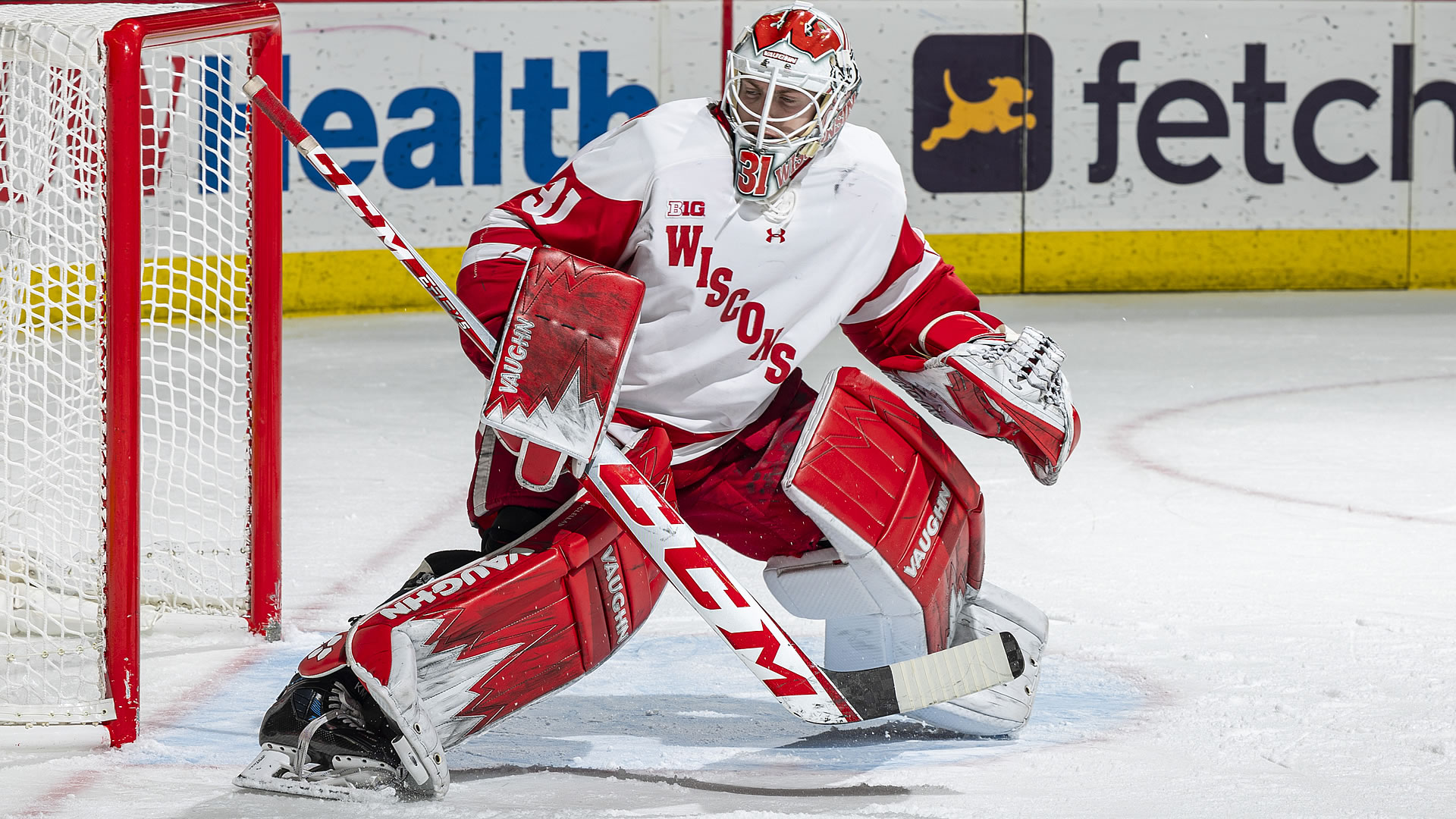 Wisconsin goalie Kyle McClellan opened the year with consecutive shutouts (Photo: UW Athletics).
Four teams on two different campuses will "break the ice" this weekend in college hockey.
Bemidji State and North Dakota will co-host the 2023 Ice Breaker Tournament at their respective venues, the 27th edition of the annual event.
BSU will host Wisconsin on Friday night, while North Dakota entertains Army West Point. The two visiting teams will switch sites the following night, with the Black Nights heading to Bemidji and the Badgers visiting the Fighting Hawks.
BSU is competing in the Ice Breaker for the first time. UND previously hosted the event in 2011 and won it in 2015 at Maine.
The Ice Breaker Tournament, which began in 1997, traditionally marks the beginning of the NCAA Division I men's hockey season. The event brings together four teams, typically from different conferences, and is administered by College Hockey Inc. on behalf of the Hockey Commissioners Association.
---
Daily Scoreboard | Weekly Schedule | Stat Leaders | Goaltending Leaders
---
Must Read:
College Hockey News: It's a new day in Wisconsin, as Hastings breathes fresh air into program
College Hockey News: Dartmouth begins crucial year in rebuilding phase
Grand Forks Herald: What can Ludvig Persson learn from past UND goalie transfers?
Grand Forks Herald: Tony Hrkac, James Patrick to return to UND for 'One More Shift' this season
Grand Forks Herald: Conference-by-conference college hockey preview
Minneapolis Star Tribune: Gophers men's hockey ready to unveil renovated 3M Arena at Mariucci
NCAA.com: Wild men's ice hockey opening weekend shakes up new Power 5 rankings
New England Hockey Journal: 10 goalies who can shine in men's college hockey this season
Onward State: Penn State focused on sustaining hot start ahead of New York road trip
The Hockey News: The top 100 NCAA players to watch in 2023-24
The Rink Live: SCSU center grateful his mother did not listen to him after his first time on the ice
The Rink Live: Here are six CCHA rookies to watch in the 2023-24 season
USCHO: Thrilled to have college hockey back, and what a blast for opening weekend 2023
---
Must Hear:
Inside Atlantic Hockey: Featuring incoming AHA Commissioner Michelle Morgan
Inside ECAC Hockey: Featuring ECAC Hockey Commissioner Doug Christiansen
Inside Hockey East: Featuring Hockey East Commissioner Steve Metcalf
NCHC Icecast: There were some big offensive numbers from conference teams in opening weekend
The Big Rink: Featuring Minnesota Wild/Michigan defenseman Jon Merrill
The Pipeline Show: Hockey East preview with Jimmy Connelly, Big Ten preview with Paula Weston
UND Hockey Podcast: The regular season begins after a big exhibition win
USCHO Weekend Review: Getting off on the right foot, getting Robert Morris back
---
New Kids on the Block:
College hockey history is about to be made in South Dakota.
Augustana University will make its home debut in Sioux Falls on Saturday against Bowling Green as the first-ever Division I hockey program in the state of South Dakota.
Incidentally, the weekend series will mark the second time in as many weeks that BGSU will have faced a team that did not play in 2022-23; the Falcons played Robert Morris last weekend in the Colonials' return to Division I hockey.
Augustana, meanwhile, took to the ice for the first time last weekend at Wisconsin, suffering a pair of losses to the Badgers.
"We had great attitude and great spirit on the bench from start to finish," said head coach Garrett Raboin (St. Cloud State '10) following last Saturday's debut. "Now we can tach these guys and that's our challenge, to see how much we grow from right now and the future.
"It was a great day for Augustana University."
Augustana will play a partial CCHA schedule during its inaugural season and will have full conference membership beginning in 2025-26. The Vikings will initially play their home games this season at the Denny Sanford PREMIER Center before opening the on-campus Midco Arena on Jan. 26.
---
Large News at Canisius:
Canisius College announced earlier this week that it had signed head coach Trevor Large (Ferris State '04) to a multi-year contract extension. Now in his seventh year behind the Canisius bench, Large guided the Golden Griffins to an Atlantic Hockey tournament championship and NCAA Tournament berth in 2022-23.
Large and the Golden Griffins open their regular season Friday and Saturday at Miami.
---
You Can Quote Me On That:
"I am so happy for our players, staff, alumni, and for the University. This was an outstanding weekend celebrating the return of RMU hockey and to cap it off with a win is the cherry on top."
-- Robert Morris Head Coach Derek Schooley after Sunday's win to earn a series split with Bowling Green in the Colonials' return to NCAA Division I hockey. (source: RMUColonials.com)
---
NHL Note of the Week:
A total of 234 former college hockey players were on the opening-night NHL rosters announced by the league on Tuesday morning. Forty-four NCAA Division I programs representing all six conferences had at least one alum on an NHL roster, led by Michigan's 25. The Buffalo Sabres, with 12, had the most of any NHL club.
Additionally, half of the NHL's 32 general managers played college hockey, as did 13 of the league's current head coaches, including 2023 NHL Coach of the Year Jim Montgomery (Maine '93).
---
Fries at the Bottom of the Bag:
No. 1/2 Minnesota and St. Thomas will square off at Xcel Energy Center in St. Paul – home of the NHL's Minnesota Wild – on Friday. The two teams will conclude their non-conference series Saturday at Minnesota's 3M Arena at Mariucci … Wisconsin goalie Kyle McClellan (Jr., Manchester, Mo.) notched back-to-back shutouts in a sweep of Augustana last weekend, becoming the first Badger in history to blank the same opponent on consecutive nights of the same weekend … Miami head coach Chris Bergeron (Miami '93) collected his 200th career win when his visiting RedHawks defeated Ferris State on Sunday. Bergeron spent nine seasons as Bowling Green head coach before taking over the helm of his alma mater in 2019-20.
---
CONFERENCE WEBSITES
Atlantic Hockey | Big Ten | CCHA | ECAC | Hockey East | NCHC
---
College Hockey Inc. Resources:

Did you know? 92% of NCAA Division I men's hockey players earn their degree!